No 8. Drawvis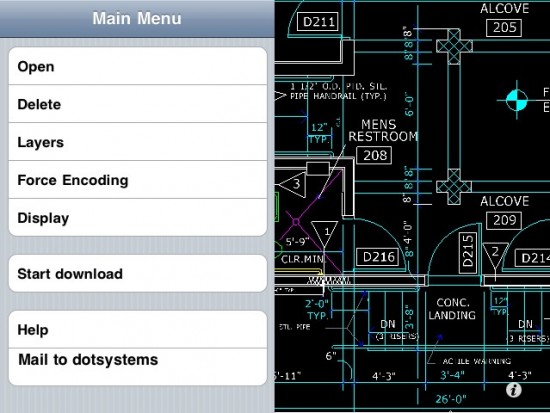 Drawvis is an application for viewing technical drawings. It displays drawings in the saved in AutoCAD DXF textual format. The application stores the files in directories and displays them effectively on your iPhone and is really fast. There are two versions of the app; one free and the other not free. The difference is that the paid version can store more than one file.
No 7. Architect's Formulator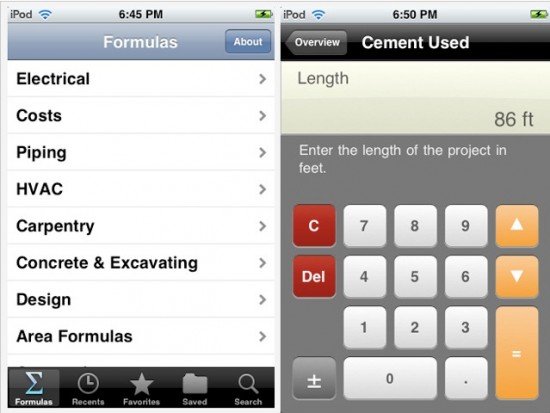 This app contains over 200 formulas in the areas of Electrical, Carpentry and Plumbing, as well as Concrete and Excavations. This app really eliminates the need for having to reference bulky manuals.
Here is a part of the list of available formulas in the app:
Acoustic Absorption Factor
Acoustic Absorption Factor
Room Absorption
Reverberation Time-Metric
Reverberation Time-Feet
Cantilever Mmax
Uniform Load Two Spans
Center Fixed Outer Free Vmax
Center Fixed Outer Free Mmax
3 Fixed Vmax
Free Vmax
4 Inner Fixed Outer Free Mmax
Coarse Aggregate Used
Weight of Material
Bricks Needed In 12 Inch Wall
Bricks Needed in 16 Inch Wall
Minimum Window Area
Rigid Square Plate Stress
Rigid Square Plate Max
Flexible Circular Plate Stress
Flexible Circular Max
Vertical Shear
Rectangular Sections Shear
Steel W, M, Or C Sections
Horizontal Shear
Bending Moment Load
Structures Total Safe Load
This app costs $9.99.