No 2. Interior Home Designer: Mark On Call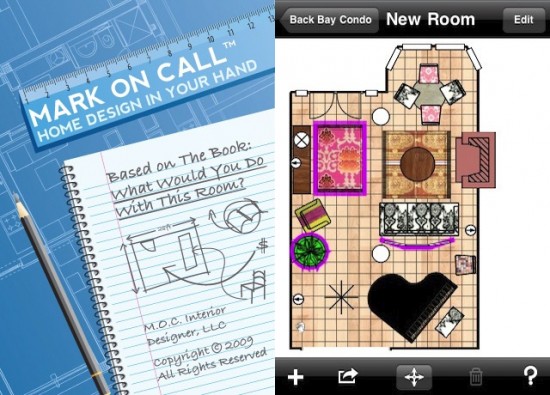 Praised as "It's the next best thing to hiring a designer or having an assistant" by Apartment Therapy, this app helps you in designing and space planning for your home. This app allows you to plan, preview & carry out your design visions while staying organized & within budget. This is an enjoy-for-all app as even the casual guys can have fun with it building their dream home. Some of the features of this app are:
Design for how you live by using the space programming checklist.
Save customized room items for use in all your floor plans.
Take pictures of actual finishes, fabrics, rugs, and flooring from your favorite manufacturers and "skin" them onto ANY item or surface in your room using your iPhone camera or images from your photo library and publish and share them with other users.
Mix and match furnishings, colors, fabrics, patterns, accessories, finishes and flooring materials before purchasing.
Instantly measure any two points in your room with our new precision touch crosshairs measure tool.
It costs $2.99.
No 1. Home 3D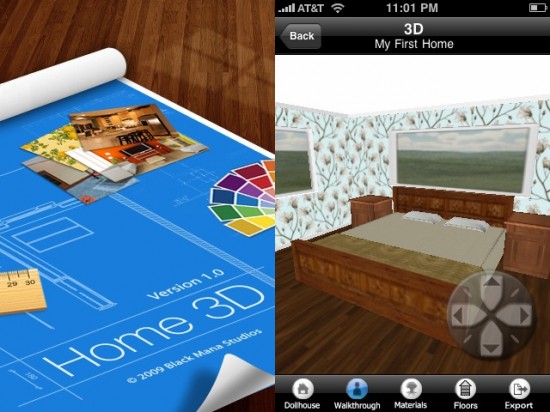 This is one superb app for all the architects, home remodeling enthusiasts, interior designers and design hobbyists out there. Infact, anyone can enjoy this app. It allows you to build a 3D home and then even take a virtual tour of it. As the developers state, this app is built around three simple steps: Layout, Interior and 3D.
It costs $6.99.