Ferrari World is a Ferrari themed amusement park on Yas Island in Abu Dhabi. The park is situated under a 200,000 square metres (2,200,000 sq ft) roof making it the largest indoor amusement park in the world. Ferrari World officially opened on November 4, 2010. The theme park is home to Formula Rossa the world's fastest roller coaster.
Ferrari World Abu Dhabi ( Yas Island )
[youtube]http://www.youtube.com/watch?v=x6lpDyYycoE[/youtube]
Ferrari World Abu Dhabi is huge. Its 80,000m2 structure houses 12 Ferrari-themed attractions, including a 240km/h rollercoaster – called Formula Rossa, it's is the world's fastest – that snakes and weaves for 2km and a tower ride that shoots 62m into the air giving its passengers the G-force joy that Formula One racing drivers experience in corners. The section of the park under roof qualifies it as the Worlds Largest Indoor Theme Park.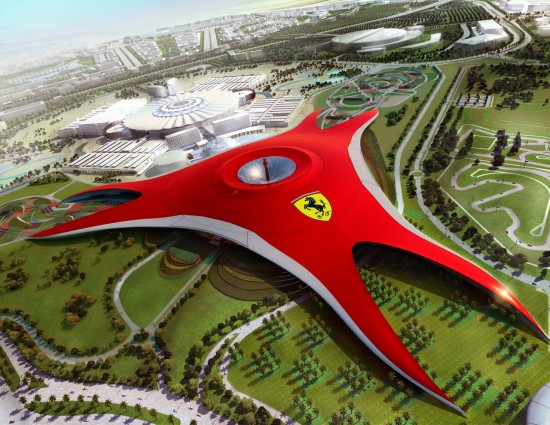 In total, the entire park and its surrounds cover 200,000m2 and includes rides suitable for all ages, state-of-the-art racing simulators, memorabilia shops and food halls promising authentic Italian cuisine.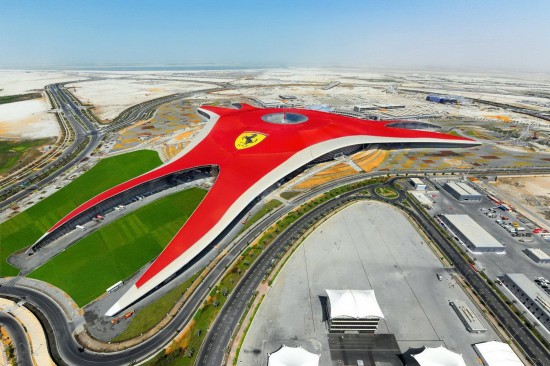 There's is also the largest collection of classic and modern Ferraris outside of the manufacturer's Italian headquarters, and a ride inspired by the fabled Mamma Rosella drive.
The roof sports the largest "Prancing Horse" logo ever created (66m in diameter).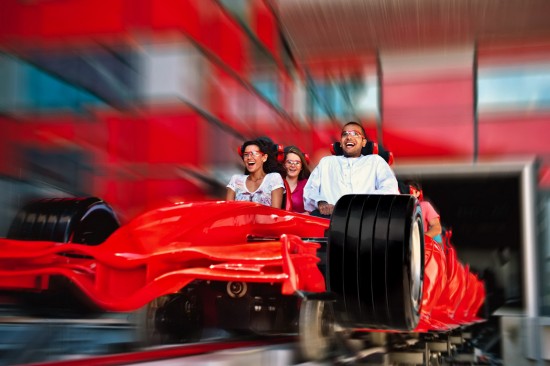 Making of de Formula Rossa (Ferrari World Abu Dhabi)
[youtube]http://www.youtube.com/watch?v=dqtq-Uv1YBY[/youtube]
Ferrari World Abu Dhabi Key information
General
* World's first Ferrari theme park
* World's largest indoor park
* Opening in 2010
* Owned by Aldar Properties PJSC
* Managed by Farah Leisure Parks Management L.L.C, a joint venture between Aldar Properties PJSC and ProFun Management Group Inc.
* Located on Yas Island on the North East side of Abu Dhabi's mainland
* Yas Island is a 10-minute drive from Abu Dhabi International Airport, 30 minutes from the city of Abu Dhabi, and 50 minutes from Dubai
* Adjacent to the Yas Marina Circuit, hosting the inaugural 2009 Formula 1 Etihad Airways Abu Dhabi Grand Prix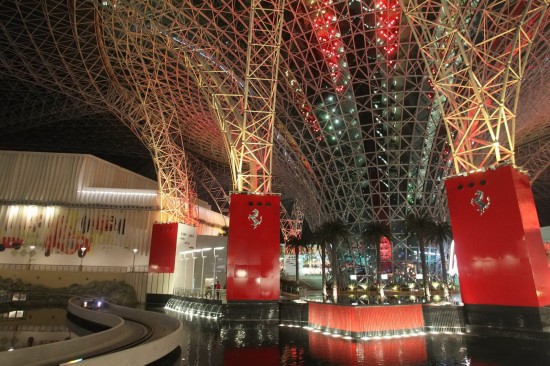 Building
* Designed by globally renown architectural firm Benoy
* Building height is 45m (147.6 ft), with a roof edge circumference of 2,200 m (7217.8 ft)
* Enclosed space (area accessible to the general public) is 100,000 m2 (1,076,391 sq ft)
* Over 35,000 tonnes of steel have been used to reinforce the structure
* Landscaped area around the main building is 450,000 m2 (4,843,759 sq ft)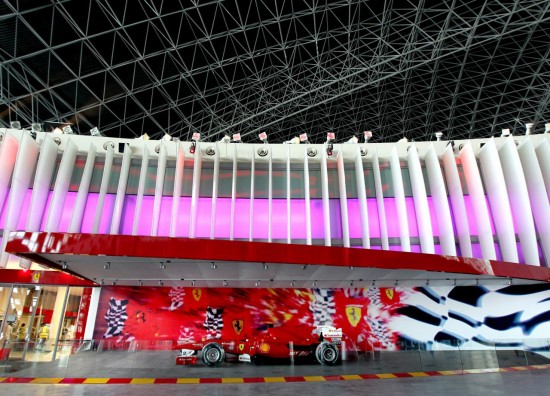 Roof
* Design inspired by the classic double curve side profile of the Ferrari GT body
* Made from metal and glass designed to reduce glare and heat
* Total surface area is 200,000 m2 (2,152,782 sq ft)
* The Ferrari logo is 65m x 48.5m, the largest Ferrari logo ever created
* Highest point is 48m, with a total of 6,900 meters of roof guttering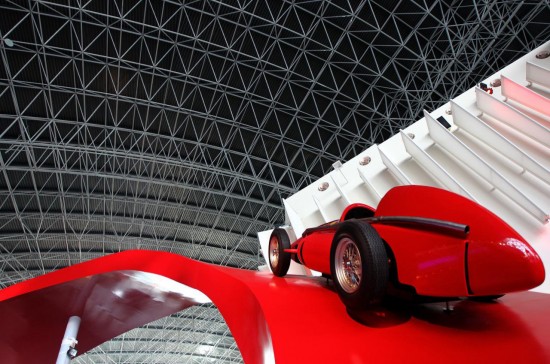 Rides
* Designed by one of the world's most prominent design firms Jack Rouse Associates
* Over 20 state-of-the-art rides and attractions.
* Featured attractions include:
o The world's fastest roller coaster emulating the feeling of being in an F1 car
o G-force experience taking passengers on an adrenaline-pumping ride up over 62m, through the roof and back down again
o State-of-the-art racing simulators using a similar system as those used by the Ferrari racing team
o Flume ride journey through the heart of a Ferrari 599 engine
o Driving and Racing school for junior drivers, with expert training
o Aerial voyage over Italy following a Ferrari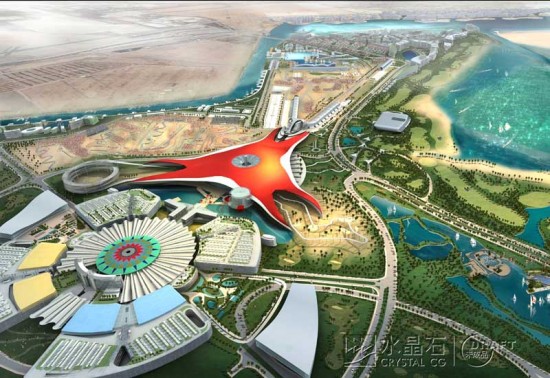 Food & Beverage
* A broad range of dining, quick service and beverage locations offering Italian inspired delicacies as well as a variety of international dishes.
* Highlights include:
o Two restaurants inspired by the real Maranello food experience
o A true Italian ambiance of a traditional delicatessen, including:
+ Customized fresh pasta and pizza made-to-order
+ An array of international dishes to satisfy all tastes
Shopping
* Visitors can expect a retail experience that celebrates Ferrari's rich heritage in a way never seen before.
* Highlights include:
o 825 m2 store celebrating Ferrari's rich history with vintage and contemporary racing memorabilia
o Souvenir photo opportunities for capturing the thrill of the moment
o "Interactive Corners" where children can customize their own park souvenirs
o 1300 m2 flagship store offering Ferrari and special Ferrari World Abu Dhabi items
Ferrari World Abu Dhabi theme park
[youtube]http://www.youtube.com/watch?v=DJbpBxKBTcw[/youtube]
For further information: Ferrari World Abu Dhabi – www.ferrariworldabudhabi.com