5 Best Chromebooks for Light Users
When a laptop is too much, but a tablet isn't enough, there's a portable computer that's perfect if you just want to browse the web and answer emails. These laptops, called Chromebooks, are specifically made for this purpose. In this post, we're exploring the best Chromebooks for "light users." Light uses, for example, are browsing the internet, shopping online, checking social media and sending and receiving emails.
Wouldn't a tablet (iPad or Samsung Galaxy tablet, for example) suffice? Sure, but Chromebooks give you keyboards and more.
What is a Chromebook?
A Chromebook is a special kind of laptop made by Google and runs their software. If you use the Google Chrome web browser, you're already using this software.
Chromebooks don't have much hard drive space, which means you can't store a lot of files on the computer itself. You shouldn't be doing this anyway. It's 2022. Store your files in the cloud. Chromebooks use cloud storage systems and will need an internet connection to access the files you use.
You also won't be able to download and run big software applications on Chromebooks, but this isn't what they're intended to do.
Chromebooks don't have as much capability as a traditional laptop, they're more like big phones or tablets. Some Chromebooks even have touchscreens and can function like a tablet just as much as a laptop. However, they are also far cheaper than a laptop (as well as some tablets!). Most Chromebooks can be purchased for less than $300 and are very small and portable. That said, computer prices have fluctuated in recent months because of supply chain issues, especially with microprocessors.
So what are some of the best Chromebooks on the market?
Acer Spin 11 Chromebook
The Acer Chromebook is a great budget option, probably the best Chromebook for the money. This 11.6-inch Chromebook converts from a laptop to a tablet with a 360 degree hinge that allows you to fold the keyboard back. This laptop is durable and has a 10-hour battery life — perfect for using while on the go. But the best part of the Spin 11 is the price, as this Chromebook is only around $220 dollars.
HP Chromebook 11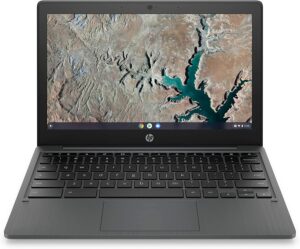 Probably the best budget option available, HP's Chromebook is small and portable, with a 15-hour battery life. The HP Chromebook 11 has an 11.6-inch screen with a smaller resolution, so you may notice a slight drop in picture quality. However, if you just need a device to browse the web without any hassle, it doesn't get much cheaper than the HP Chromebook 11. This budget-friendly Chromebook is a great option for students, and it starts at around $150.
Lenovo Chromebook Duet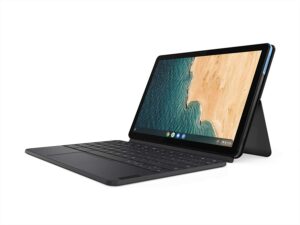 This Chromebook is the best option if you're looking for a laptop that can also function as a tablet – the keyboard is completely detachable! The Lenovo Chromebook Duet is a bit smaller at only 10.1 inches, but is very convenient to pick up and bring with you wherever you're going. This Chromebook features a 10-hour battery life and is around $299.
HP Chromebook 14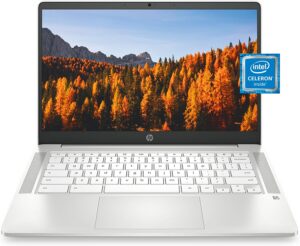 Interested in that more classic laptop feel? The HP Chromebook 14 has a 14-inch screen and a much larger keyboard than some of the other options. This Chromebook also has some classic laptop features like a unique HDMI-out in case you want to mirror your screen on a television. The HP Chromebook 14 might be the best Chromebook for seniors. The battery will last around 13.5 hours and supports fast charge. The HP Chromebook 14 starts at around $329.
Google Pixelbook Go
If you're interested in a more mid-range Chromebook that's closer to a traditional laptop, Google's Pixelbook Go is lightweight with a 13.3 inch screen. It also runs a more powerful processor so you can boot up the computer and load the programs you use far faster. The Pixelbook has a 12-hour battery life and can stream videos without any lag or buffering. Better hurry, though. Google shuttered the Pixelbook development team in 2022 and has halted production, according to several sources. The Pixelbook price starts at $649.
---