5. MOTOMAN ROBOBAR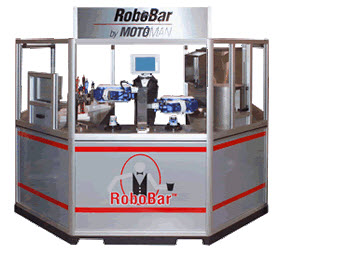 Motoman Robobar gives you an opportunity to hire a robot for serving in cocktails, beer, wine, juices and soft drinks. This has tremendous advantages both for customers and the management of that bar. These robots give better customer service as they work very fast and efficient. There is no chance of making mistakes, spills and over pours that will result in saving of about 10-20%. In addition to this they can now operate with lesser number of labors which means more profit. Consistent pours and mixed ratio will result in consistent quality drinks and hence an increase in customer satisfaction. Motoman can work in a house party as well. Moreover since RoboBar can work 24*7 without taking breaks for vacations, holidays, sick period. The motoman robobar won't cost you more than 30 cents and hour in your electric bill.
6. MUJIRO RIGURIO – Outdoor security and information robot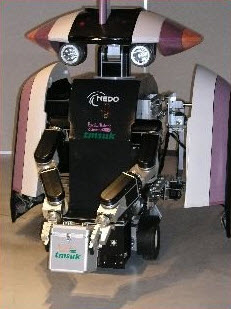 Mujiro Rigurio made its debut at EXPO 2005 in Aichi Japan, where it worked for 185 days as a security guard at a stretch. Mujiro Rugurio is a state of the art robot which is equipped with highly precise GPS systems, image recognition functions, an object sensitive sensor, a wall penetrating human detector, and also the ability to identify a stranger even from 30 miles. The most amazing feature is its seven jointed hands that generally stay concealed within its body, and are used in the handling and disposing of any dangerous or suspicious item that it may come across.