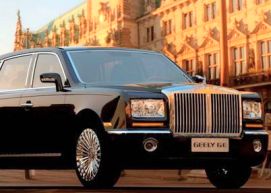 Luxury British car maker Rolls-Royce is considering legal action after a Chinese company unveiled a prototype limousine that is a dead ringer for the Rolls-Royce Phantom and which would sell for about a fraction of the price.
Geely Automobile, one of China's major independent car makers, launched its GE – which stand for "Geely Excellence" – at last week's Shanghai Auto Show, and the sedan attracted much interest for its resemblance to the Rolls-Royce model.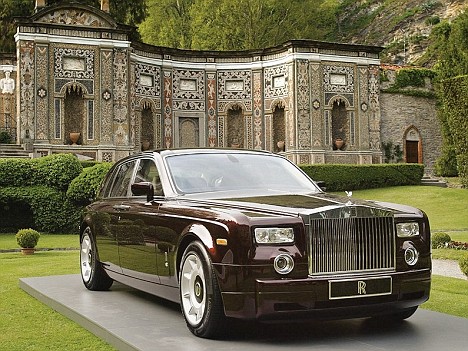 The glossy black Geely GE, still a prototype, comes with some of the Phantom's signature features, including the Grecian temple grille, down-sloping rear deck, and even a badge that looks like the iconic Rolls-Royce Spirit of Ecstasy winged mascot.
The GE also comes with a knock-off of the Rolls-Royce's "starry-night" headliner – the interior roof detail above the passenger seat, which features hundreds of fibre-optic lights to give the impression of a star-spangled night sky.
"In one sense it's quite complimentary, but we have to be protective of our brand image," Rolls-Royce spokesman Andrew Ball told The News, a British newspaper based in Portsmouth. "We're having a bit of a chat with our lawyers about where we could take it."
On its website, Geely also says the GE is "reinventing the classic", without saying which classic car it is reinventing.
Geely spokesman Zhang Xiaoshu told the AFP news agency that the GE was set to go on sale within three years, probably for about 1 million yuan ($200,000), which could be up to a sixth less than a Phantom, depending on Chinese taxes.
The GE has one key feature not found in the Phantom: the passenger compartment has just one seat, dubbed the throne. The front compartment seats two.
Zhang admitted that there were some similarities but insisted the GE was an original.
"As it were, they are actually different … people may feel they are the same at the first glance, but the details are certainly different," he said.

ROLLS-ROYCE PHANTOM
BUILT: Goodwood, Sussex
PRICE: £250,000
ENGINE: Mammoth 6.75litre V12
LENGTH: 19ft 2 inches
TOP SPEED: Artificially restricted to 150mph / 0-62mph: 5.7 seconds
FEATURES:
Original 'Grecian-style' large grille. Spirit of Ecstasy mascot, also dubbed 'The Flying Lady'. Romantic 'starlight Headliner' in roof to emulate night sky. Drip dry umbrellas hidden in rear doors. 9 standard wood veneers. 44,000 different exterior colours.
Cashmere blend headliner. Lambswool rugs Special soft leather interior

THE GEELY EXCELLENCE
BUILT: Zhejiang, China
PRICE: circa £30,000
ENGINE: 3.5litre V6
LENGTH: 17ft 6 inches.
TOP SPEED: 110mph (estimated) 0-62mph: 10 seconds (estimate)
FEATURES:
Single rear 'throne'. Pastiche 'Grecian-style' large grille. Flying Lady-style mascot
Romantic 'starlight Headliner' in roof to emulate night sky. Glass interior divider
Pure wool carpet. 'Six star' safety. Cigar store. Refrigerator. Wine cabinet
Here is the CNN report