3. HUBO-FX1 The Walking Chair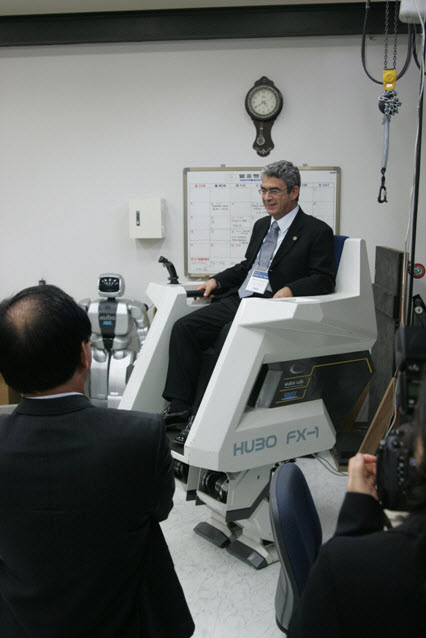 HUBO-FX1 has been developed by KAIST (Korean Advanced Institute of Science and Technology). This robot has a chair with legs and is capable of carrying human beings up to 220 lbs. The built in joystick makes it easy for you to control the robotic chair. Each ankle processes 3 axis force/torque sensor that measures the normal force and two moment. Each foot has an inclination sensor that measures the angle of its slope. The inclination sensor and the rate gyro in the body allows the device to stabilize itself. HUBO FX-1 is 2 meters in height, and has a weight of 330 lbs. At present, it requires external power supply, but in the long term the company aims to make the robot battery powered.
4. COFFEE MAKING MANGA ROBOT
Are you tired? Do you need a coffee? Don't worry, the Manga coffee robot will make a nice coffee for you. The Manga robot is a mean looking humanoid mini robot that runs on 20 digital KRS servos along with a motor. Here is how it works. It takes the coffee filter and keeps the filter over the coffee cup. It then takes the coffee beans and powders it. The powdered beans falls in a small container and the Manga robot takes the container and pours the coffee powder into the filter. The Manga robot then takes hot water and pours it over the coffee powder in the filter. Your coffee is ready.