A question most often asked by iPhone users is which network is best among the US cellular carriers AT&T, Sprint and Verizon?  This question has been answered by a performance analytics firm, Metrico Wireless Inc, in its new report disclosing the best US carrier in terms of speed and reliability.
The results found by this study are reached after doing over 8000 speed tests, grabbing some 21000 web pages and making more than 6000 voice calls from the iPhone 4S. A propriety measurement platform was used by the firm to monitor each carrier's performance.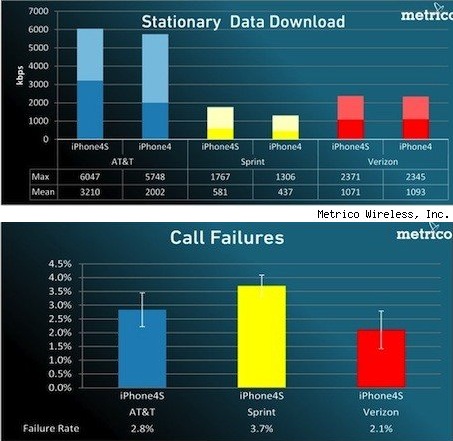 In terms of speed, AT&T turned out to be the fastest network with highest downloading speed of 6,047 Kbps and an average speed of 3,210 Kbps. Verizon landed at second spot with a maximum downloading speed of 2,371 Kbps and an average of 1,071 Kbps. Sprint came third with a highest speed of 1,767 Kbps and an average of just 581 Kbps.
When reliability was measured, Verizon held up strongest and came up with fewest call failures i.e. only 2.1% of overall test calls. AT&T came second with 2.8%, while Sprint came third with 3.7% call failures.