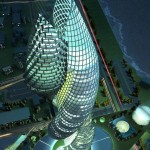 Not all buildings are the same and some are pretty darn unique. Construction and architecture have risen to a new level altogether with great minds working vigorously towards building a world with breathtaking structures that were a far cry from even imagining forget seeing them for real. The following 18 images are of amazing engineering wonders found across the globe.  Which one is your favorite?
18. Dubai Rotating Towers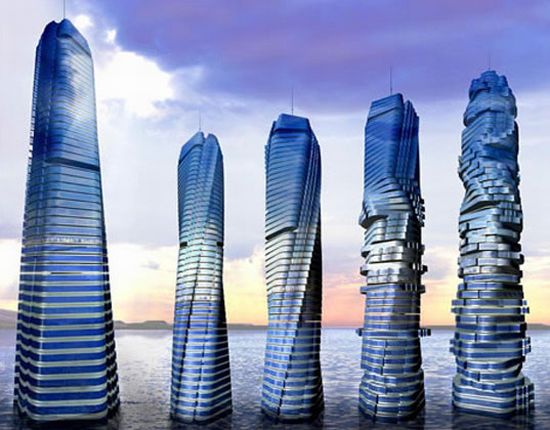 Dubai has garnered much attention in recent years with a never-ending supply of architectural wonders being built, or proposed, at a head spinning pace. Mostly these towering structures are grand and tall, but some are also green
An ambitious project by David Fisher's firm Dynamic Architecture looks set to be yet another new addition to Dubai's skyline.
The building's 59 floors will be capable of rotating about a central axis, their continuous motion allowing residents in the tower's 200 apartments to choose a new view at the touch of a button.
The form of the building would constantly change as each floor rotates separately giving a new view of the building as it turns.
The new tower is the first building of its size to produced in a factory. Each floor, made up of 12 individual units, complete with plumbing, electric connections, air conditioning, etc., will be fabricated in a factory. These modular units will be fitted on the concrete core or spine of the building at the central tower.
The 59-floor building will be powered entirely by sun and wind energy. And, the architect claims that the building will generate 10 times more energy than required to power it, thus making it a positive energy building. Solar panels will be fitted on the roof to harness sunlight, and a total of 48 wind turbines will be sandwiched between the rotating floors, placed so that they are practically invisible.
17. Regatta Hotel Jakarta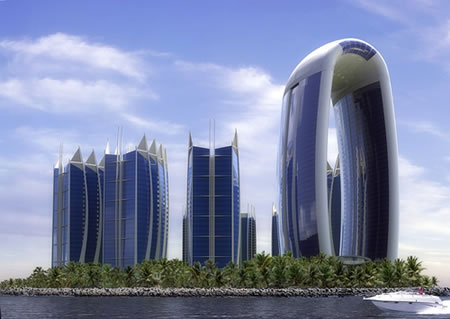 Taking the form of ten apartment towers, a five-star hotel and an Aqua Park in a complex spawning over 11 hectares of reclaimed land, the Regatta project is certainly one of the best structures you will come across. Regatta's development follows a nautical theme, the centrepiece of which being an aerodynamically shaped hotel bound to be one of the most striking landscape features overlooking the Java Sea. I would kill to live in some place like the Regatta, with sea as your backyard an a spellbinding view.