14. Singapore Green Building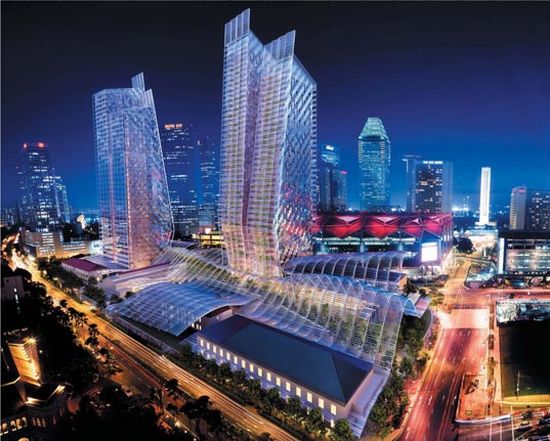 A new green complex from world renowned architecture firm Foster + Partners will be adding more than a dash of green to the Singapore skyline. As sustainability becomes an essential ingredient to development in this island nation, the UK-based firm is leaving no stone unturned to make good use of alternative energy sources in this 150,000 square meter mixed-use project. As the winning design from an international competition, Singapore's new eco-complex from Foster + Partners is pushing the green envelope from top to bottom in this sophisticated downtown design.
The complex will fill an entire city block between Singapore's Marina Center and the Civic District with commercial, residential, retail, hotels, and a 'green' link to an Mass Rapid Transit (MRT) station. All facades will be fitted with solar cells and, to help control solar gain, direct sunlight will be filtered through ribbon-like canopies rising from the base of the entire complex to the exposed east and west elevations of the towers.
The canopies will form vertical louvers at the elevations and provide more renewable on-site energy with integrated thin-film solar arrays. Vertical green spaces, and extensive sky gardens are also important components of the towers, further greening the whole structure with natural vegetation and ambient temperature moderation.
The slanted facades are designed to catch the wind and direct it downwards for natural cooling of the ground floor spaces. A rainwater harvesting system, geothermal heating system, chilled beams and ceilings, and an ice storage system for cooling are further enhancements planned for the complex.
13. River Gym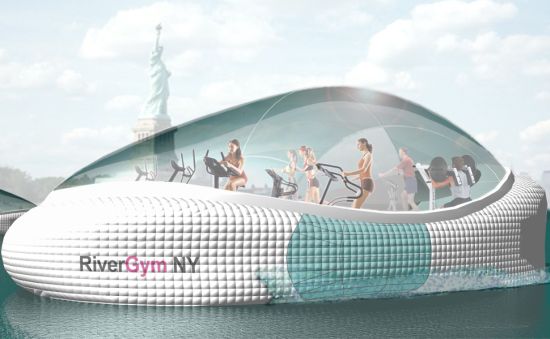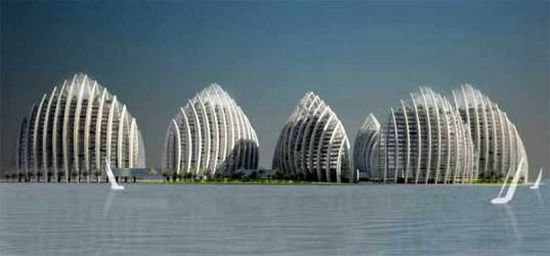 The River Gym will fulfill one of the major contemporary fitness goals of "functional training". This training protocol will exploit the inherent disequilibrium of floatation devices. Often the average urbanite exercising at the gym performs controlled repetitive single plane movements using industrial fitness equipment. All of this energy is summarily dissipated and ultimately exhausted for the sake of a single individual's wellbeing. Other potentials exist to harness this vast human expenditure of caloric energy. Why not have the simple transfer of this workout vigor supply New York with needed supplemental transport and amenities? How can we extend and capitalize on this untapped group potential? Into what form will this new kind of gym evolve?