12. Bio Marine Inspired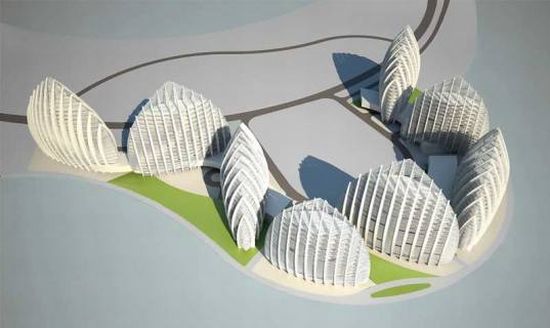 Malaysia is all set to get another iconic structure that will surely become one of the landmarks of the country when it gets done. Green architecture and green building has taken a new meaning in the last couple of years with green features looking more stylish than the regular ones. This can only be good news for those who have been trying to give green architecture a mighty big push forward. Yesterday we came to know that the already green Reichstag building is set to become the greenest parliament in the world. Malaysian capital Kuala Lumpur is not too far behind in the green race though.
Two of the tallest buildings in the world, the Petronas Twin Towers, are located in Kuala Lumpur. So it comes as no surprise to us that a stunning new residential development is planned for the Putrajaya waterfront known as Precinct 4, just 30km south of Kuala Lumpur. The design is special with green features and amazing architectural splendor inspired by marine life. It also draws from traditional Islamic designs and is arranged in a permeable, radiating block of bioclimatic architecture.
11. Moscow Crystal Island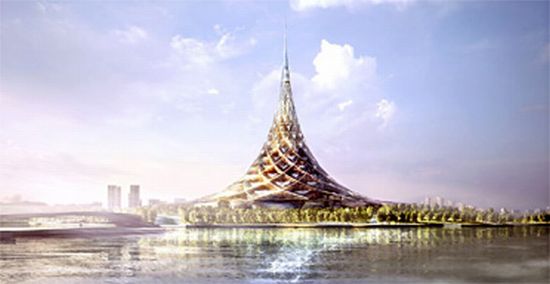 Moscow's rapidly growing skyline will soon feature an eye-popping new addition: Crystal Island, which will be the world's biggest building when completed. Sir Norman Foster's mountainous 27 million square feet spiraling "city within a building" will cost $4 billion and it is scheduled to be built within next 5 years.
The Crystal Island will be Lord Foster's second large scale project in the Russian capital, and his third new building design that resembles a volcano (we're talking about his two mountainous buildings in Astana, Kazakstan). Although many people are calling this design the 'Christmas Tree' of Moscow – we can't help but be reminded of the utopian and also rather volcanic X-Seed 4000 design for Tokyo. Unlike that pipe-dream project, however, Foster has a track record of getting buildings built, so the likelihood is high that we will see this striking structure towering over the Kremlin within 5 years time.