2. Shanghai World Finance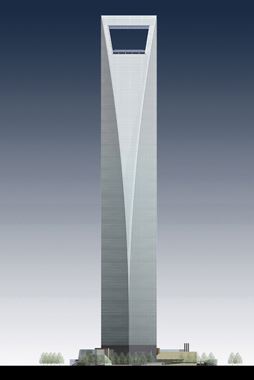 The Shanghai World Financial Center was planned to be the tallest building in the world when it was designed in 1997. The 97 Story building would surpass the spires of the Petronas Towers in Malaysia. When Construction was restarted in 2003, the 508 Meter Taipei 101 in Taiwan was already underway to becoming the World's Tallest Building. Plans where changed but the Tower couldn't be built any higher than its present height at 492 meters since the already done foundation was meant to support a 460 meter tall building.
The structure features 3 floors of underground parking, shops and a conference center on floors 1 through 5, offices on floors 7 through 77, a hotel located on floors 79 through 93, and finally observation and exhibition areas on floors 94 through 100.
To protect the building from fierce winds, the Shanghai World Financial Center holds two tuned mass dampers below its observation floors to reduce the building's sway during windstorms and earthquakes.
After the events of September 11th, 2001, the building was redesigned to withstand a disaster such as a plane crash including 12 fireproof refugee areas, and two external elevators.
1. Beijing Olympic Stadium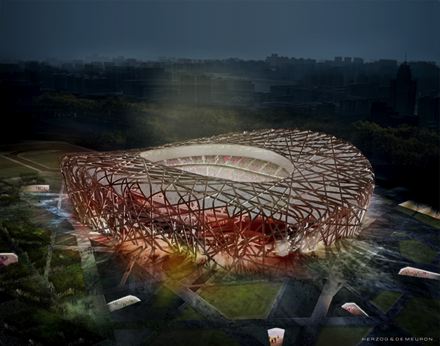 Sports stadiums have long followed the enduring design of one of the original wonders of the world, Rome 's Coliseum. Herzog & de Meuron's National Stadium in Beijing is an attempt to rethink the classic sports-arena layout for more ecologically correct times.
The Swiss architects (of Tate Modern fame) wanted to provide natural ventilation for the 91,000-seat structure — perhaps the largest "eco-friendly" sports stadium designed to date. To achieve this, they set out to create a building that could function without a strictly enclosed shell, yet also provide constant shelter for the audience and athletes alike.
To solve these design problems, they looked to nature for inspiration. The stadium's outer grid resembles a bird's nest constructed of delicately placed branches and twigs. Each discrete space within the facility, from restrooms to restaurants, is constructed as an independent unit within the outer lattice — making it possible to encase the entire complex with an open grid that allows for natural air circulation. The architects also incorporated a layer of translucent membrane to fill any gaps in the lacy exterior.