Solar energy is one of the most impressive and easily available sources of green energy that has the potential to power everything from the PMPs we carry to the cars we drive. Toyota has already started exploring the potential of solar energy by announcing that it will use solar panels in its next-generation Prius hybrid car. While this car would just use the energy to run the car's AC, some designers have shown the way cars could completely be powered by the energy falling from the sun. Check out ten such concepts one of which might just be your ride into the future.
No 10. Helios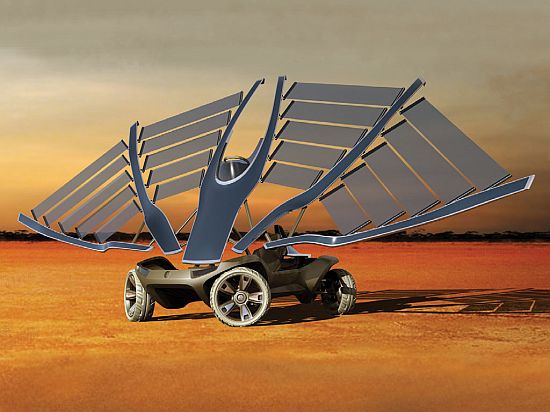 The car takes inspiration from none other than the animal kingdom for its extendable solar panel design. I know no one would want to drive something with a hell lot of solar panels rising above from the roof of the car, but this car does not compromise on stylish looks, as these solar panels can be folded down when you want to take it out for a drive. And when it's sitting idle, you can simply extend the solar panels and power your home with the energy generated.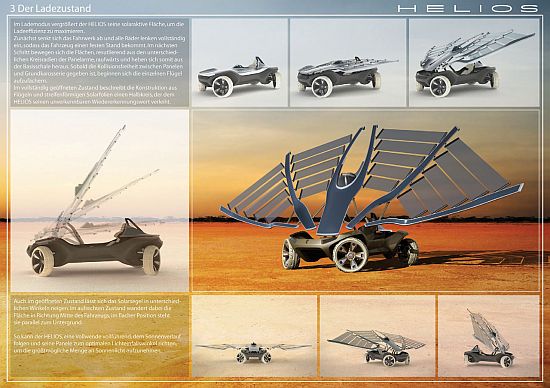 The Dark Side:
A car with an ability to generate electricity not only for itself but also for other power hungry appliances is praiseworthy. However, a car with such solar panels will undoubtedly be for people born with deep pockets. The presumed high cost of the car can put things down a bit, but if somehow car manufacturers devise a way to keep the cost of such a car down, then we surely will call it "The Wonder Car."
No 9. Peugeot OMNI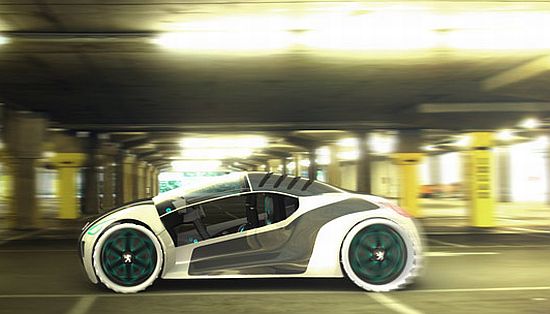 In 1973, a Swedish automobile designer named Bengt Ilon dreamt of a car that could move sideways on "Omni-wheels," which could speed up transport and take it to a whole new level. The concept was not obviously picked up or developed through the decades. Now, finally we have a model that has been designed for Peugeot – OMNI.
The car, which is perfect for future megalopolis, has a sporty, aerodynamic body that represents evolution of the new age. The small city car has been made for just two occupants, keeping in mind that in 95% cases a car just has one occupant at a time. The exterior body is intended to be developed with carbon fiber, which should guarantee strength without adding much to the body of the car.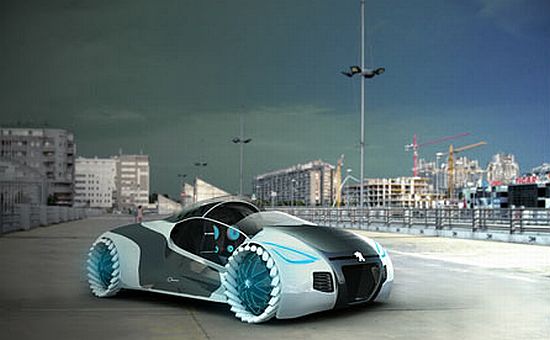 The most stunning feature of the car still remains its ability to move sideways at a speed of 5 km/h, which would ease parking and will make sure that the car does not always get stuck in traffic jams.
The Dark Side:
Apart from high cost fears, the "Omni-wheels" technology still seems a couple of decades away from realism. However, if the technology is made then it could truly refine the way we drive.