1.Logitech G19 Keyboard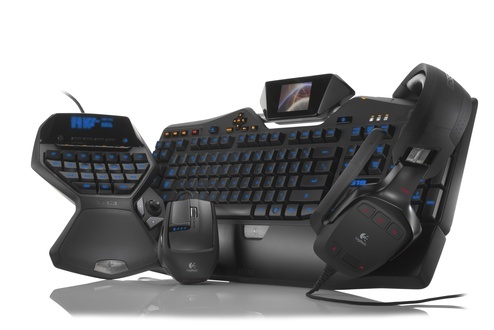 The general consensus is that Logitech's latest gaming keyboard, the G19, is better in nearly every way than the G15 it's poised to replace. The most notable improvement of the G19 is the inclusion of a bright 320×240 tilting LCD screen. Users can view the time, resource load, VoIP communication data, and even watch YouTube videos on the nifty display, in addition to a host of other uses.More macro keys are found on the G19, along with the ability to adjust the color of the backlight. All in all, it's a worthy successor to one of the most popular gaming keyboards on the market.
2. Saitek Cyborg Gaming Keyboard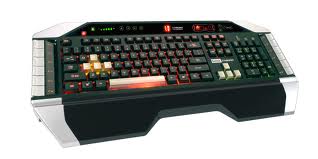 For the big gamers, this keyboard will keep you on the up side of gaming with its many different programmable keys and its "Cyborg" mode to do away with modern day keys.
i)Setting Up :Setting up the keyboard is a piece of cake, as most of the functions work without the need to install the driver software. Find the USB connector labeled 'KBD' and plug it into a spare USB slot on your PC.
ii) Lightning: The lighting is one of the Cyborg's biggest selling points and is controlled from the touch-sensitive panel at the top of the keyboard.
Iii) Programmable Keys: There are twelve C-keys in total, six down each side of the keyboard, and their functions are decided by the setup in the driver software.
iv) Metal keys Another unique feature of the Saitek Cyborg is its metal keys. Saitek claim that the key gaming buttons have 'hard-wearing, metal-plated key caps', although this only includes the four arrow
3.Razer Tarantula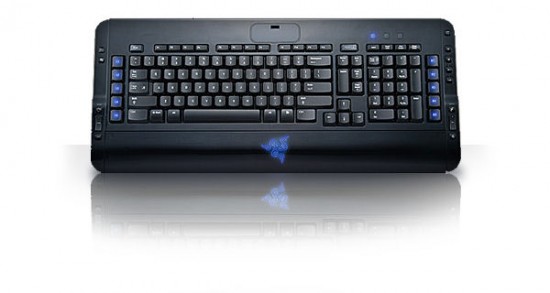 The Razer Tarantula just oozes style. With its glossy black finish, soft rubber-coated keys and cool blue backlighting it really does look good.
It's not all show, either, as it packs a host of features into that black case. As you'd expect there are programmable keys, including ten special gaming keys down the sides of the keyboard. The Tarantula is particularly good in this area as it has 32KB of on board memory that can store up to five key profiles. This means you can take the keyboard with you, plug it into another PC and still be able to access your stored key profiles.