10. Polywell Poly 890FX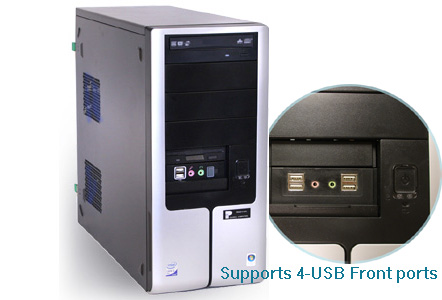 Because of its high price at this cost, a little more TLC from Polywell toward the system's design could have done wonders.
Poly well includes two USB 3.0 ports grace the system's rear alongside four USB 2.0 ports, S/PDIF coaxial and optical outputs, two gigabit ethernet ports, integrated 7.1 surround sound, a mini-DisplayPort connector, and a mini-FireWire 400 connector.
Its general performance is nearly identical to that of the category leader, and its gaming capabilities provide enough get-up-and-go to ensure that the X5800A3 remains future-proof for a while. A brand-new processor, a sweet combination of plenty memory and storage capacity, and the next-generation connectivity of USB 3.0 ports are just a few of the awesome features that help this machine challenge every other performance PC we've tested.
Polywell didn't take a lot of time to gussy up the interior of this otherwise eye-catching system. The wiring job leaves much to be desired, with cables strewn every which way throughout the top and bottom of the full-tower case. The last thing anyone wants is for a device's battery to run out midgame. On top of that, both the mouse and the keyboard come with no additional buttons and features beyond their wireless capabilities.
9. HP Pavilion Elite HPE-390t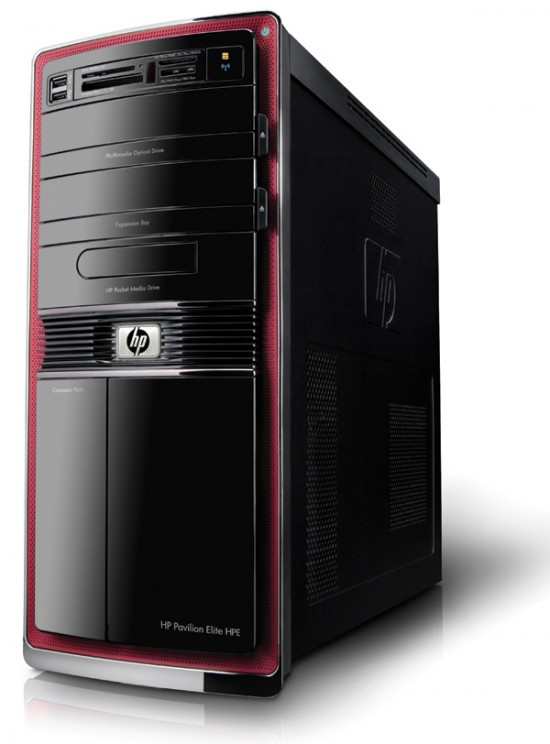 HP's Pavilion Elite HPE-390t delivers great performance in a humble, media-focused shell. Just be sure to bring your own peripherals.
The stock HP Pavilion framework isn't nearly as generous. It's smaller than that of a standard performance machine, which is sure to please buyers intimidated by hulking towers. HP has also outfitted the machine with a full array of media-centric connectors, making the midsize-tower system a suitable living-room PC.
On the front you'll find a multiformat card reader, plus a pair of USB ports. The PC also has a dock for HP's Pocket Media Drive. Hidden behind a panel are a third USB port, a FireWire port, composite and S-Video ports, and the microphone and headphone jacks. You also get an infrared input port for the included remote control, and a pair of infrared output ports.
Rounding out the media functionality are composite ports, a coaxial antenna connector, and an S-Video port, courtesy of a TV-tuner card. Media playback, as expected, was flawless in our tests. The HPE-390t's Radeon 5770 had no problem churning through any of our 1080p material on our test living room's 46-inch plasma display. More important, though, the machine is fairly quiet: Fans and components were audibly as the system is creeping to life, but once Windows 7 Home Premium (64-bit) is up and running, the PC is all but undectectable.
8. Polywell Poly X5800A3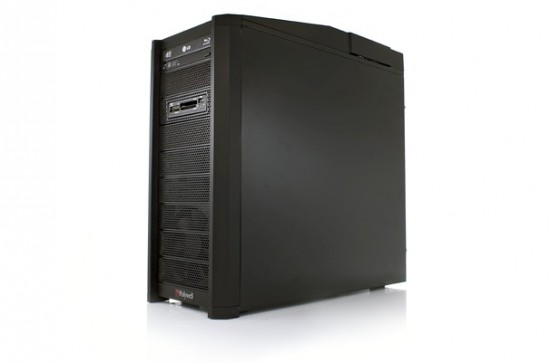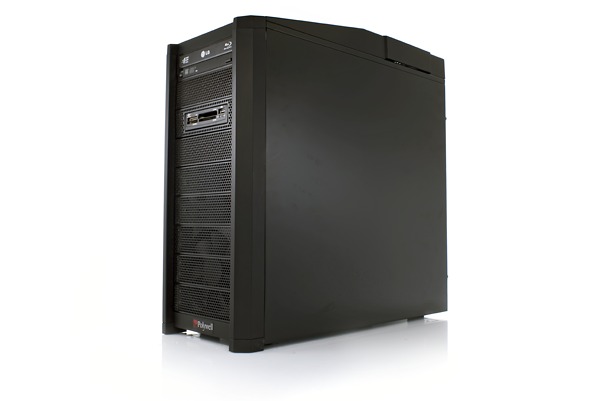 It may not be much to look at, but the Poly X5800A3 offers premier components and delivers fast speeds, making for quite a compelling power PC
On our World Bench 6 test suite, the 890FX earned a score of 145, an admirable result for the performance PC category
The front of the case houses four USB ports and a multiformat card reader, as well as the system's Blu-ray/DVD-burner combination drive. It's a welcome addition, even though its aesthetics are poorly designed (and it sits smack-dab in the center of the chassis).
The wiring job inside the case is tragic to behold–and then there are the strange metal locking mechanisms used to hold the 890FX's 5.25-inch devices in place. A single 3.5-inch hard-drive bay joins one free PCI Express x16 slot and one PCI Express slot as the only free, upgradable options you're going to find in the 890FX. And, as expected, they require screws to secure the various devices.
Polywell includes a wireless keyboard and mouse in the box. The former comes with a few extra buttons for launching applications and controlling multimedia, whereas the latter is merely a generic two-button wireless Logitech mouse. Both are a step up from the standard keyboards and mice we see accompanying most systems, for what it's worth.
7. MicroExpress MicroFlex 97B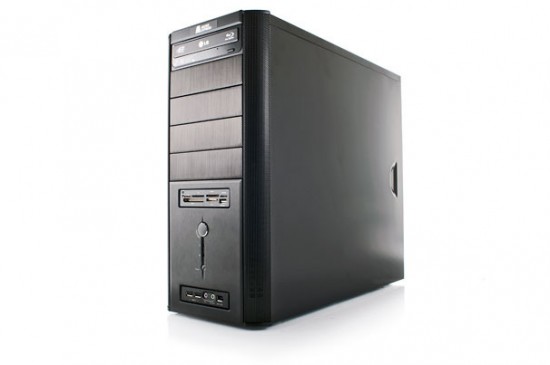 With a few minor exceptions, the 97B provides most of what you'd expect from a reasonably priced high-performance PC. Few can match its combination of power, gaming prowess, and cost.
As we often see on pricier systems, the 97B comes completely equipped to handle any external device you want to link to it. The desktop's front is a touch anemic, however, with a mere trio of USB ports and a multiformat card reader. While it's neither the fastest nor the best-designed PC on our performance-PC charts, Its price-to-performance ratio on general tasks and gaming is equally impressive, and the system comes with all the connections to make for a rich, next-generation desktop.
The 97B comes with two free PCI Express x1 slots, two PCI Express x16 slots, and a single PCI slot. We weren't thrilled with the roughshod wiring job, but its forgivable .It's a shame, too, that Micro Express doesn't make better use of this monstrosity by overclocking the CPU a bit.