The Giant pong played by two cars? That was amazing to watch! If you don't know about it yet, let us tell you what it actually is.
The Giant pong was actually devised as an advertisement for the Smart Fortwo Electric Drive; the whole set up was done by an ad agency BBDO and the giant-screen game was called "Smart eBall". It was actually made to let the customers/viewers check the accelerating speeds of the little electric car and instead of hiring some professionals to do it, they just let the crowd handle the cars.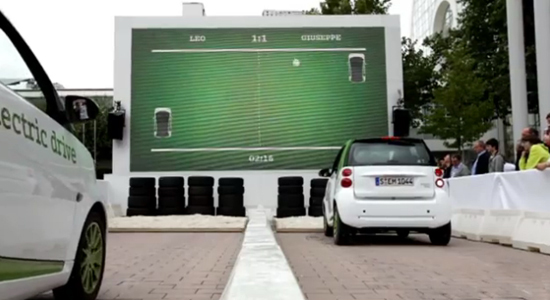 So the whole game was put into action by using a big giant screen at the front and all you had to do was to hit the ball by making your car move forwards or backwards.
This whole demonstration took place in Frankfurt, Germany and by now, they must have made a lot of money as 520,000 people just rushed on to the stage as word spread about the game like wildfire, with people even coming from far up places to enjoy this game.
The question is, will there be more future games cum ads like this?
[youtube]http://www.youtube.com/watch?v=FDusidt8u60&feature=player_embedded[/youtube]