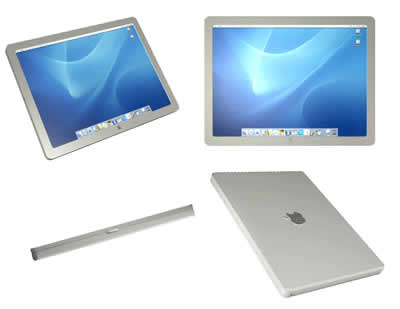 Apple's new tablet, the iPad, sparks strong emotion among both supporters and detractors. For everyone else, here are six reasons to pre-order and half-dozen reasons to wait.
Reasons to Buy:
1. Undeniably cool. The iPad looks like a giant iPod and the look supersizes quite nicely.
2. The best e-reader? The iPad is already generating comments that it will be a Kindle-beater and Nook-destroyer. The 16 GB $499 model may not be good for carrying around lots of movies and music, but it should hold a lot of books. I want to hear more about the hands-on reading experience, but early word is the iPad is an excellent place to enjoy a good book. Or a textbook, which is a huge potential market for the device.
3. Gaming. The iPhone became a surprise hit among gamers, or at least expanded the market to include lots of previous non-gamers (such as myself). Either way, the iPad is optimized to improve the iPhone gaming experience, allowing new elements to be added to games that can be played on both the iPhone/iPod touch and the new iPad.
4. The iPad makes it easy to share media. Not for a whole room, but you and a friend or two should be able to watch movies, listen to music, or pass the iPad back-and-forth for games. It's just the right size for sharing up-close and the lack of a keyboard makes the iPad easier to handle than a notebook.
5. Applications. With all the above going for it, the iPad almost doesn't have to do things like Web surfing and e-mail checking or document writing. But, it does them all and runs 140,000 iPhone apps besides. Sure, the best apps will be specially-written for the iPad, but you can use iPhone/iPod touch favorites right away.
6. Time may be on your side. The iPad may become much more compelling–thanks to new apps–between now and its March/April ship dates.
Next reasons to hold off 🙂