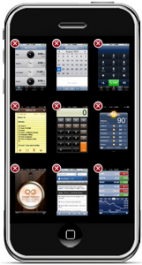 Multifl0w, multitasking app for iPhone, iPod touch, and iPad has just been released and available on Cydia store. This app is a multitasking/task switching app for iDevice running iOS. This app will give you Exposé-like multitasking on your iOS based device.
This latest version of Multifl0w is fully compatible with all iOS based devices, which includes iPhone and iPod touch running on iOS 4.x and iPad running on iOS 3.2.x. This version also includes various new features and improvements.
The Multifl0w will give you up to 9 previews of the apps that are currently running in the background and you can also stack them in any way you want just by swiping your finger over the previews.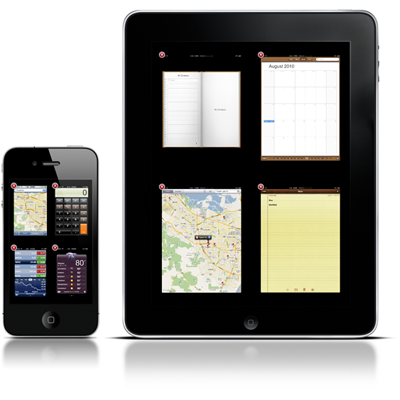 If you compare both, Multifl0w and default iOS 4 multitasking app, then you'll find that the visual effects of this app are much better that default multitasking app. This app works smoothly and efficiently on all jailbroken iDevices running iOS.
Since iOS 4 for iPad is expected to be released by fall of this year that means if you want to experience multitasking on your iPad then you must need to use Multifl0w.
According to the description posted on multifl0w website:
"Exposé-like multitasking for iOS! Works with iOS4, and iPad! Totally rewritten for speed, reliability, a redesigned interface, and iOS4! Multifl0w shows all open apps (up to 9) on the same screen, for easy and quick task switching. The tabs are re-arrangeable, just drag an drop! In iOS4, Multifl0w can work alongside or totally replace Apple's task switcher! Also compatible on iOS 3.1.X, just be sure to install the free app Backgrounder. Also, on iOS4, Backgrounder enables more customization so you can get the multitasking style you want."
[youtube]http://www.youtube.com/watch?v=pcIORhb8NfQ[/youtube]
Multifl0w – New Features and Bug Fixes
New Features
Can show background image on iOS 4
Option to show a small icon picture over the app snapshots
Bug Fixes
Fixed 9+ apps sometimes crashing issue
Fixed being able to open on lockscreen, and iPod controls conflict
Fixed Multifl0w getting auto-assigned to double tap on lockscreen
Fixed apps not showing up when backgrounded with an activator method not involving the home button
Fixed apps sometimes not getting killed in iOS4
Fixed preferences not getting loaded if the user has never changed them
How to Download Multifl0w for iPhone, iPod touch, iPad
Multifl0w is now available to purchase for just $4.99 on Cydia. The cost of this app is cheap as compared to the features it offers. Basically it runs on top of Backgrounder app so you'll have to download it too which is available for download for free from Cydia. This app is compatible with iOS 4.x, iOS 3.1.x, iOS 3.2.x.