Some people are born with luck while others "make" their own if you believe in the idea of grasping opportunities with both hands. Personally, I'd say I've experienced a bit of luck myself, nothing extraordinary but your average kind where you win an event or just so happen to find a few dollars lying around on the ground.
The story however for a couple in Virginia is quite unique as they won the lottery three times in the month of March 2014 which brought their total purse to an estimated US$2 million. According to the Daily Press, the run of luck started on the 12th of March when Calvin and Zatera Spencer won US$1 million playing Powerball. Two weeks later, the lightning of luck struck again when Calvin won US$50,000 after purchasing ten winning tickets in the Virginia Lottery's Pick 4 game.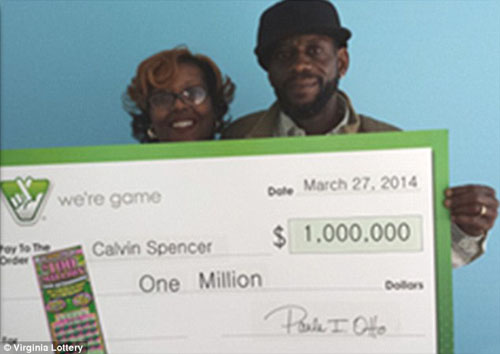 The story doesn't end there, the very following day Calvin won another US$1 million after purchasing a 100 million Cash Extravaganza Scratcher ticket to seal what is deemed as the most unlikely treble of lottery luck in Virginia's history.
"I haven't seen anything like it in my 12 years here," said John Hagerty, lottery spokesman. "People in the office couldn't believe it was them when they showed up with the winning ticket."
The couple stated that while they are happy with their winnings they will continue to purchase lotto tickets. "We're not finished yet," insisted Mr. Spencer.  There is little doubt as to whether he was sincere with the couple's healthy track record of purchasing Virginia Lottery tickets. Only time will tell if it was a wise move or if all the luck was used up in the span of one month.