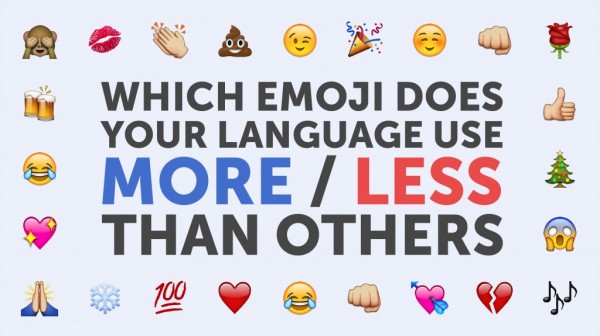 Whether you are sending countless 'poops' or adding hearts to sentimental messages, the emoji icon that you use the most says a lot about you. Some experts have successfully been able to analyse more than one billion uses of tiny icons to see how they are used across different languages. Some of the findings that have surfaced from the study revealed that the French are the most affectionate speaking people as they send more hearts than any other region, while Australians are more alcohol-lovers as they use double the average amount of alcohol themed emoji.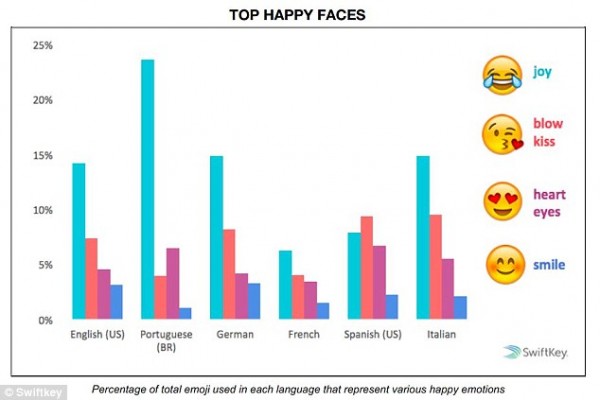 To conduct the research, London-based keyboard app firm SwiftKey analysed more than one billion sets of emoji data, covering 800 emoji across 60 categories. The study which was conducted over a four-month period between October 2014 and January 2015, includes both Android and iOS devices. The languages studied include: English, including US, UK and Australian, Spanish, Vietnamese, French, Malaysian, Arabic, German, Turkish, French, Portuguese, Italian and Russian.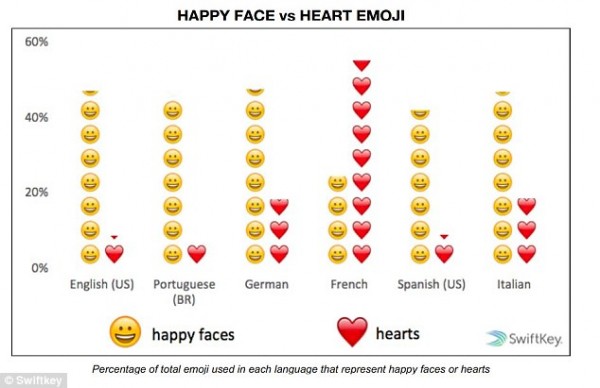 Out of all the existing emoji icons, happy faces; including winks, kisses, smiles and grins came out as the most popularly used, making up 45% of all the messages studied.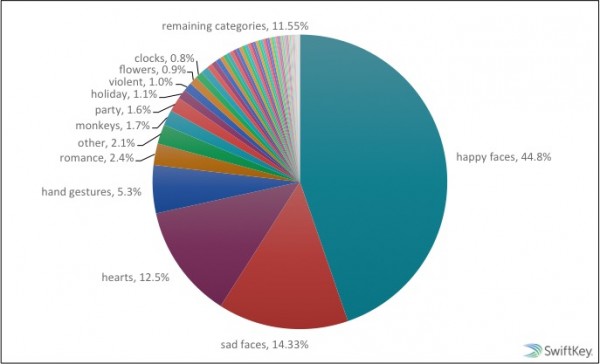 Sad Faces were in second place followed by hearts, which includes all colors of hearts and the broken heart emoji. In fourth place were hand gestures such as thumbs up, clapping hands and the peace. Romantic emojis such as the lipstick kiss mark, love letter and couple kissing followed.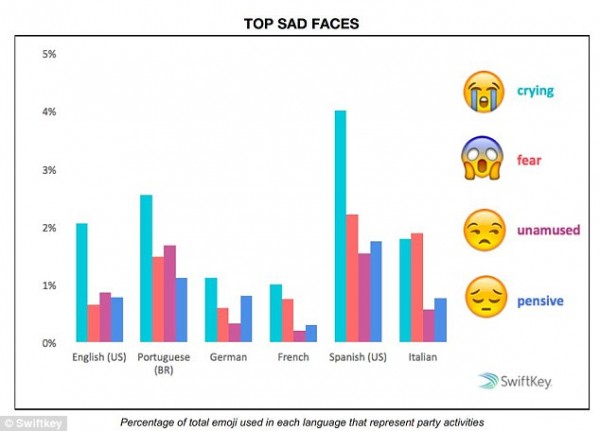 In the process, the researchers were also happy to discover that all languages were found to be more positive than negative, in terms of emoji use. The most positive of all on 86%, compared to the average 70%, was French. Funny emojis, including farts and poop are used by Malaysian speakers at nearly double the average rate, and are least used by Russians. Malaysians were also said to use sleep-related emoji more than average .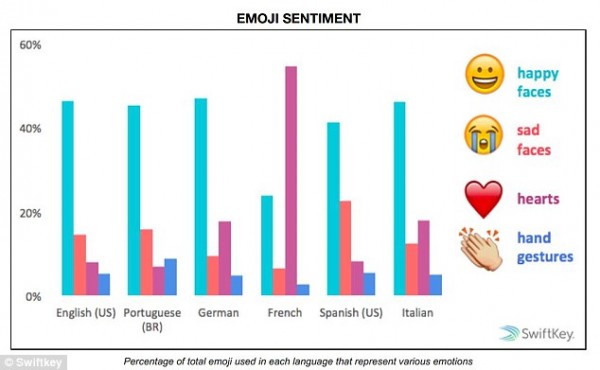 Canadians were also said to be twice as raunchy as all other languages as they use twice as many so-called 'raunchy humour emoji', including the banana, eggplant, peach, cherries and Cancer astrological symbol than average.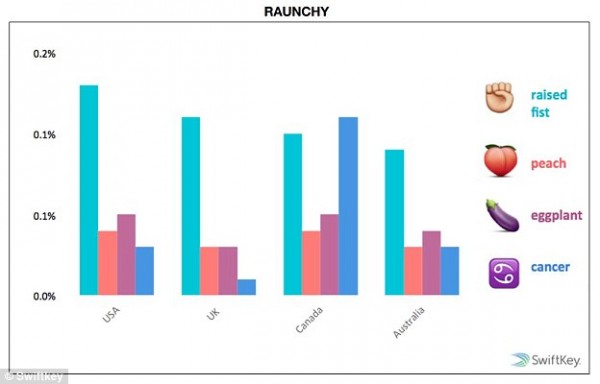 As it relates to the alcohol emoji, Australia uses double the average amount of alcohol-themed emoji, compared to Turkish and Arabic at the opposite end of the scale. It was also found that in Brazil, and among US Spanish speakers, the number one emoji is beer.