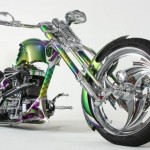 When it comes to custom motorcycle builders, there's crazy and there's really crazy. From the alligator bikte to the Motorcycle Tank. 10 strange vehicles around the world.
10. The world's biggest motorcycle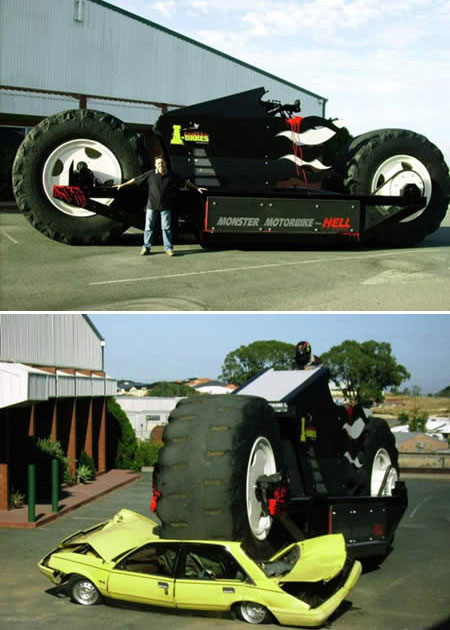 Almost thirty feet (9 metres) long, ten feet (3 metres) high and weighing as much as a school bus, the name emblazoned along the side of this menacing two-wheeled beast says it all – it's the "Monster Motorbike from Hell". Designed and built in Perth, Australia, by stunt driver Ray Baumann where it's been wowing fans with its car and caravan crushing capabilities, the Monster Motorbike is powered by a Detroit Diesel truck engine and six-speed Allison automatic and uses a two-speed Eaton differential from a road train to drive a massive chain on each side of the one-metre wide rear wheel.  Taken from a Caterpillar 80 tonne front end loader, the wheels and tyres alone are almost 10 feet (3 metres) high.
Weighing in at 13.6 tonnes (picture 10 family cars or a school bus), the Monster Motorbike is heading to Australia's east coast where it's sure to be a star attraction at the Melbourne Motor Show beginning in late February.
9. The Motorcycle Tank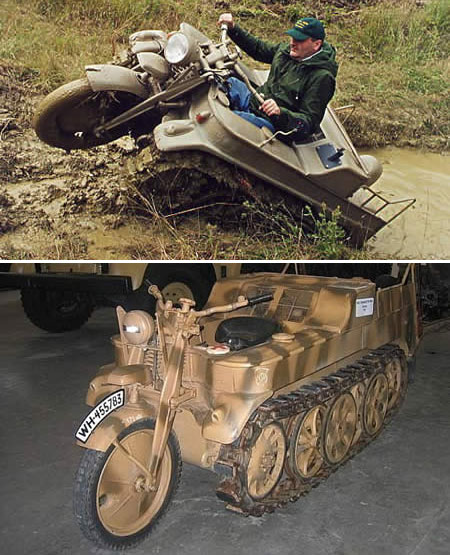 The Kettenkraftrad, type HK 101 is one of the most unique vehicles developed during the Second World War. The "tracked motorcycle" concept was conceived and patented by a German inventor, Heinrich Ernst Kniepkamp, in June of 1939. This was in response to a request for a fast, tracked vehicle capable of moving small loads in mountainous terrain.
The web sites say there were about 8400 Kettenkrads produced during the war and over 500 afterwards. Some collectors keep them going
Specs say they could get up to 45-50mph with the 4 cylinder, 1478cc gasoline engine sourced from Opel, while the vehicle itself was made by NSU.
8. Car Attached MotorCycle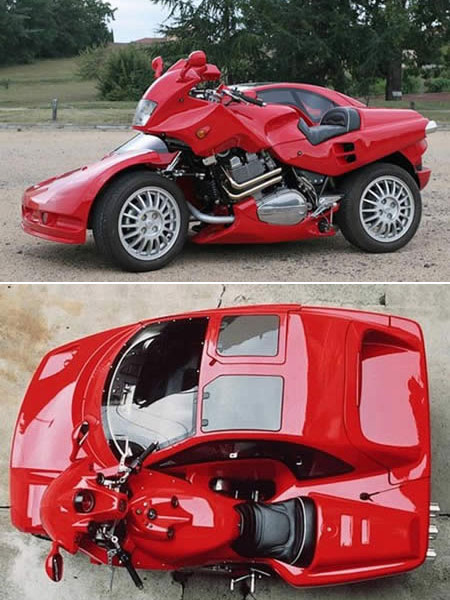 There are motorcycle sidecars, and then there are motorcycle sidecars. This particular mash-up is dubbed the "Snaefell" and is the work of Francois Knorreck. It took him a whopping 10 years and over $20,000 to complete. The motorcycle is a Laverda, and the car itself is actually cannibalized from several different vehicles.
7. Alligator Motorcycle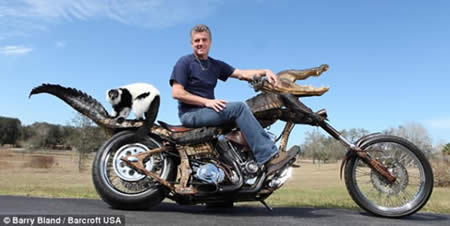 Jim Jablon used the skin of a dead alligator to create one of the strangest bikes ever seen on the roads of Florida.
Ironically enough, Jim Jablon's 'Gator Bike' was created using the skin of an alligator killed by authorities, but it's now used to raise funds for a wildlife foundation. Alligator are constantly culled, in order to keep their numbers under control, and most of the skins end up pinned up in people's yards. So Jim thought to put one to good use and get some exposure for his Wildlife Rehabilitation of Hernando (WROH) foundation. That's basically how the Gator Bike was born.
The Gator Bike took Swedish leather expert Benny Ohrman a full year to complete. The skin and tail come of the bike, but the alligatorhead is fixed in place and has the speedometer and the rest of the gauges in the back of the head.
It's worth mentioning the Gator Bike comes with a powerful Ultima engine, and over $86,000 to make.