6. Mobile Barbecue Pit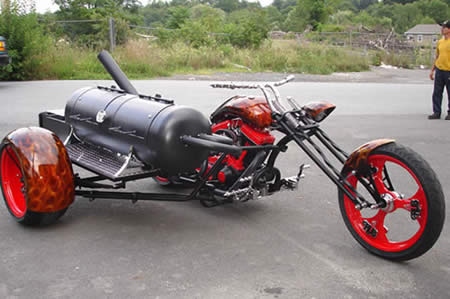 When Andrew Fishel, the owner of New York restaurant RUB, wanted "the sickest, baddest thing in the world," he commissioned Orange County Chopper (of the American Chopper TV show fame) to create a mobile BBQ pit.
Was it really that good of an idea to have what amounts to a giant wood oven inches from a gas tank? But the RUB guys have already cooked ribs, brisket, and pork butt on it, and they aren't dead yet. When asked if it was dangerous, Fischel replied breezily, "I don't know. No one's ever built one of these before." Let's hope we don't find out the hard way.
5.  The VW Motorcycle Sidecar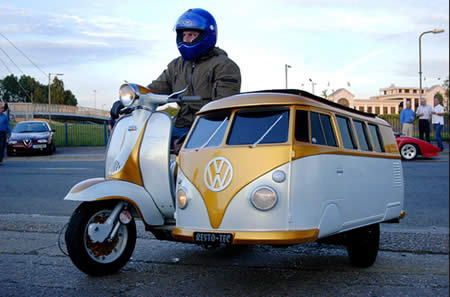 This VW sidecar was built by Jason Dyer of Resto-Tec out of the UK, which makes sense since the side car is on the left side of the Lambretta scooter. It was featured in July 2007 issue of Scootering magazine.
4. Motorcycle Motorhome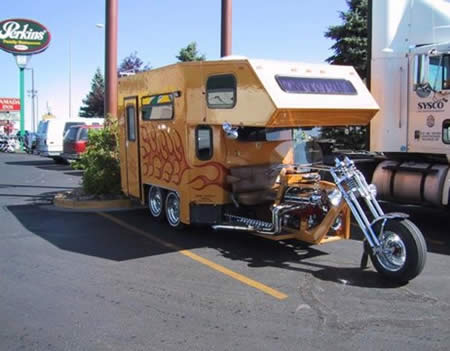 Everyone knows the biggest problem with motorcycles is that they lack a trunk, which makes it hard to take them very far since you have no place to put your stuff. Well, that's no longer a problem with this crazy motorcycle motorhome which has the front end of a chopper and the back end of an RV. Of course the RV part has flames on the side so you can maintain your street cred with the biker
set.
3. Chromed