Of all the things you can do with that extra cash, this is perhaps the most amazing and extravagant; yes,buying your own private island! If you think the idea is farfetched, you might be surprised to know that it's a profession where professionals specialize in selling and advertising such islands. The possibilities are endless; simple cottages to 1,500 acres of lands are available. We have compiled a list of top 10 such private islands based on the unique attributes they offer. Even if you are not crazy rich, the list is worth having a look at, enjoy.
10: Little Hall's Pond Cay, Bahamas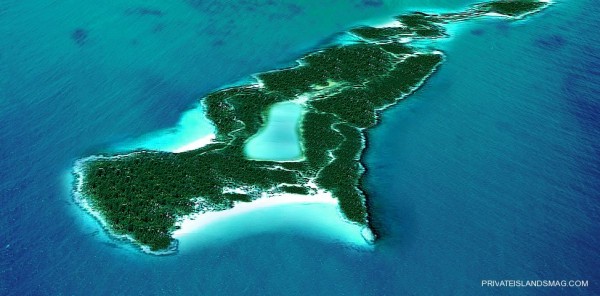 Owned by superstar actor; Johnny Depp, this beautiful 45-acre (18.2-hectare) piece of land lies in the middle of the Bahamian waters. The location is full of fascinating and colourful animals, aquatic and plant life. Not just that, there are also white sand beaches (6 in total) that contain small residences. These residences are powered by solar-panels. There has been a "no take" zone established within the vicinity of the Exuma Cays Land and Sea Park, which extends to about one hundred and four kms (about sixty five miles) southeast of Nassau (capital of Bahamas). This island is one of more than twelve cays that exist in that zone. This means that the land owned by Depp, his own personal piece of paradise, will not be threatened by any sort of fishing activities and he will always has the privacy that a celebrity can dream of.
As is normally the case, this privately owned cay is also not open to the general public. However, there are other gorgeous cays that people can go to if they'd like to do a bit of hiking, or perhaps some water activities like swimming, snorkeling, sailing and diving etc.
[youtube]http://www.youtube.com/watch?v=SK1zz9S4N3M[/youtube]
9: Skorpios Island, Greece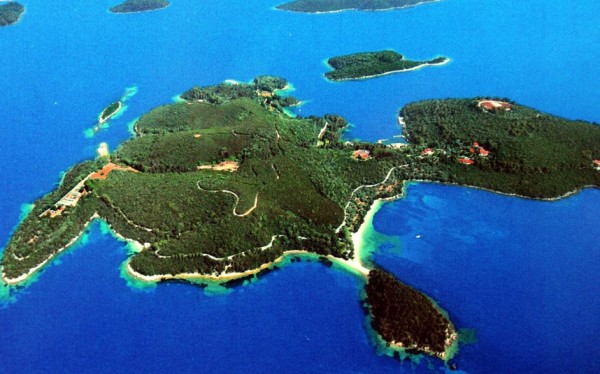 Nowadays, it has become quite a trend for rich people to purchase their own private island. It was kicked off by business mogul Aristotle Onassis. Bought fifty years ago, it is located at west of the Greek mainland, in the Ionian Sea. It was most famously used to hold his grand wedding with Jacqueline Kennedy in 1968; this gorgeous 32-acre (12.9-hectare) island was valued at an estimated $200 million just 10 years back. The island was inherited by Onassis' granddaughter, Athina Onassis. Thanks to the upkeep, the island is quite a vacationing spot for the owners and their friends! It has tennis courts, guest villas (2), a farmouse and Jacqueline's very own "Pink House" villa. Not just that, it also has many beach cottages, private and isolated coves and of course, beautiful beaches. To maintain the upkeep and take care of the staff required to do that, a residential area and power plant have also been built.
[youtube]http://www.youtube.com/watch?v=J9bj25pgHoM[/youtube]
8: Great Hans Lollik Island, U.S. Virgin Islands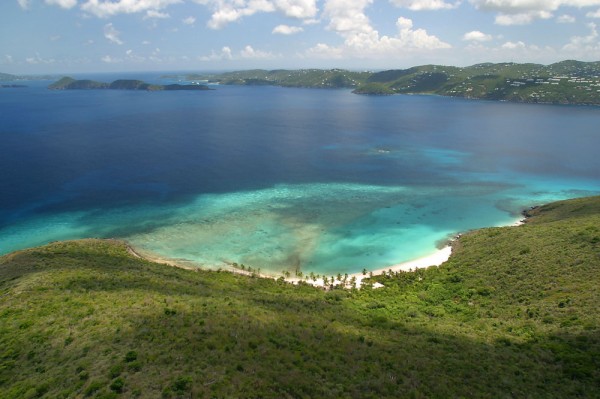 Located about 2.4 kms (roughly one and a half miles) north of St. Thomas, in the gorgeous U.S. Virgin Islands, this piece of heaven spans about 510-acres (206-hectare) featuring dense palm forests, crystal clear turquoise waters and white sand beaches. Interested in the view from above? You can also get 360-degree views from an altitude of over seven hundred meters. What a sight that must be! Development hasn't taken place and it remains uninhabited, but its zoning would allow the owner to proceed with the construction of a small resort and up to one hundred and fifty private residences. There is also the option to build independent utilities and a heliport. The island was put on sale, with a demand of forty five million dollars, in February 2011. When calculated, after a 20% downpayment and a 5% interest rate (fixed), it comes out to only about $195,000 per month for a time period of 30 years.
[youtube]http://www.youtube.com/watch?v=BM-MSdqIeAE[/youtube]