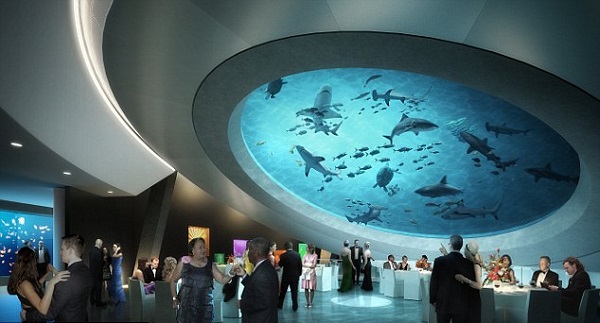 The most unique aquarium in the world is set to be a martini glass-shaped 500,000 -gallon seawater aquarium tank that visitors will be able to walk under. The foundation of the $101m Patricia and Phillip Frost Museum of Science project was completed this week and was said to hit the mark of the biggest concrete pours by construction workers. For 25 hours, 1,200 cubic-yards of concrete was pumped into the foundation using giant hoses. The project leaded by Contractor Skanska required 150 people for each of two shifts and 131 concrete trucks.
[youtube]https://www.youtube.com/watch?v=wfGKQZEKs4M[/youtube]
"The stakes were very high for this aspect of our new $101 million Patricia and Phillip Frost Museum of Science project," the firm said. "The tank can't have any cracks large enough to let water pass through, which essentially means no cracks at all, and certainly not any construction joints."
Once the museum is opened during the expected summer of year 2016, visitors will be able to walk beneath the suspended, conical tank through its 30-foot diameter 18-inch-thick acrylic lens at the base and get views of sharks and other aquatic life.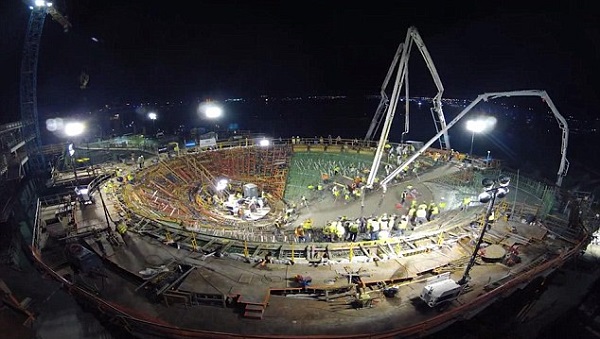 While the construction was in progress, the adjacent Biscayne Bay had cruise ships being docked and fireworks were being exploded in the air from nearby South Beach. The pour at the base begun at 4:35p.m. on Friday the 12 of December as the team proceeded with their approach of pouring both clockwise and counter-clockwise. The pour was completed by 5:25p.m. on the following Saturday.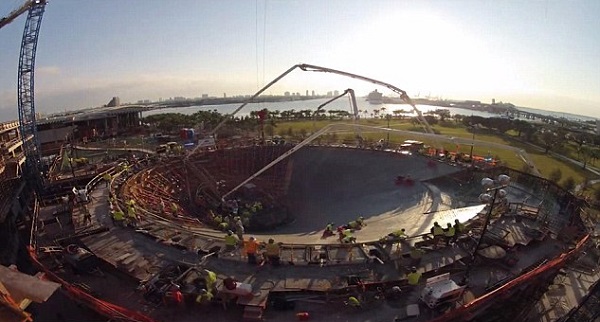 The Senior Manager of the project, Nicole Heran, said, "all in all, it was a great day and night, with no safety issues."
Mechanics were on site and at the concrete plant, should one of the three concrete pumps break down. During the overnight pour, both a concrete pump and a conveyor belt at the plant however went down for 30 minutes.
In addition to the aquarium and the planetarium, exhibition halls and indoor and outdoor science exhibits will be added to the 250,000-square-foot museum. The musuem is located in dowtown Miami's Museum Park and is targeting LEED Platinum certification.