Most people who buy smartphone flagships like Apple's iPhone 12 are not using their handset just to check a few messages each day. They are power users who are constantly sending and receiving messages, consuming media, browsing, playing games, and taking photos and videos. That's a lot of work for a small device, which is why your phone's battery lasts only a day.
In fact, getting a day out of your iPhone 12 if you are a heavy user can be a challenge. We have all been there… outside needing to check Google Maps for directions, send a message, or take a photo when the battery dies. It sucks and is a common problem with smartphones.
However, what if there was an affordable way to keep your smartphone battery topped up? Well, there is if you invest in a power bank.
What Is a Power Bank?
A power bank is essentially a small battery pack that is portable and allows you to charge a device away from mains electricity and on the move. All you need is a USB connection between the device and the power bank.
Battery power banks must be charged from mains electricity before holding that charge sort of like a power storage unit. You can then access the stored energy to charge your iPhone 12 and other smartphones and devices.
Like batteries in phones, power banks are available in different sizes on the mAh rating. While the higher mAh number means there will likely be more charge, that is not always the case because of the efficiency of the product. However, the mAh number is a good beginner indicator of the kind of charging cycles a power bank delivers.
Why You May Need a Power Bank
We are used to upgrading our smartphones every one or two years and getting better cameras, screens, processors, and performance. However, one area where smartphone technology is standing still is in battery capabilities. Sure, we get incremental improvements of maybe one additional hour of battery life each year, but in the real world flagship devices last barely a day.
That's certainly true of the iPhone 12. Simply put, the technology is not yet here to allow multi-day battery performance so users must find ways to boost their available power. You're not always going to be able to find somewhere to plug in your device, so you need another solution. That's why battery power banks are becoming extremely popular.
Best Power Banks
When choosing a power bank, it's important to assess why you need the charger. For example, if you will be at work and just need to top your iPhone 12 charge, a smaller single-charge power bank will be ideal. If you are heading on a trip and envision being away from mains electricity for some time, a larger power bank with multiple charges.
Below are some of the choices to cover all scenarios:
Goal Zero Sherpa 100 AC Portable Power Bank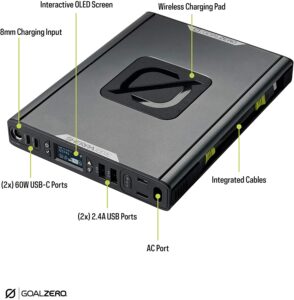 If you are heading on a long trip or on a rugged adventure, the Goal Zero Sherpa 100 AC is the obvious choice. This basically allows you to take your office on the road and can charge a phone up to 7 times, a tablet up to 3 times, and a laptop around 2 times. That means all your devices can be ready to go wherever you are in the world. While it can charge from mains, the Sherpa can also be charged from solar power, making it a truly portable charging solution. Yes, it costs a few hundred bucks, but for this kind of rugged protection, charging power, and mobility, it is worth it.
Anker Portable Charger, PowerCore Essential 20000mAh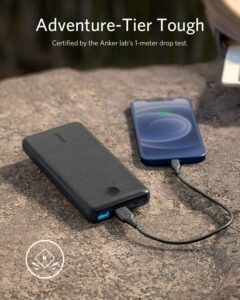 If you want something to top up your iPhone 12 during work, dropping hundreds on the Sherpa is hardly sensible. Instead, a more modest power bank that still allows plenty of charges is in order… and at a fraction of the cost! The iPhone 12 Pro Max, the flagship of the ranger, has a 3,687 mAh battery, so the 20,000 mAh in the Anker PowerCore Essential gives you an idea of how many charges you can get from this power bank. Anker says this battery will provide around 5 full charges for your iPhone.