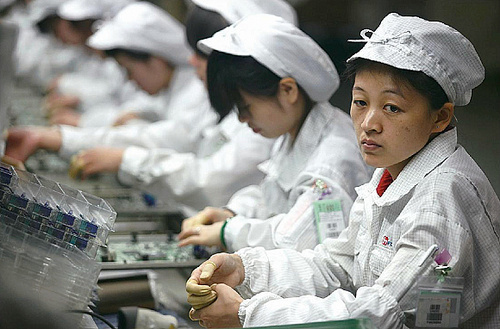 Did you know that your iPhone was built (in part) by 13 year old children? According to US based radio show "This American Life", these little souls work 16 hours a day and get just 70 Cents per hour! Although manufacturers in China are copying cars and taking international manufacturers to court, China being the leader of machinery and mineral resources, provides the best platform to manufacturers from all over the world. We previously covered mass production in China in form of stunning pictures. Recent stats show that almost all famous companies and industrialists have shifted their businesses to China.
The big population of China gives us clear reason for cheap labor but things have now gone way over the line. People who make our iPhones and iPads don't have iPhones and iPads because they can't afford one. Workers making casing of iPad claimed that they have never seen an actual iPad – well it sounds strange but its true! Foxconn is one of the company where Apple products are being manufactured (mostly iPhones and iPads). One of their factory in Shenzhen (a city in China which is even more populous than NY, US) has over 430,000 employee. One of their worker was recently interviewed outside the gates of company. She told that she was 13 years old and she polishes thousands of new iPhones' glass every day. According to her, Foxconn doesn't check ages of employees. There are on-site inspections from time to time but Foxconn always know when they are happening. Hence, when the inspection team arrives they replace their young looking workers with the older ones. She told that among many workers she meets everyday, many are about 12, 13 and 14 in age.
Apple is one of the world's biggest and most reputed company but this type of ignorance (may be for higher profit margin) gives way to a negative impact on the company's profile. Making children work is morally wrong, illegal by law and should be banned.
The Exchange: The real cost of your iPhone
[youtube]http://www.youtube.com/watch?v=BUOUr61MvHI[/youtube]
UPDATE: "This American Life" announced that it is retracting the episode on Apple manufacturing practices because its primary information source, Mike Daisey, lied about several incidents. Many people claim that Apple has put pressure on "This American Life" to pull down the story and things on ground are still in-humane.