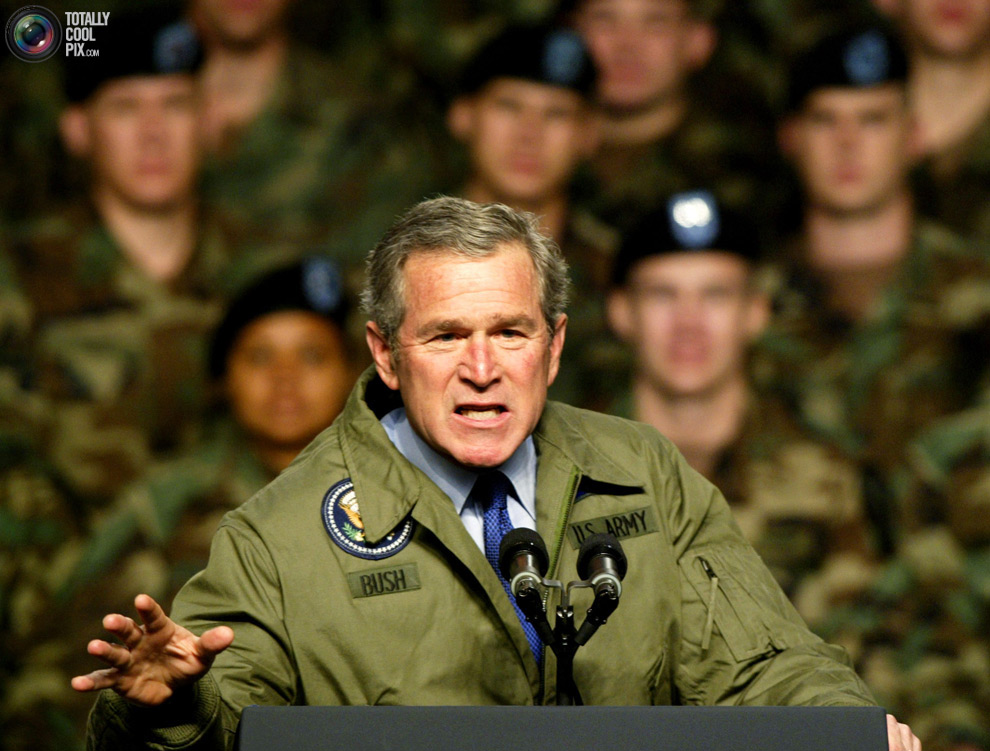 01. U.S. President George W. Bush addresses U.S. Army soldiers and their families at Fort Hood, Texas, January 3, 2003. Bush addressed the rising tensions with North Korea and the possiblity of military action against Iraq. Pictures of the month January 2003. REUTERS/Jeff Mitchell
8 Years ago, on March 20th 2003, former President George W. Bush declared war on the Iraq of Saddam Hussein. The heavens opened, raining down bombs and bullets. The war seemed to be over very soon. The people rejoiced, Saddam was gone, yet not yet found and Bush declared Mission Accomplished. However, the months and years following this victory speech told a different story. Sectarian violence between Sunnies and Shiites and everyone against the allied forces turned Iraq into a civil war zone. 8 Years of fighting, thousands of deaths, hundreds of thousands of injured and generation of kids growing up in a hostile environment has resulted in a Saddam Hussein free country, but is Iraq a safer place for it?
Warning: Some images depict scenes of death.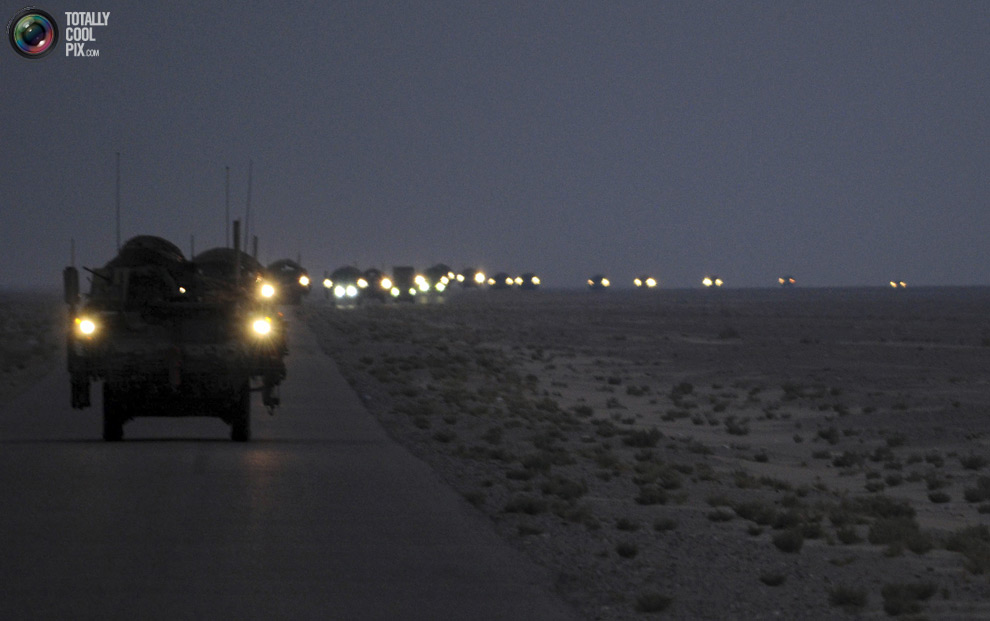 02. A line of Strykers convoy in the early hours of August 16, 2010 as part of the 4th Stryker Brigade Combat Team, 2nd Infantry Division, United States Division-Center?s last patrol through Iraq as they leave for Kuwait. Picture taken August 16, 2010. REUTERS/U.S. Army/Sgt. Kimberly Johnson/Handout
03. A U.S. helicopter patrols the area around Baghdad November 8, 2005. The U.N. Security Council voted unanimously on Tuesday to let the U.S.-led multinational force in Iraq remain in place through the end of 2006, as requested by Iraq's government. REUTERS/Gleb Garanich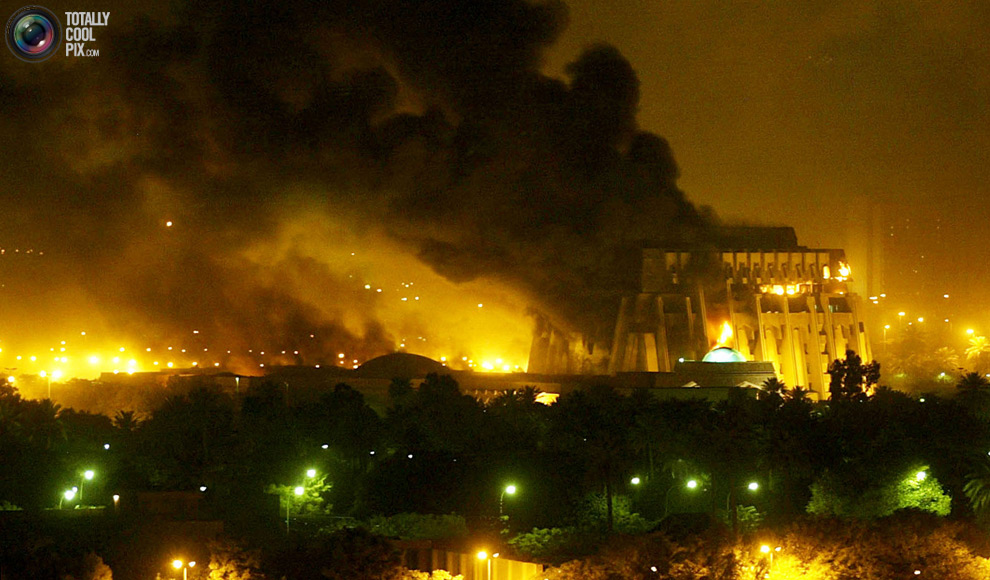 04. An explosion rocks Baghdad during air strikes March 21, 2003. U.S.-led forces unleashed a devastating blitz on Baghdad on Friday night, triggering giant fireballs and deafening explosions and sending huge mushroom clouds above the city centre. Missiles slammed into the main palace complex of President Saddam Hussein on the bank of the Tigris River, and key government buildings, in an onslaught that far exceeded strikes that launched the war on Thursday, Reuters correspondents said. REUTERS/Goran Tomasevic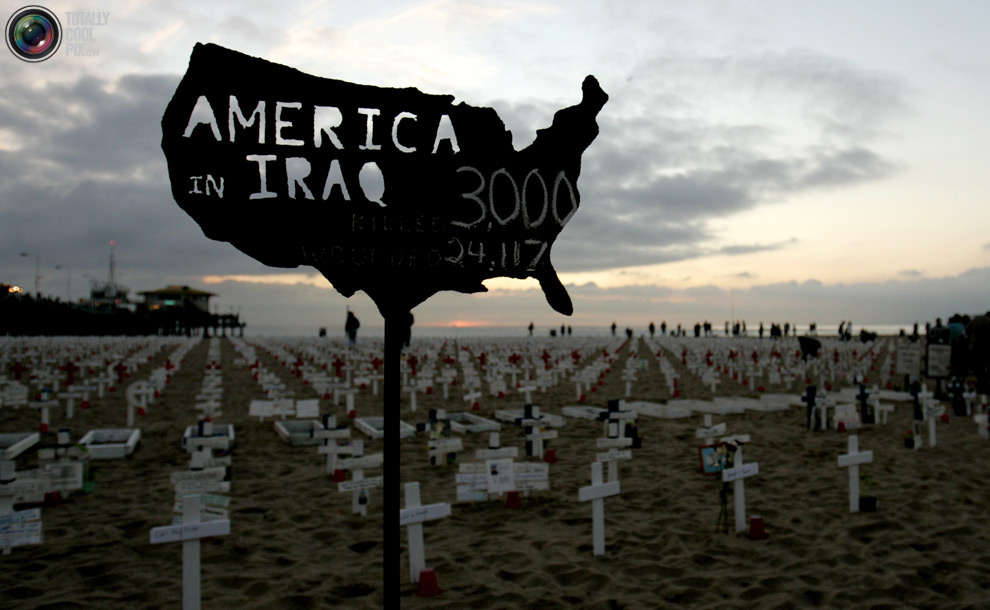 06. A sign is shown at Arlington West in Santa Monica December 31, 2006 to honor the 3,000th soldier killed in Iraq. REUTERS/Max Morse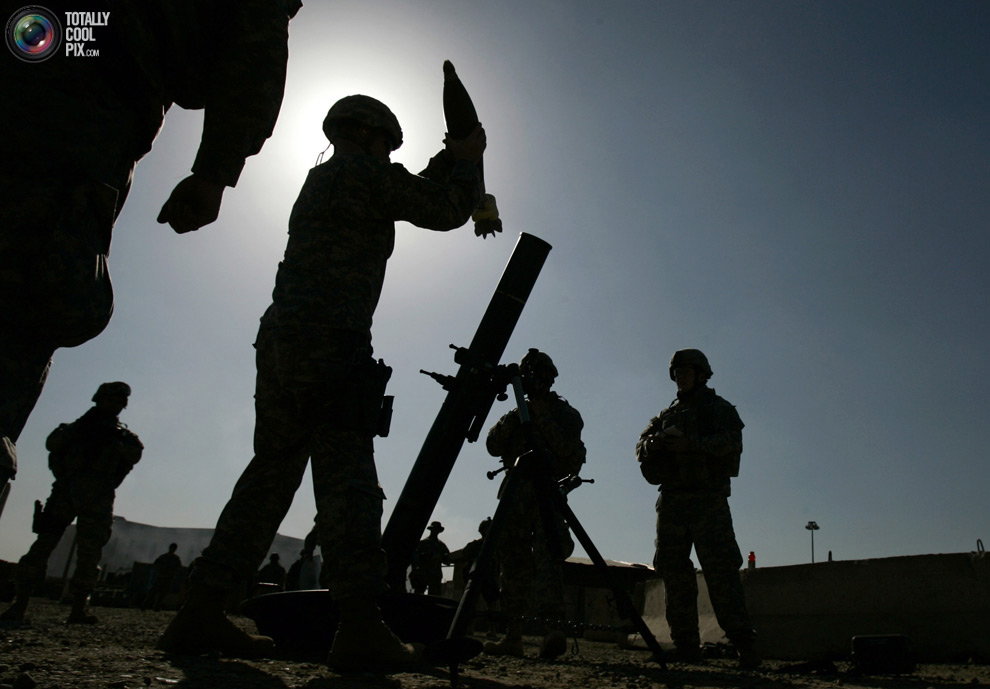 07. U.S. soldiers of the 2nd Brigade Combat Team, 2nd Infantry Division are silhouetted as they prepare to test fire a mortar during an exercise at forward operating base Loyalty in Baghdad February 8, 2007. REUTERS/Carlos Barria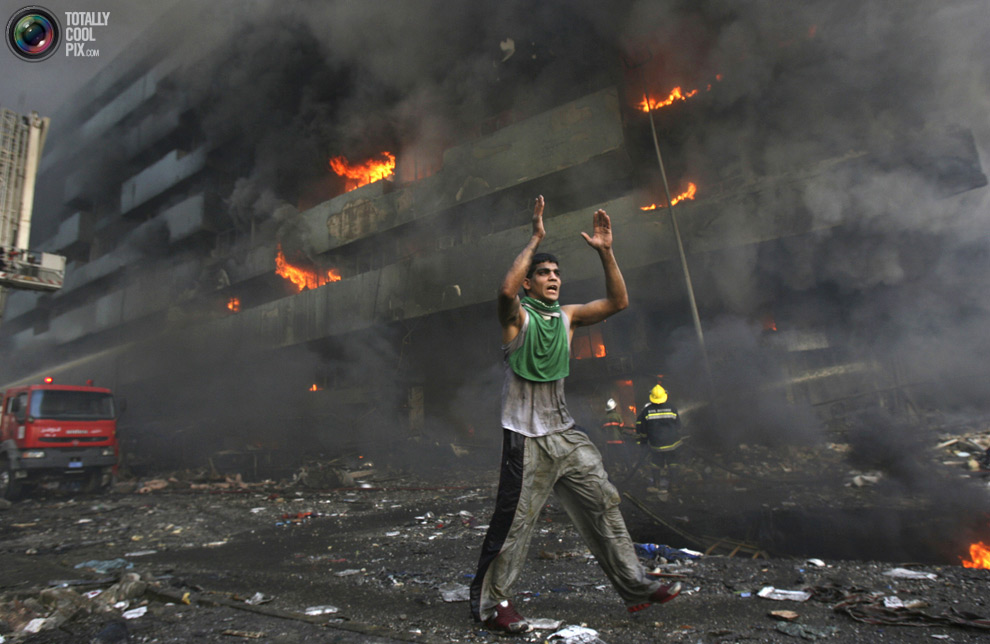 08. A man runs down a street warning people to flee shortly after a twin car bomb attack at Shorja market in Baghdad February 12, 2007. Three bomb attacks at markets in Baghdad killed at least 64 people and wounded 150 on Monday as Iraqis marked the first anniversary of a Shi'ite shrine bombing that pitched the country to the brink of civil war. REUTERS/Ceerwan Aziz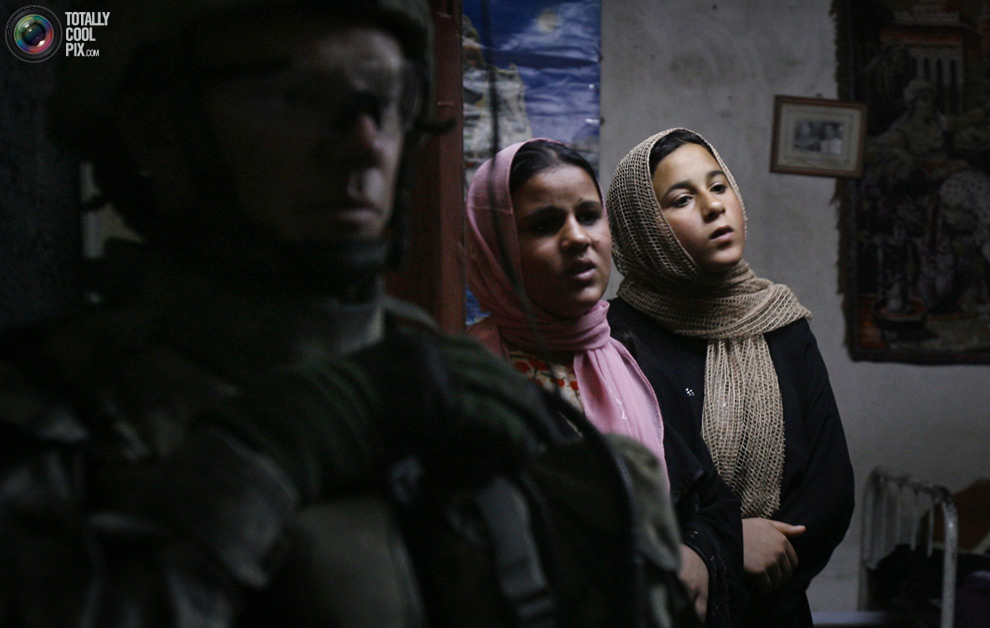 09. Iraqi girls watch as their brother is questioned by U.S. Army soldiers after he attempted to hide an illegal machine gun in Baghdad April 4, 2007. REUTERS/Bob Strong
10. U.S. Navy Hospital Corpsman HM1 Richard Barnett, assigned to the 1st Marine Division, holds an Iraqi child in central Iraq in this March 29, 2003 file photo. Confused front line crossfire ripped apart an Iraqi family after local soldiers appeared to force civilians towards positions held by U.S. Marines. March 20 marks the one year anniversary of the beginning of the U.S. led war against Iraq. The war started on March 20 Baghdad local time, March 19 Washington D.C. local time. REUTERS/Damir Sagolj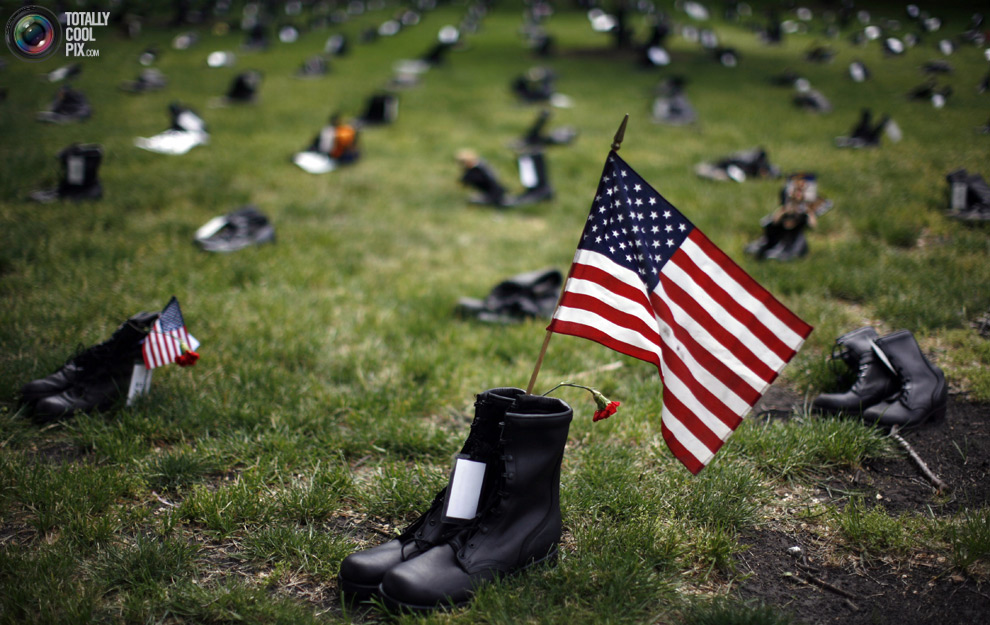 11. Boots representing Corporal Timothy D. Ross sit among more than 3,400 pairs of combat boots, one pair for every U.S. soldier killed in the Iraq War, displayed as part of Eyes Wide Open: An Exhibition on the Human Cost of the Iraq War in Chicago, May 25, 2007. The travelling exhibition will remain in Chicago until May 28. REUTERS/John Gress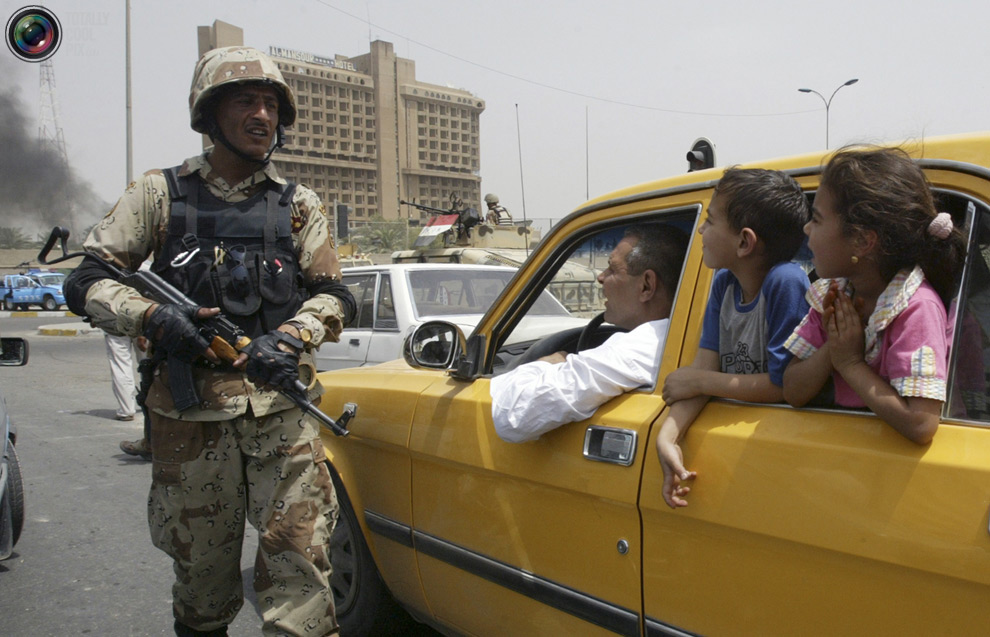 12. Iraqi children greet an Iraqi soldier at a checkpoint in Baghdad May 25, 2007. REUTERS/Mohammed Ameen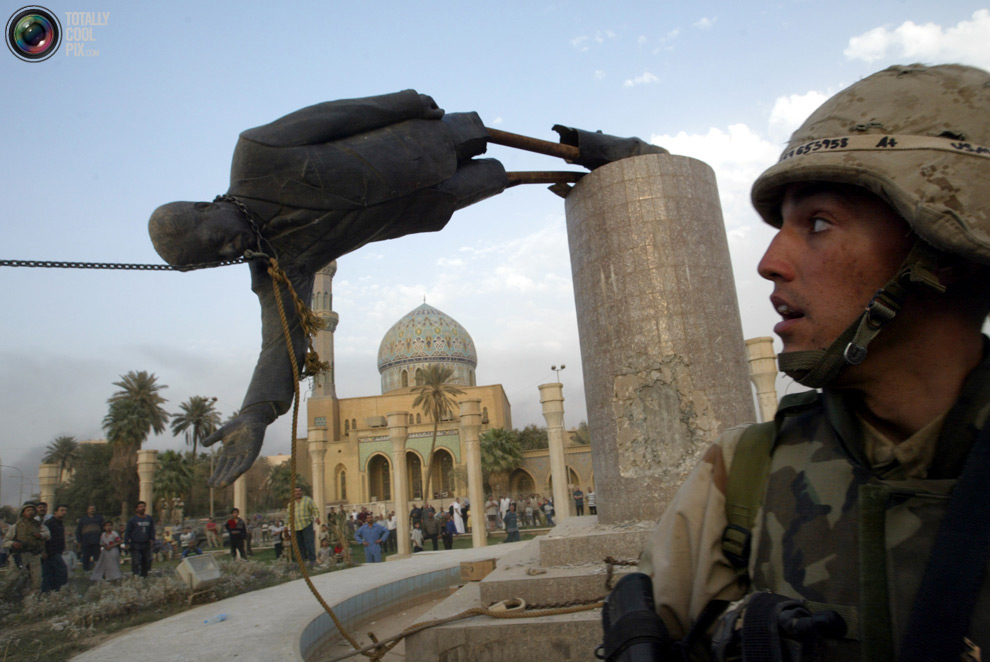 13. U.S. Marine Corp Assaultman Kirk Dalrymple watches as a statue of Iraq's President Saddam Hussein falls in central Baghdad April 9, 2003. U.S. troops pulled down a 20-foot (six metre) high statue of President Saddam Hussein in central Baghdad on Wednesday and Iraqis danced on it in contempt for the man who ruled them with an iron grip for 24 years. In scenes reminiscent of the fall of the Berlin Wall in 1989, Iraqis earlier took a sledgehammer to the marble plinth under the statue of Saddam. Youths had placed a noose around the statue's neck and attached the rope to a U.S. armoured recovery vehicle. REUTERS/Goran Tomasevic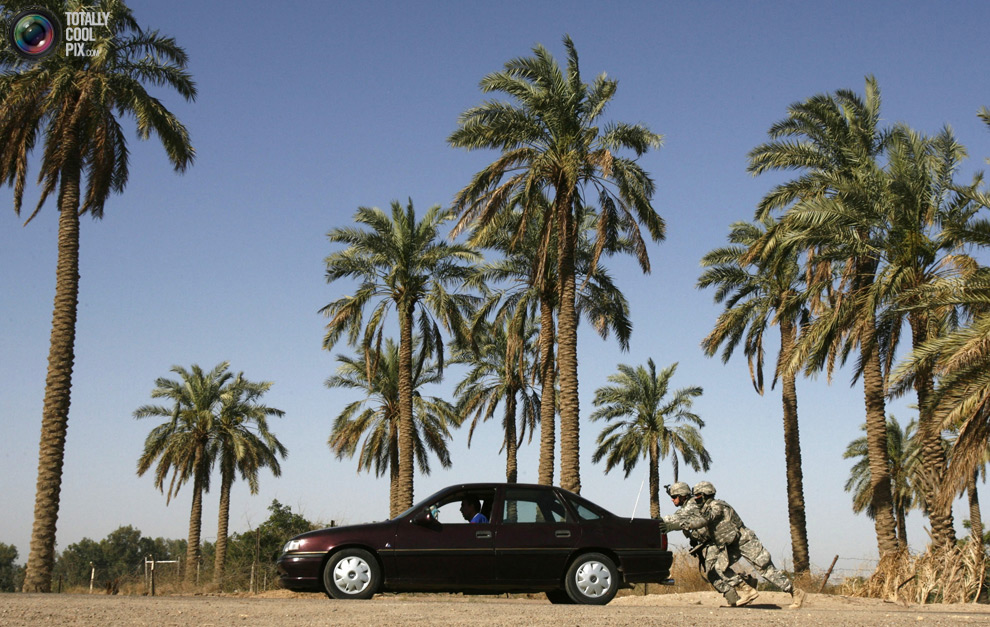 14. U.S. soldiers push the car of an Iraqi man to start the engine at a check point in north Baghdad June 13, 2007. REUTERS/Goran Tomasevic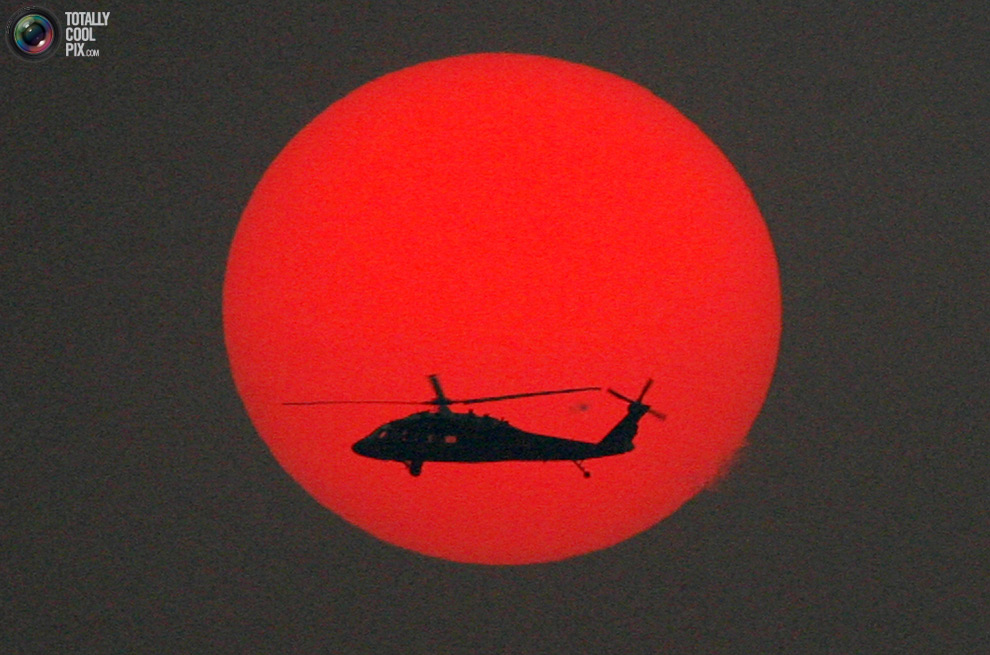 15. A U.S. Black Hawk helicopter patrols over Baghdad during sunset, December 13, 2006. REUTERS/Nikola Solic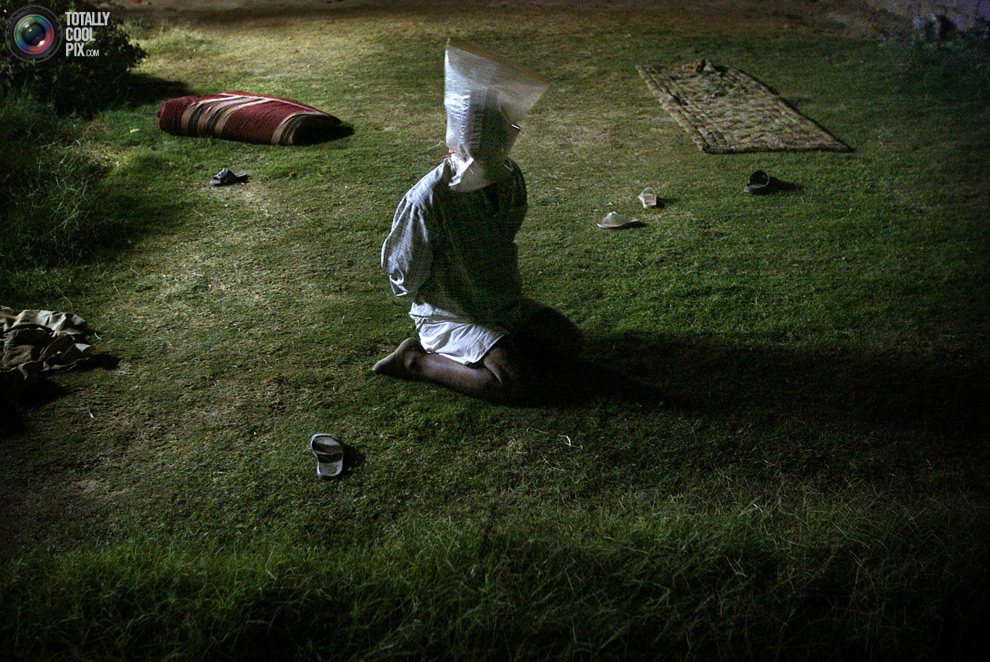 16. A detained Iraqi man with a plastic bag covering his head sits in garden of a house searched by U.S. soldiers during a night raid in Tikrit October 30, 2003. Soldiers of U.S. Army's 4th Infantry Division (Task Force Ironhorse) raided several houses in Tikrit looking for members of suspected terrorist cell planing attacks on coalition forces in Saddam Hussein's hometown Tikrit. REUTERS/Damir Sagolj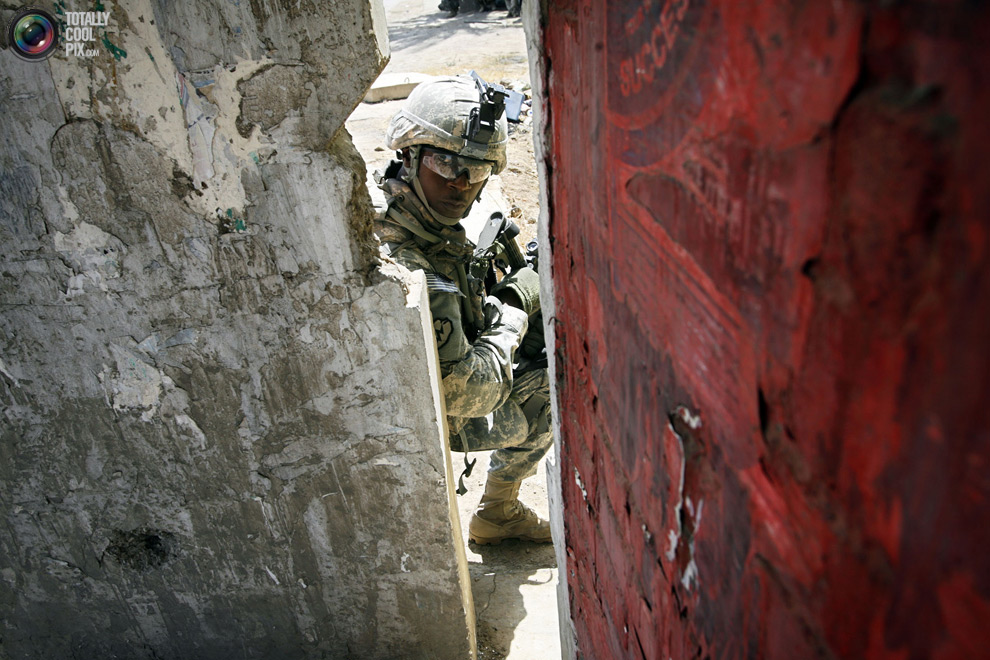 17. A U.S. soldier from the 2nd battalion, 32nd Field Artillery brigade takes position as shots were fired at the main road used by Iraqi pilgrims on their way to attend a Shi'ite religious ritual in Baghdad August 9, 2007. Hundreds of thousands of Shi'ite pilgrims made their way to a shrine in the north of Baghdad on Thursday, praying for safety at an annual rite marred by violence for the past two years. REUTERS/Damir Sagolj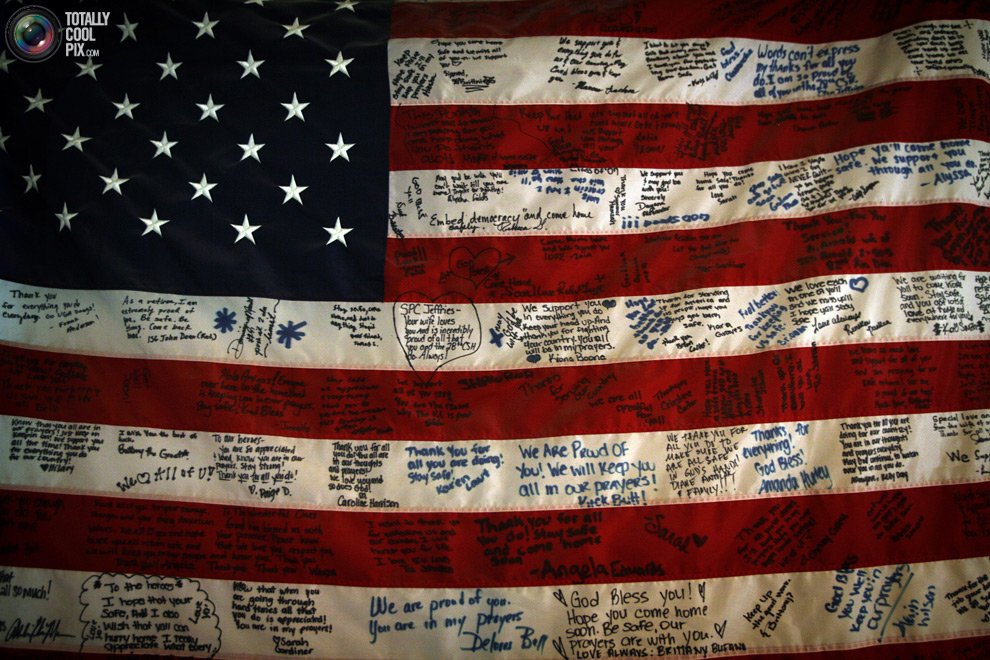 18. A U.S. flag with greetings from home is decorated in an emergency room of the 28th Combat Support hospital in the Green Zone in Baghdad August 18, 2007. REUTERS/Damir Sagolj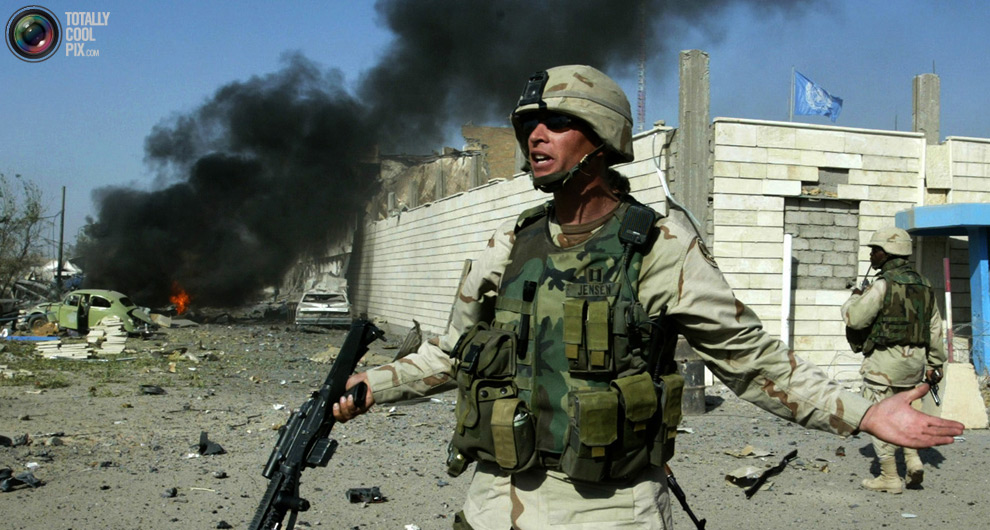 19. A U.S. soldier redirects people outside of the United Nation headquarters in Baghdad August 19, 2003. A car bomb explosion tore through the United Nations headquarters in Baghdad on Tuesday, destroying part of the building, and witnesses said at least three people were killed and dozens wounded. Two casualties were taken away by helicopter and two others by truck, Reuters correspondents on the scene said. Sirens wailed and a column of thick black smoke billowed into the sky. REUTERS/Suhaib Salem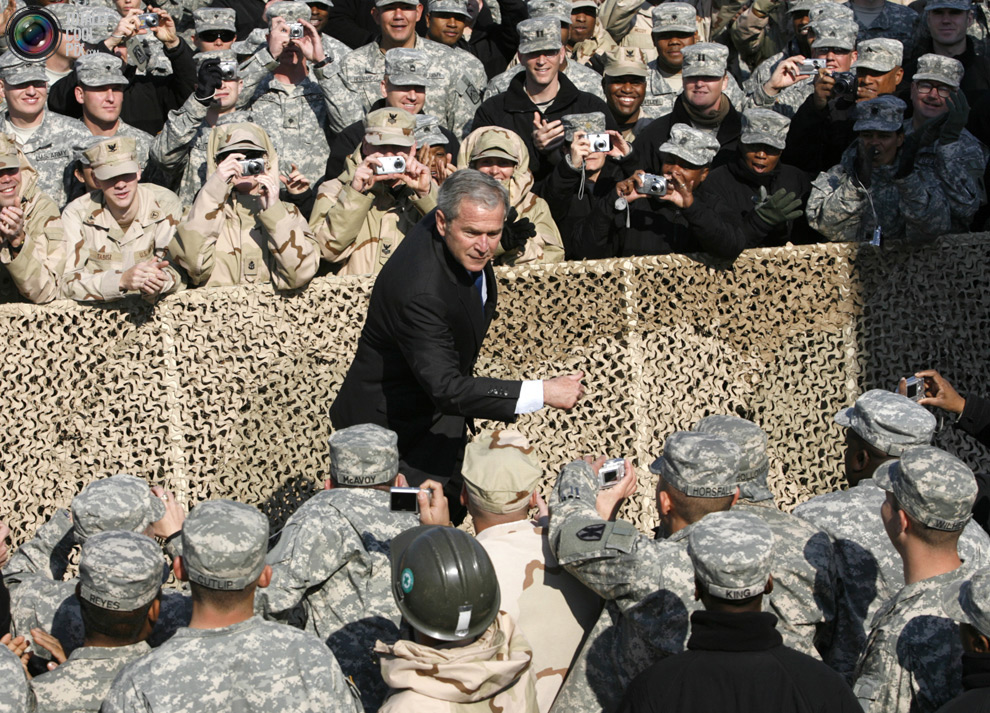 20. U.S. President George W. Bush greets U.S. soldiers based at Camp Arifjan in Kuwait January 12, 2007. Bush held talks with the top U.S. officials in Iraq on Saturday at the base in Kuwait, during a Gulf tour he hopes will aid the Israeli-Palestinian peace process and contain Iran. REUTERS/Kevin Lamarque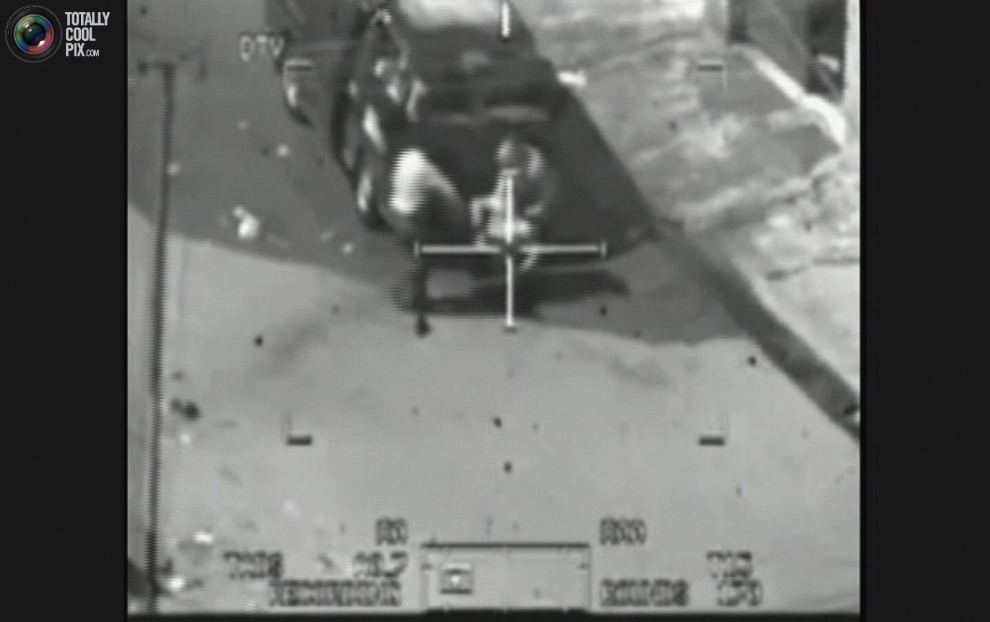 21. This image captured from a classified U.S. military video footage shows a wounded Iraqi person being loaded onto a van during a 2007 attack by Apache helicopters that killed a dozen people in Baghdad, including two Reuters news staff on July 12, 2007, and released to Reuters on April 5, 2010 by WikiLeaks, a group that promotes leaking to fight government and corporate corruption. Reuters photographer Namir Noor-Eldeen, 22, and his assistant and driver Saeed Chmagh, 40, were killed in the incident. The helicopter initially opens fire on the small group. Minutes later a van comes by, and starts assisting the wounded, and the helicopter opens fire on the van. REUTERS/WikiLeaks/Handout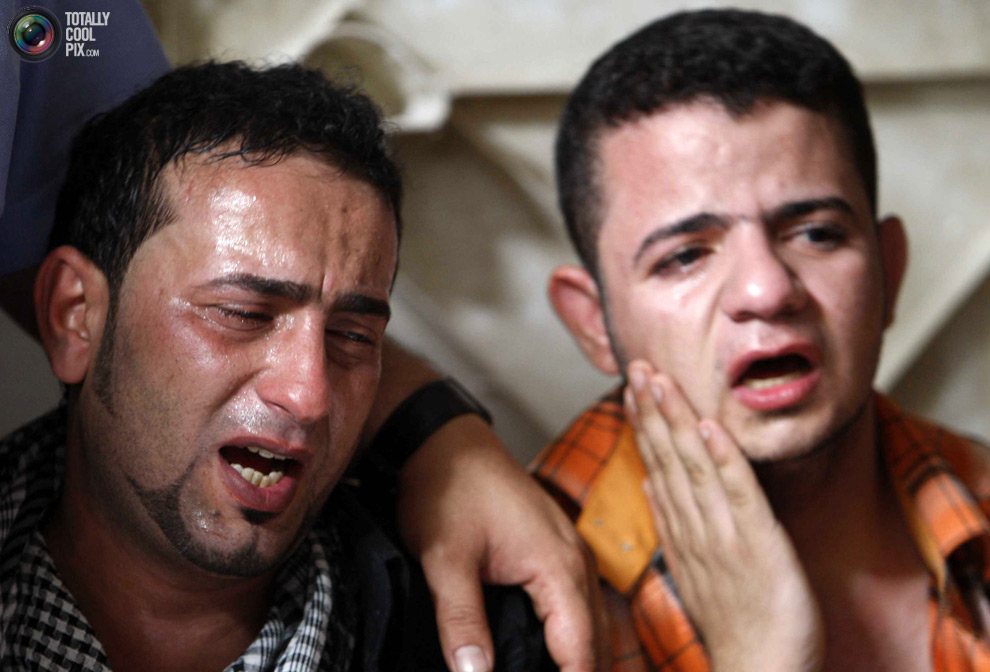 22. Residents mourn during a funeral of a victim who was killed at a goldsmith's market after a deadly robbery in Basra, 420 km (260 miles) southeast of Baghdad June 10, 2010. Gunmen attacked and robbed a goldsmith's market in the southern Iraqi city of Basra on Wednesday, killing three people and wounding four others, police said. REUTERS/Atef Hassan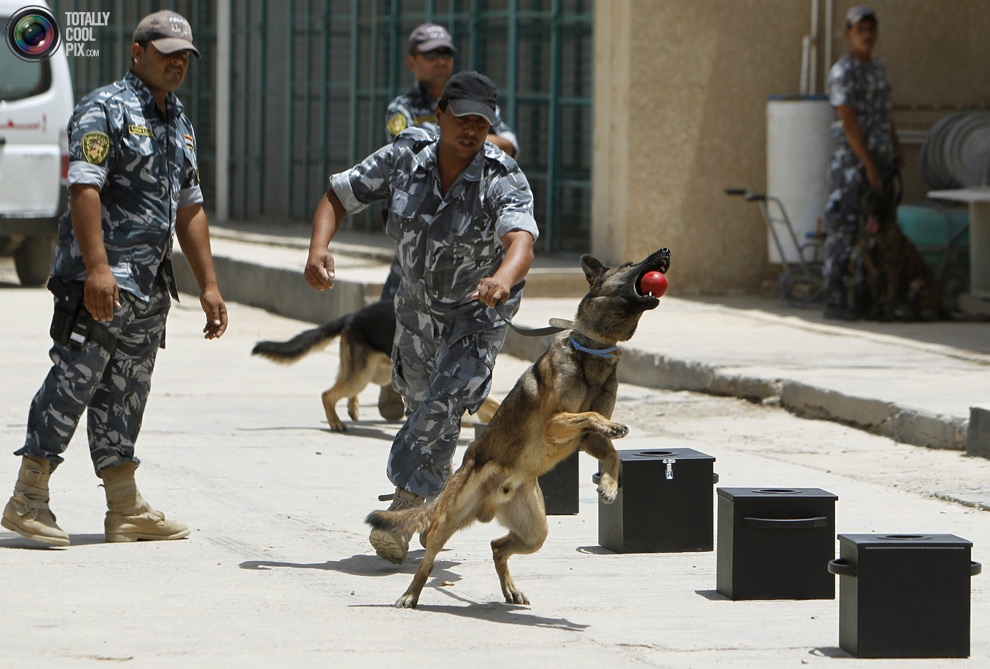 23. A policeman trains his dog at a police academy in Baghdad June 27, 2010. At Baghdad's police training college, some of the 12 Alsatians and other breeds now deployed as bomb sniffers in the capital speak to the cultural aversion that has likely cost lives in the fight against a still potent insurgency. Picture taken June 27, 2010. REUTERS/Thaier Al-Sudani (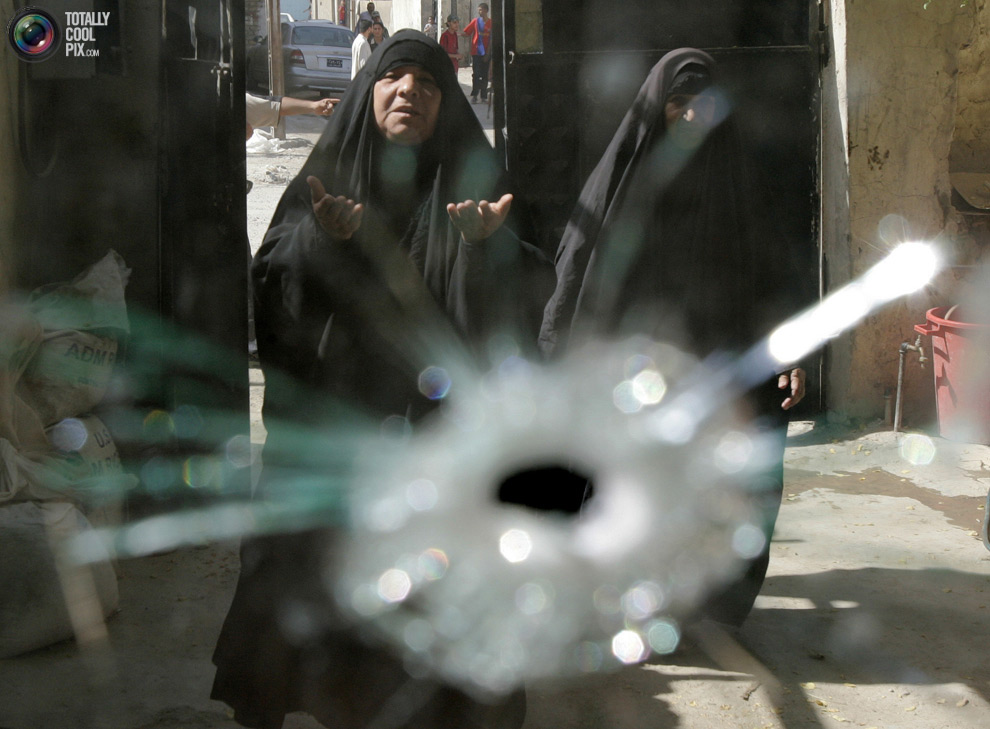 24. One of the last pictures taken by Reuters Iraqi photographer Namir Noor-Eldeen before he was killed on July 12, 2007 shows two old women dressed in black walking towards a window pierced by a bullet in the al-Amin al-Thaniyah neighbourhood of Baghdad. U.S. soldiers took Noor-Eldeen's two digital cameras from the scene after he was killed. The military returned them to Reuters on Sunday. REUTERS/Namir Noor-Eldeen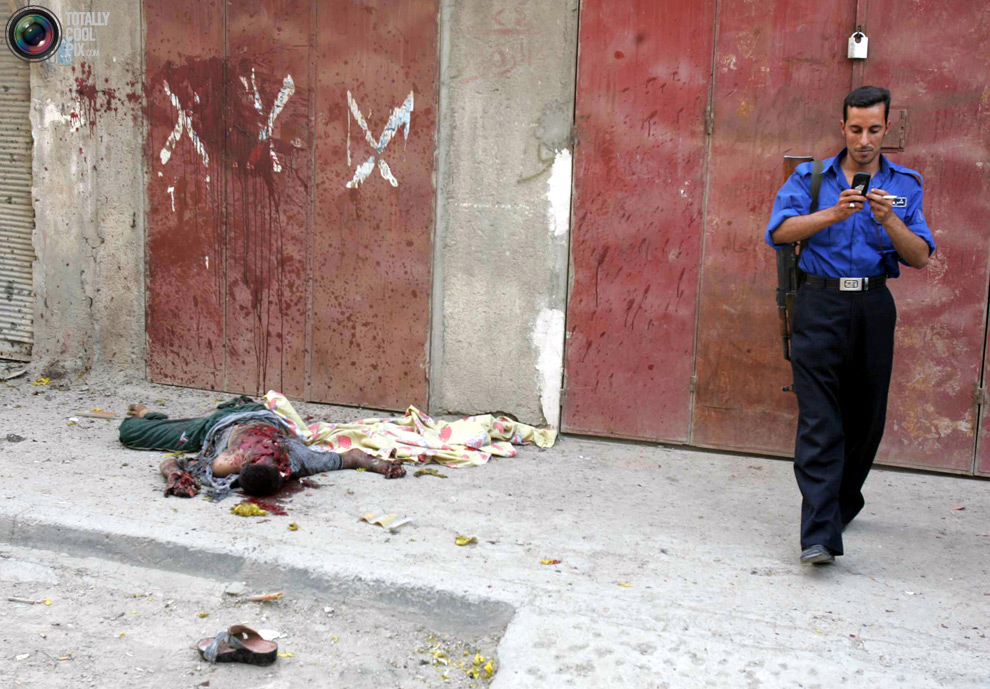 25. A policeman uses his mobile phone as he stands near the body of a suicide bomber in Basra, 550 km (340 miles) south of Baghdad October 17, 2006. Two residents were wounded after a suicide bomb attack which targeted a market in Basra, police said. REUTERS/Atef Hassan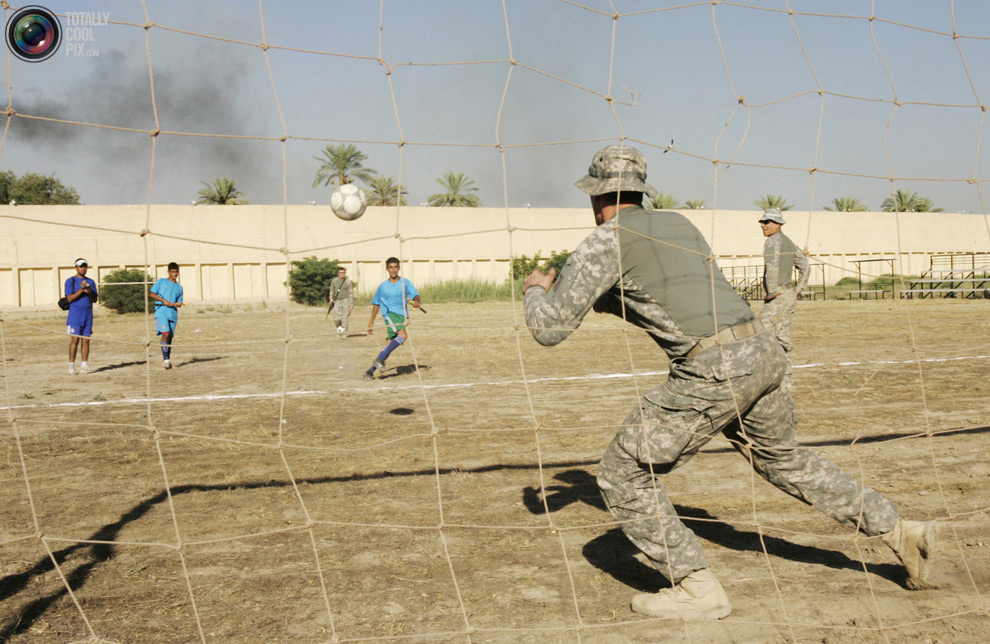 26. A U.S. soldier reaches for the ball during a soccer match with local boys on a field in Baghdad July 3, 2010. REUTERS/Bassim Shati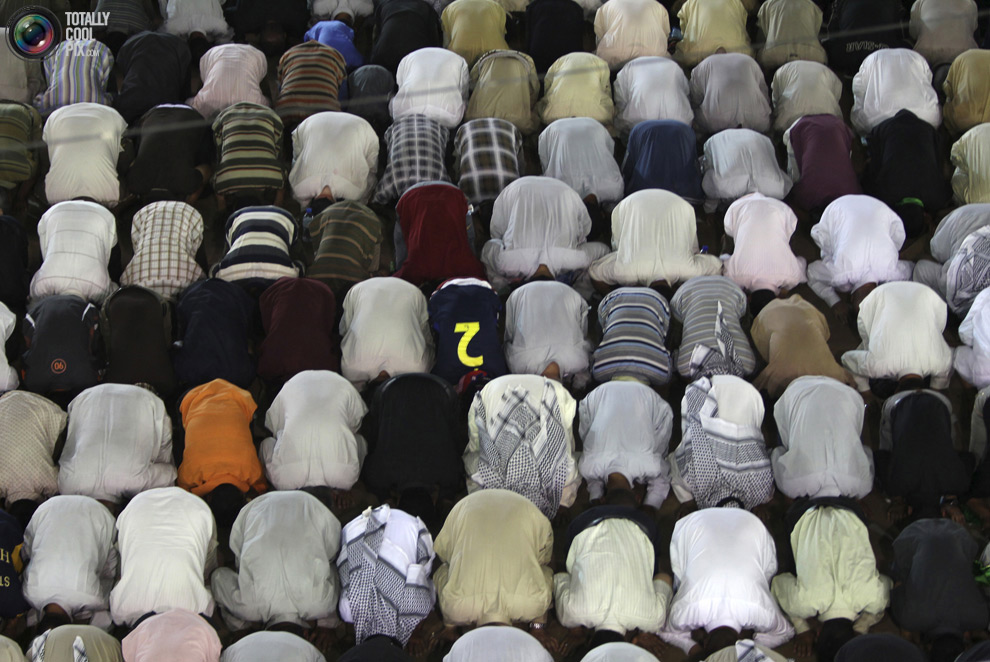 27. Shi'ite pilgrims pray at the Shrine of Imam Moussa al-Kadhim in Baghdad's Kadhimiya district July 7, 2010. A suicide bomber who struck a crowd of Iraqi Shi'ite pilgrims enroute to a shrine killed at least 30 and wounded 75 on Wednesday despite heavy security during a religious festival, an Interior Ministry source said. REUTERS/Saad Shalash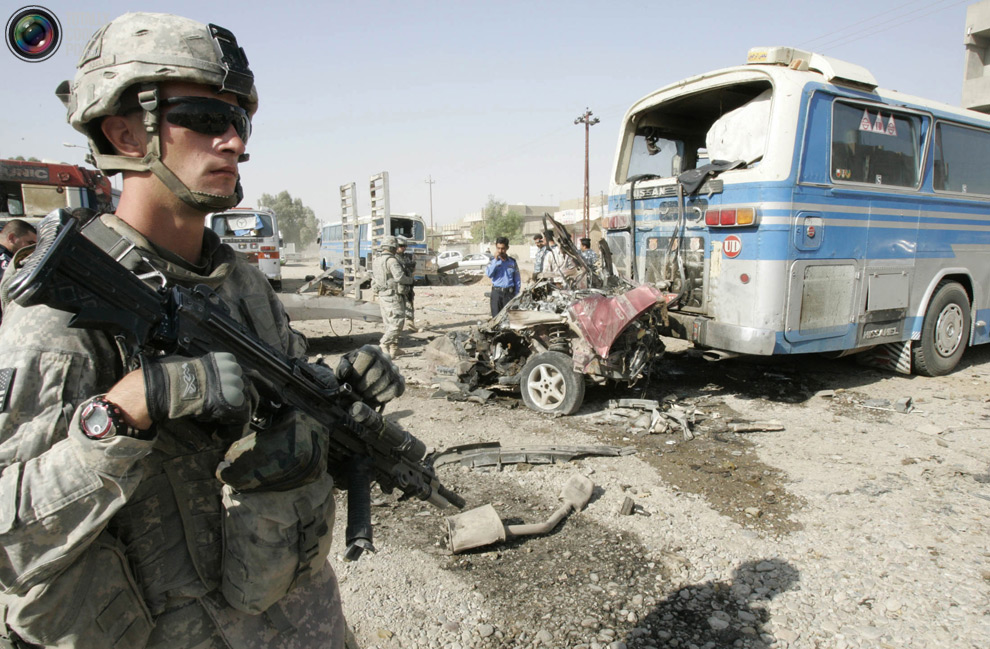 28. A U.S. soldier stands guard at the site of a bomb attack in Kirkuk, 250 km (155 miles) north of Baghdad August 25, 2010. A series of deadly attacks rocked Iraq on Wednesday killing at least 42 as U.S. troops prepare to end combat operations next week, underscoring Iraq's fragile security. REUTERS/Ako Rasheed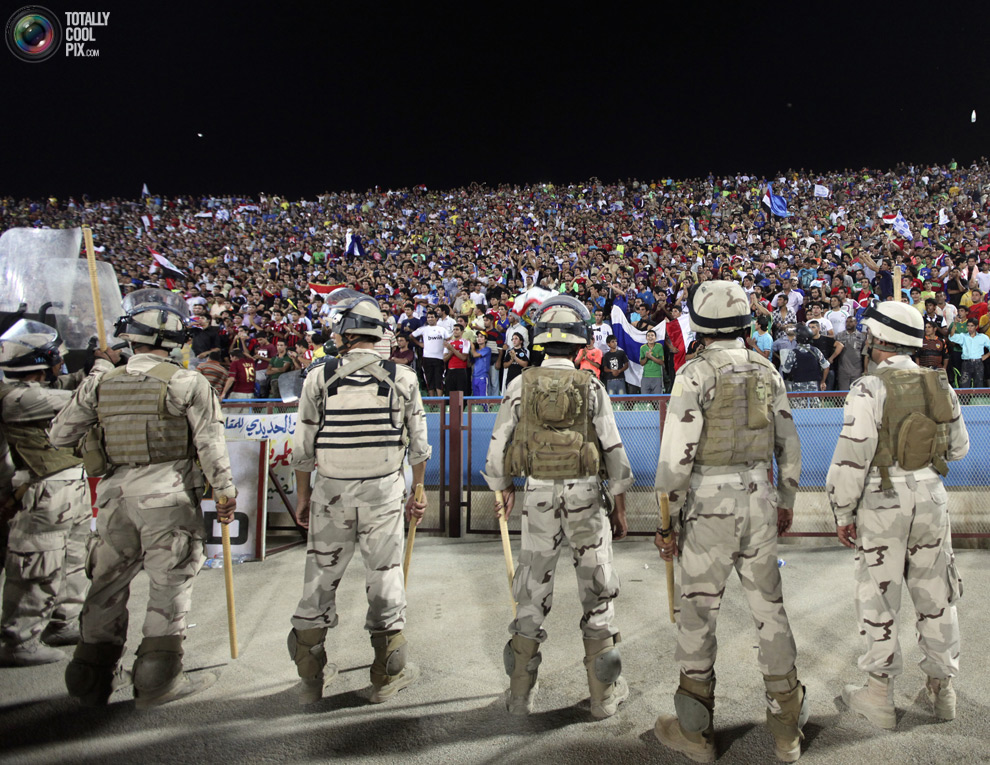 29. Riot soldiers line up at the Shaab Stadium during the final match of the Iraqi soccer league in Baghdad September 4, 2010. REUTERS/Mohammed Ameen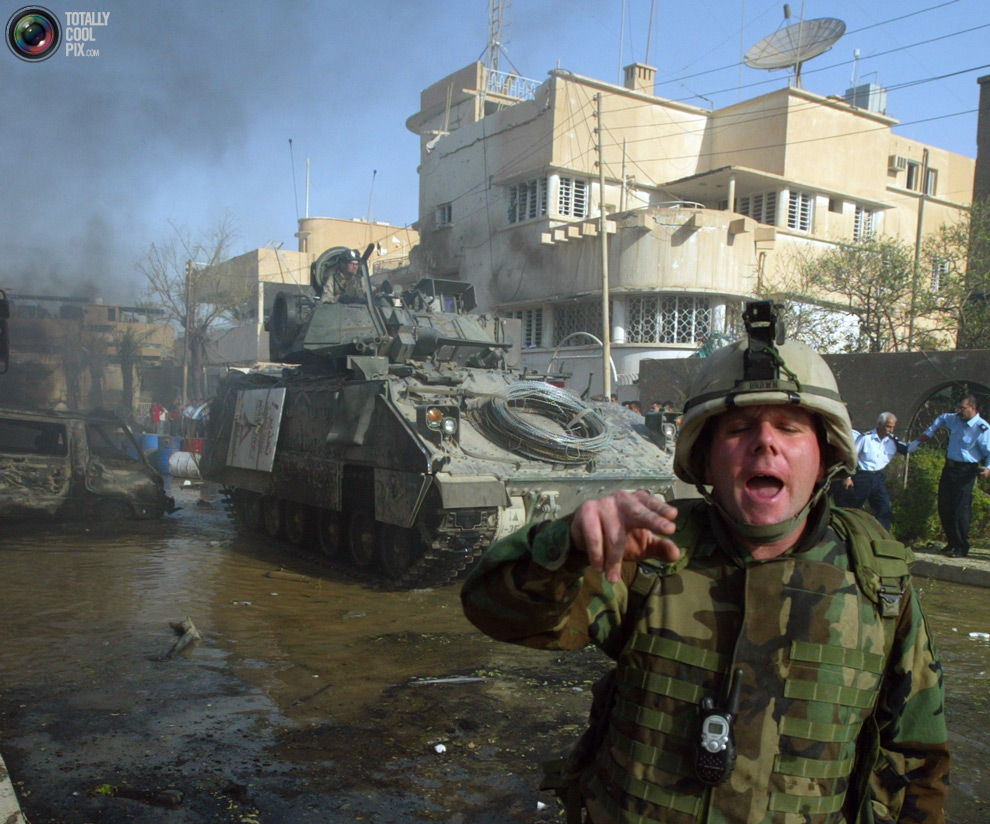 30. U.S. Army troops secure a blast site outside the Baghdad headquarters of the International Committee of the Red Cross October 27, 2003. Bombers struck four times in Baghdad's morning rush hour on Monday, killing at least 18 people near the Red Cross headquarters and two police stations. REUTERS/Chris Helgren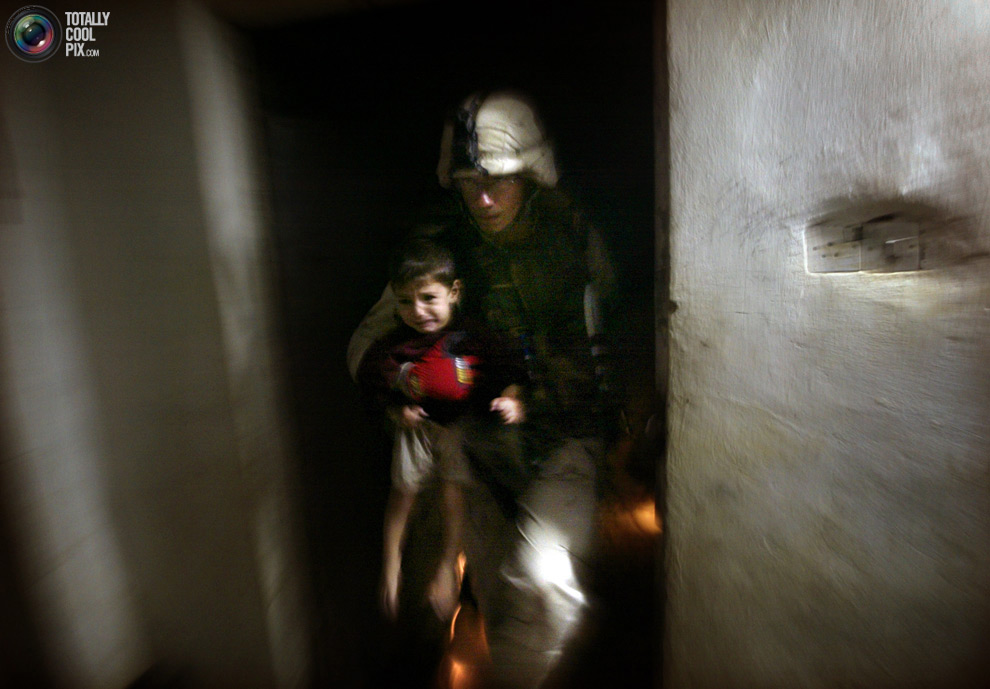 31. An assault team member of U.S. Army's 4th Infantry Division (Task Force Ironhorse) carries a crying Iraqi child out of a house during a pre-dawn raid in the village of Gritz, south of Baquba November 11, 2003. Looking for members of suspected terrorist cell who attacked coalition forces in the past, U.S. troops raided several houses in the village as Iraq's U.S. governor Paul Bremer predicted on Monday local and foreign fighters would step up violence to stop reconstruction. REUTERS/Damir Sagolj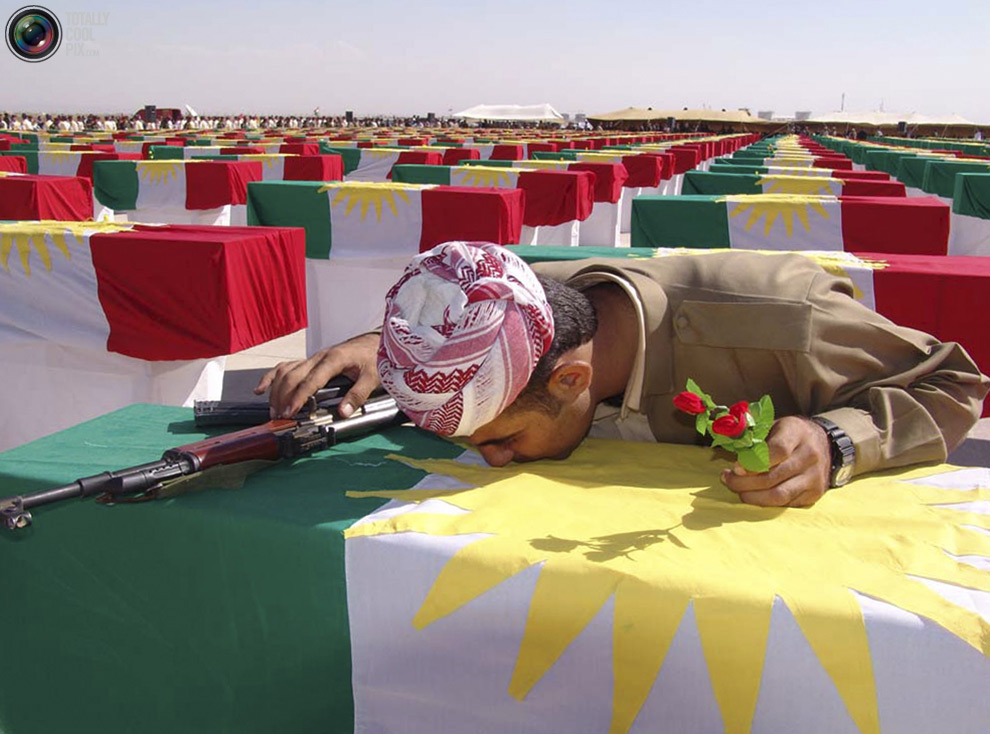 32. A Kurdish Peshmerga soldier kisses the coffin of a Kurdish person killed during former Iraqi President Saddam Hussein's rule at a ceremony in Arbil's airport, northern Iraq, October 17, 2005. The bodies of some 7,500 members of the Kurdish Barzani tribe, who were made captive and then executed were buried in mass graves at the border between Iraq and Saudi Arabia, were brought to Arbil on Monday for reburial. Saddam Hussein goes on trial for crimes against humanity on October 19, 2005. REUTERS/Azad Lashkari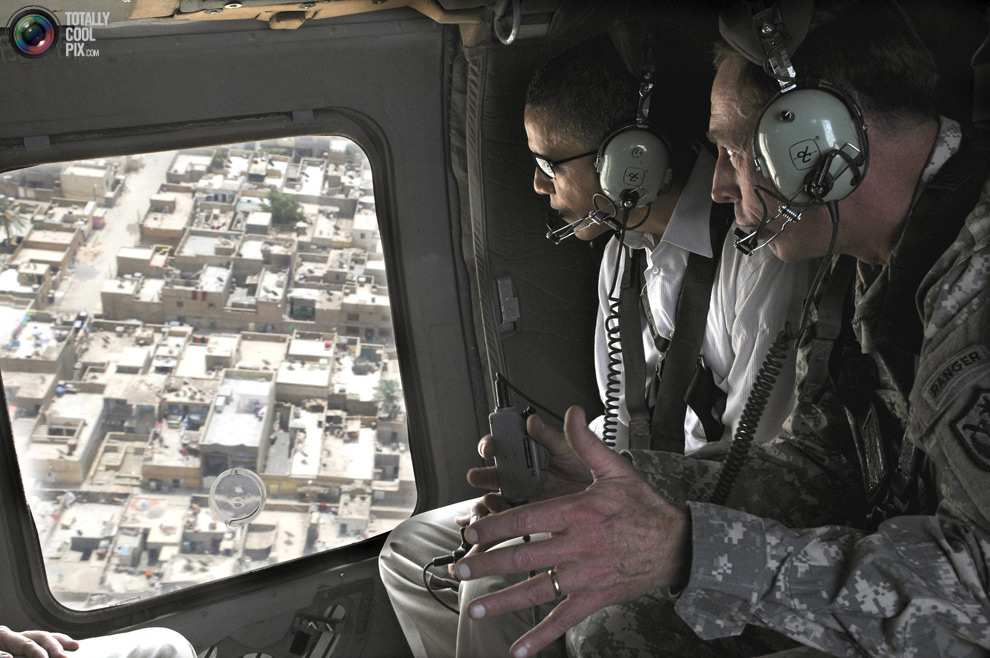 33. Gen. David H. Petraeus (R) explains security improvements in Sadr City while giving an aerial tour of Baghdad to Senators Barack Obama (D-IL), Jack Reed (D-RI) and Chuck Hagel (R-NE) July 21, 2008. REUTERS/Lorie Jewell/Multi-National Forces Iraq Public Affairs/Handout .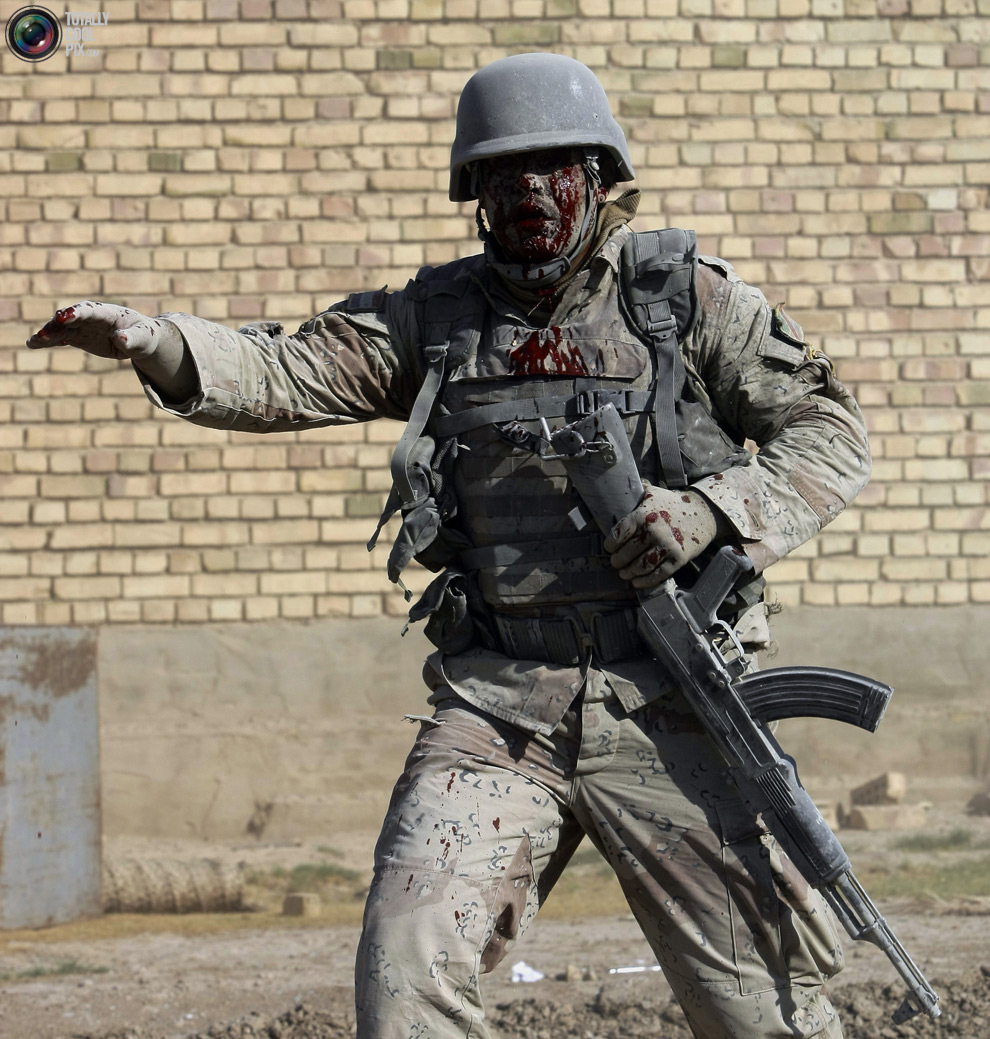 34. A wounded Iraqi soldier walks away from the site where an explosive device went of inside a house during security operations in Diyala province August 8, 2008. REUTERS/Andrea Comas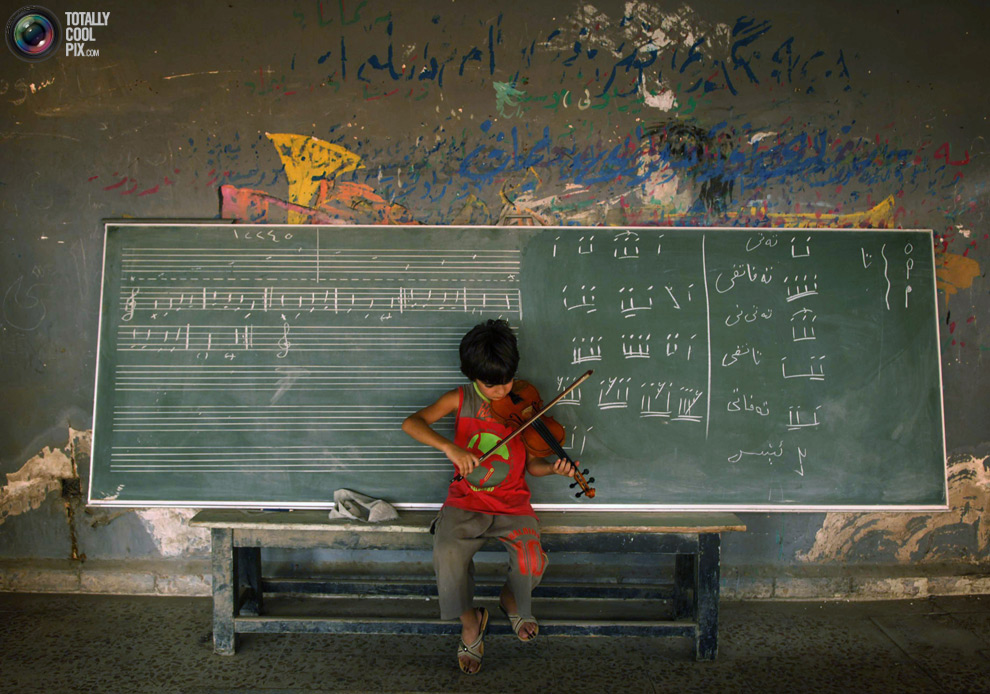 35. A boy plays the violin at Sulaimaniya Music Institute in Sulaimaniya, 260 km (160 miles) northeast of Baghdad July 10, 2009. Sulaimaniya Music Institute has not been restored since the war, but teacher Azad Maaruf continues to teach young children music for a nominal fee. He now teaches music to about 100 children. REUTERS/Julie Adnan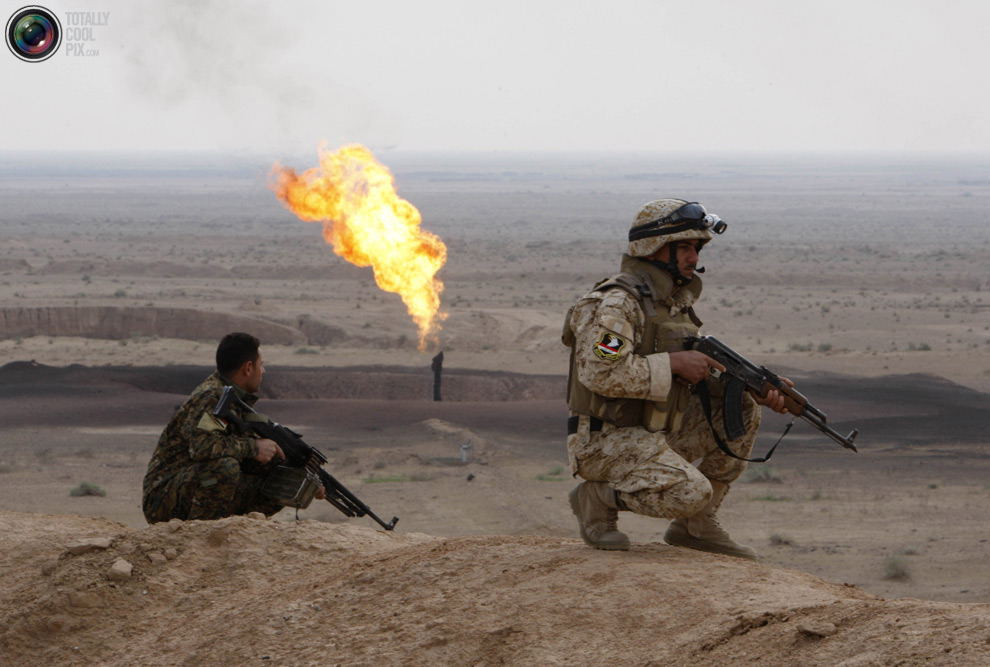 36. Flames emerge from a pipeline as Iraqi soldiers take postion inside one of Fakka wells near Amara, 300 km (186 miles) southeast of Baghdad, December 25, 2009. REUTERS/Atef Hassan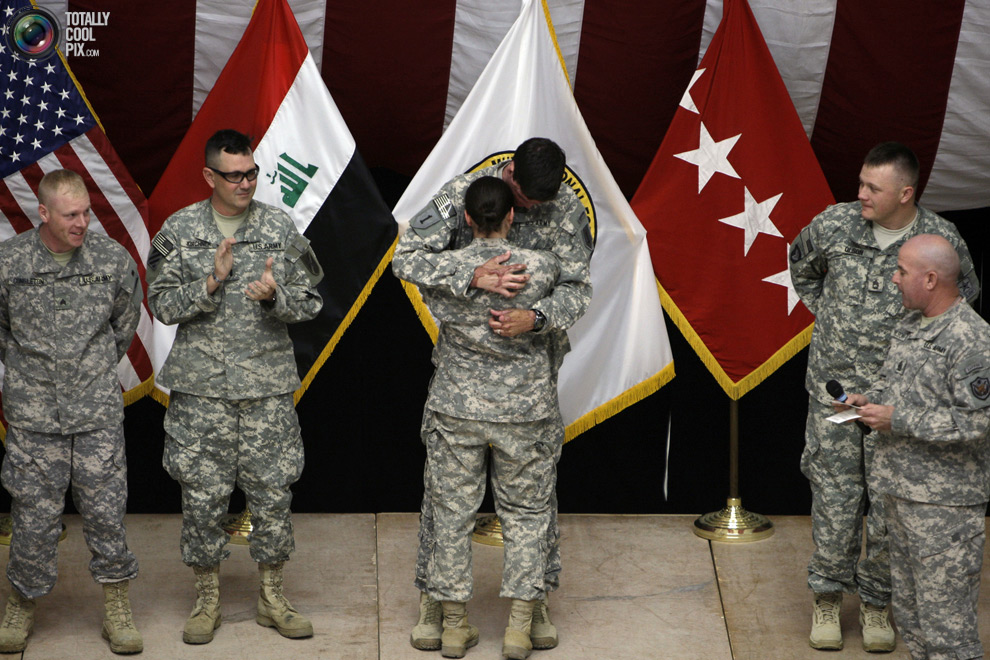 37. A U.S. soldier hugs CPT Samuel B. Brown, who had third degree burns and 30 percent of his body sustaining combat injuries, at al Faw Palace in the U.S. Camp Victory in Baghdad December 28, 2009. Wounded soldiers with previously sustained combat injuries returned to Iraq to witness changes that have occurred since their tour of duty. REUTERS/Saad Shalash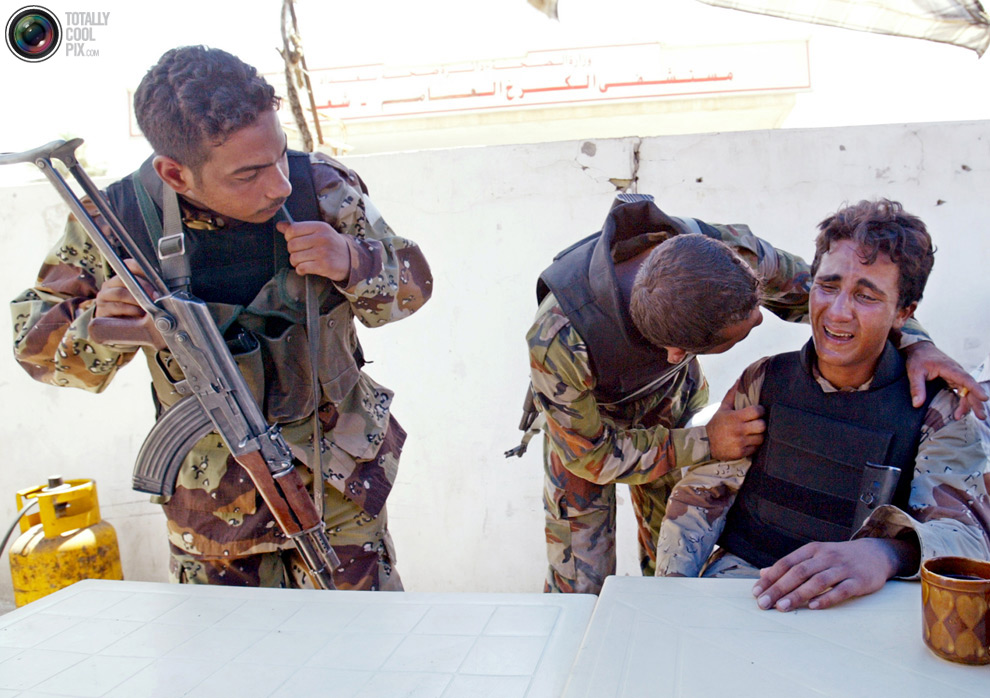 38. An Iraqi National Guardsman is comforted by soldiers after a colleague was killed in a gunfight with insurgents in Baghdad July 7, 2004. Insurgents battled U.S. troops and Iraqi security forces in central Baghdad on Wednesday as the interim government announced a new security law giving itself wider powers to combat militants and stabilize the country. REUTERS/Zohra Bensemra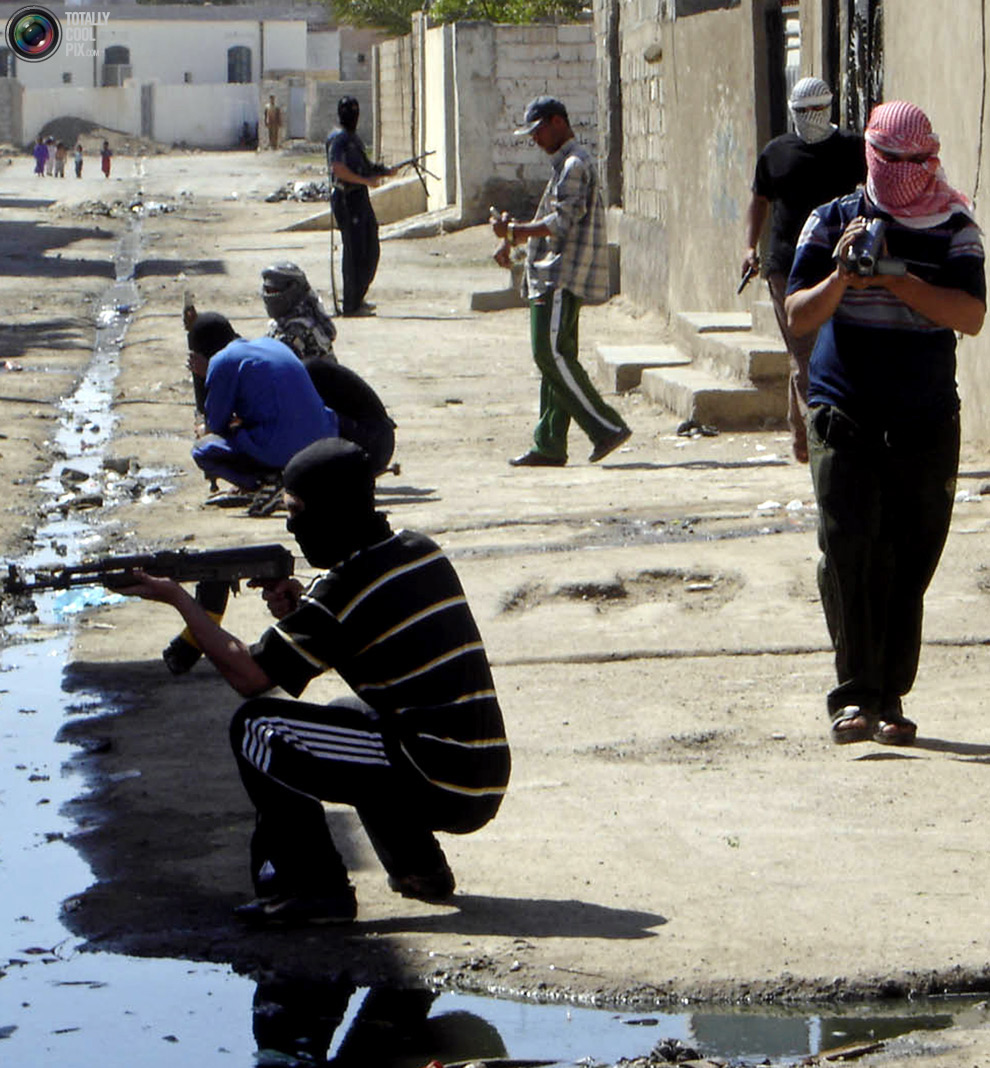 39. Masked insurgents carry their weapons as they roam a street in the Iraqi city of Ramadi, west of Baghdad, March 26, 2005. Earlier this week, Iraqi police commandos said they killed 85 militants in a raid on a suspected insurgent training camp near Baghdad, hailing it as a breakthrough against the insurgency. REUTERS/Ali al-Mashadani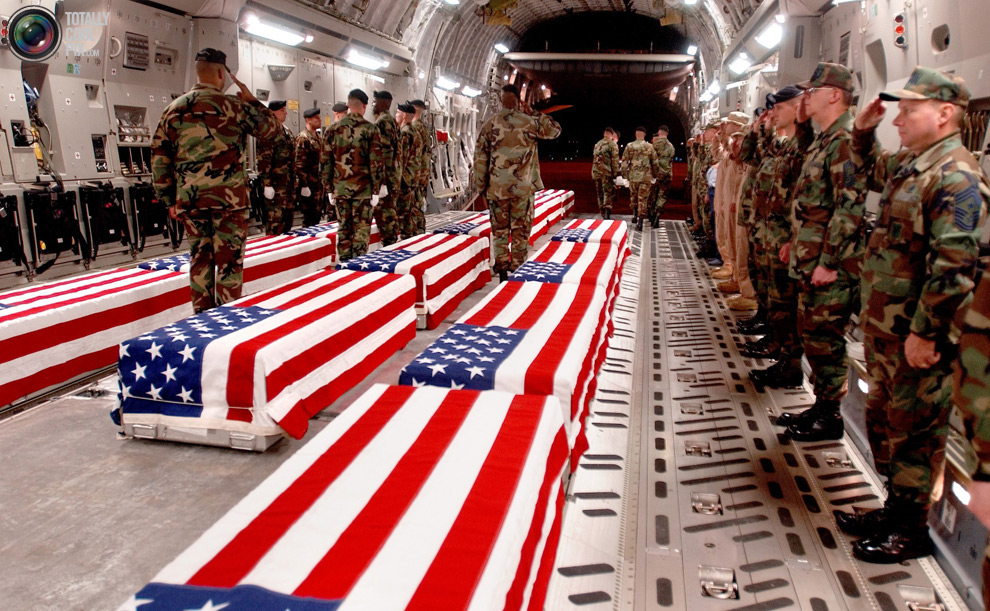 40. Coffins of U.S. military personnel are prepared to be offloaded at Dover Air Force Base in Dover, Delaware in this undated photo. The U.S. Air Force, in response to a Freedom of Information Act request, released to Web site www.thememoryhold.org on April 14 more than 300 photographs showing the remains of U.S. service members returning home. The Pentagon tightly restricts publication of photographs of coffins with the remains of U.S. troops and has forbidden journalists from taking pictures at Dover Air Force Base in Delaware, the first stop for the bodies of troops being sent home. REUTERS/USAF/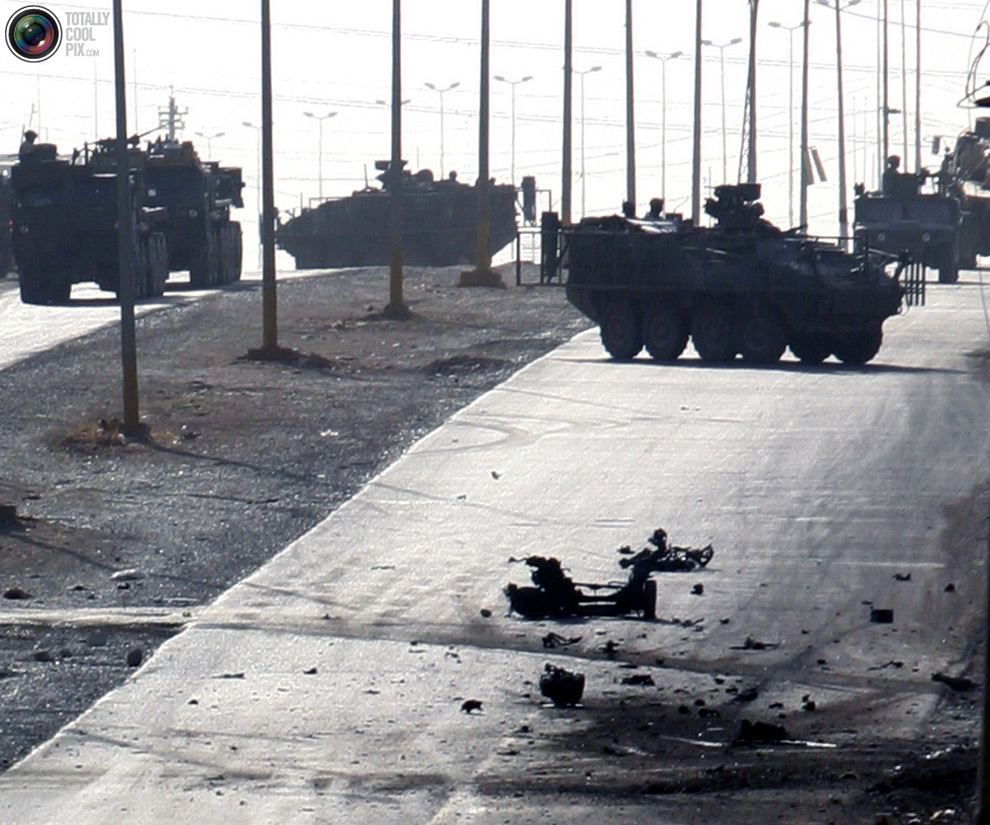 41. U.S. Army armoured vehicles block a highway following an attack near the northern city of Mosul August 22, 2004. An Indonesian worker and two Iraqis were killed during a road ambush in the northern city of Mosul in which a Filipino was also wounded, Iraqi police said. The Filipino told Reuters he and the Indonesian were engineers working for a unit of German conglomerate Siemens, but a spokesman for the German conglomerate said he had no information yet. REUTERS/Namir Noor-Eldeen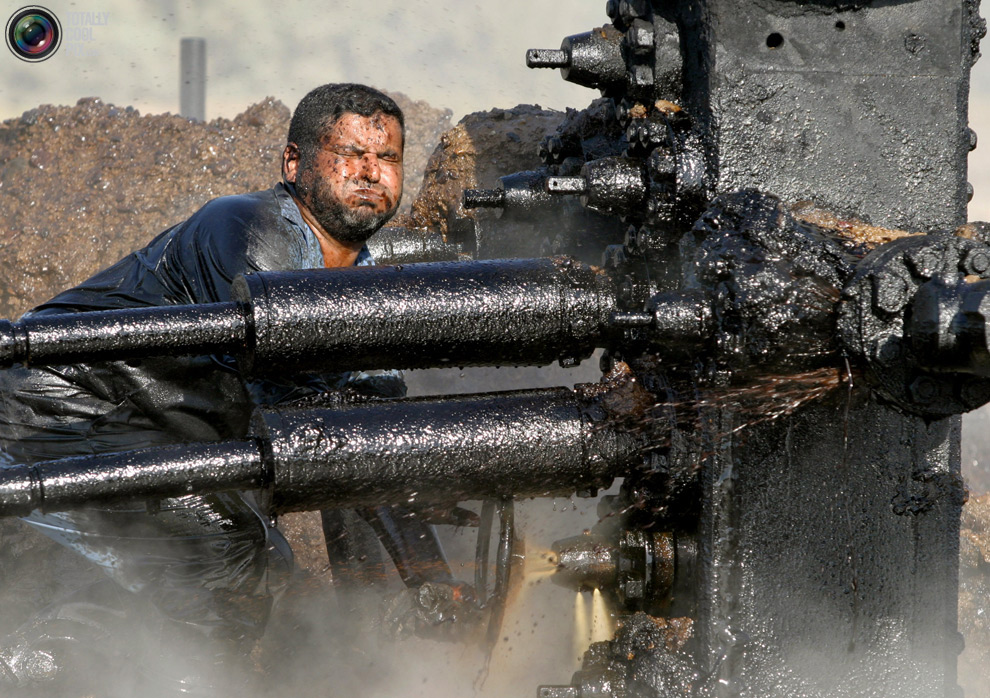 42. Reuters/Ceerwan Aziz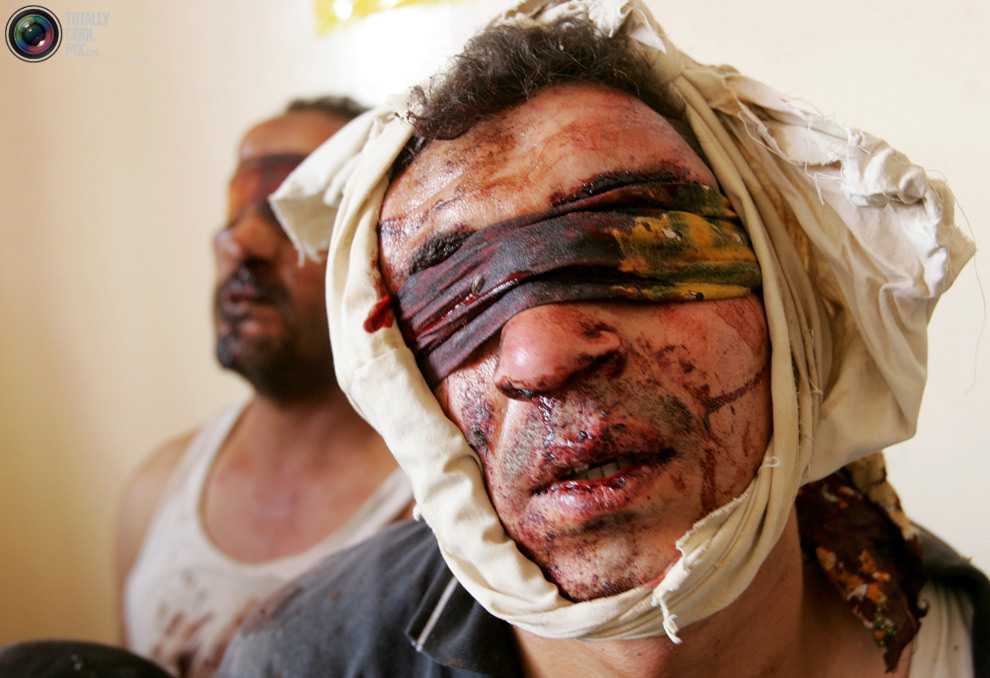 43. A bloodied insurgent sits blindfolded in an Iraqi police station after being captured during a morning battle in the southwestern Al-Bayaa district of Baghdad June 20, 2005. Police, U.S. forces, and Iraqi interior ministry forces surrounded the area after an attack on a local police station. Five Iraqi police personnel were killed and 11 insurgents were arrested, police said. REUTERS/Ali Jasim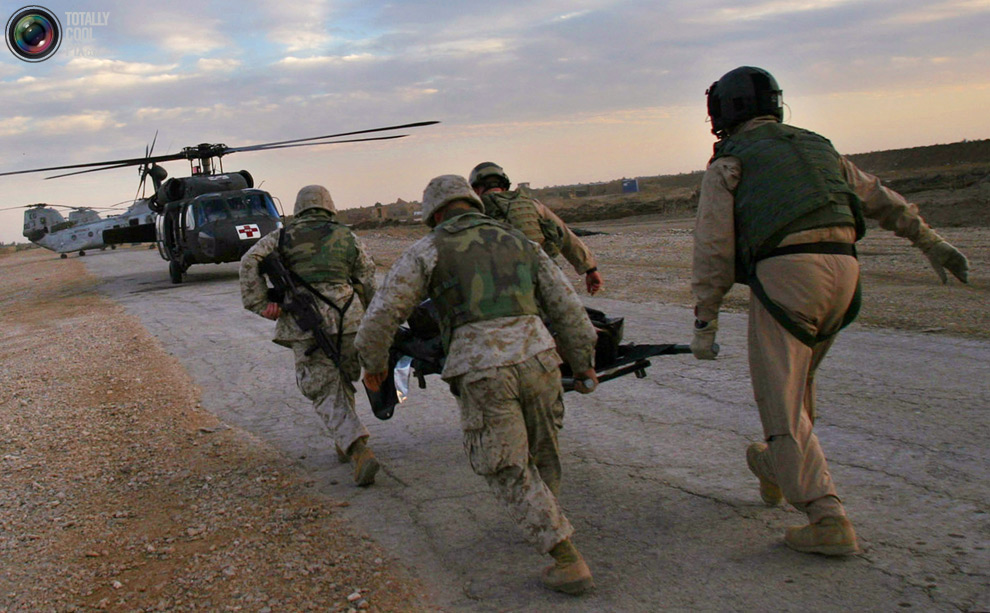 44. U.S. Marines evacuate a colleague wounded in a mortar attack on a base south of Baghdad November 29, 2004. Nine Marines were wounded as they took part in operations forming part of the Marines' six-day-old Operation Plymouth Rock, intended to thwart Sunni Muslim insurgents and launched as a follow-up to the U.S. assault on the rebel city of Falluja, upstream to the northwest. REUTERS/Thaier al-Sudani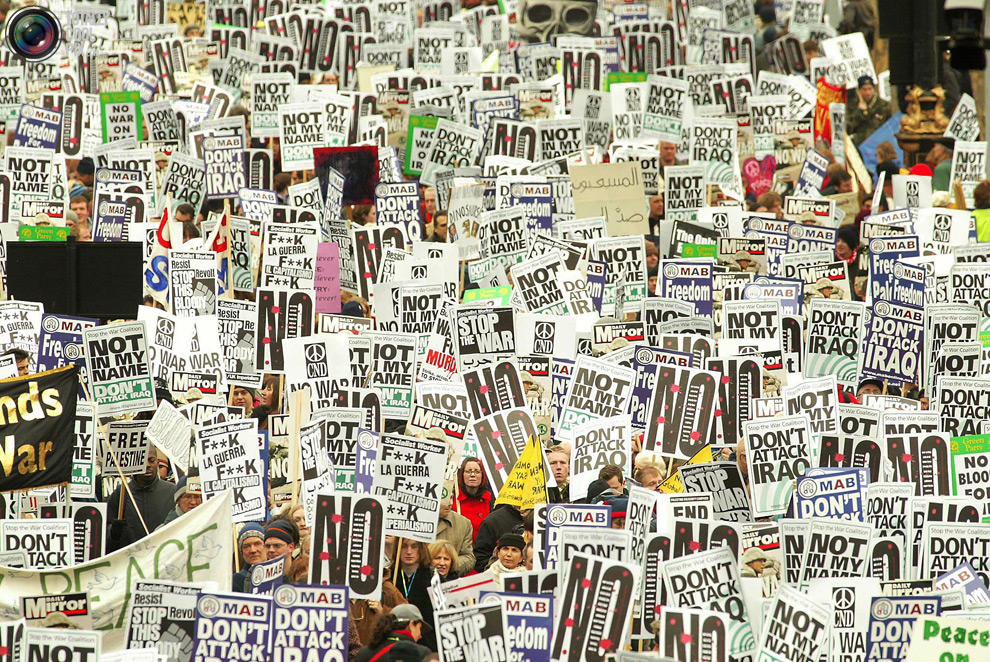 45. Anti-war protesters gather in London at the start of a demonstration against war on Iraq, February 15, 2003. Millions of people are expected to take to the streets of towns and cities across the globe on Saturday to demonstrate against a looming U.S.-led war on Iraq in the biggest protests since the Vietnam war. REUTERS/Peter Macdiarmid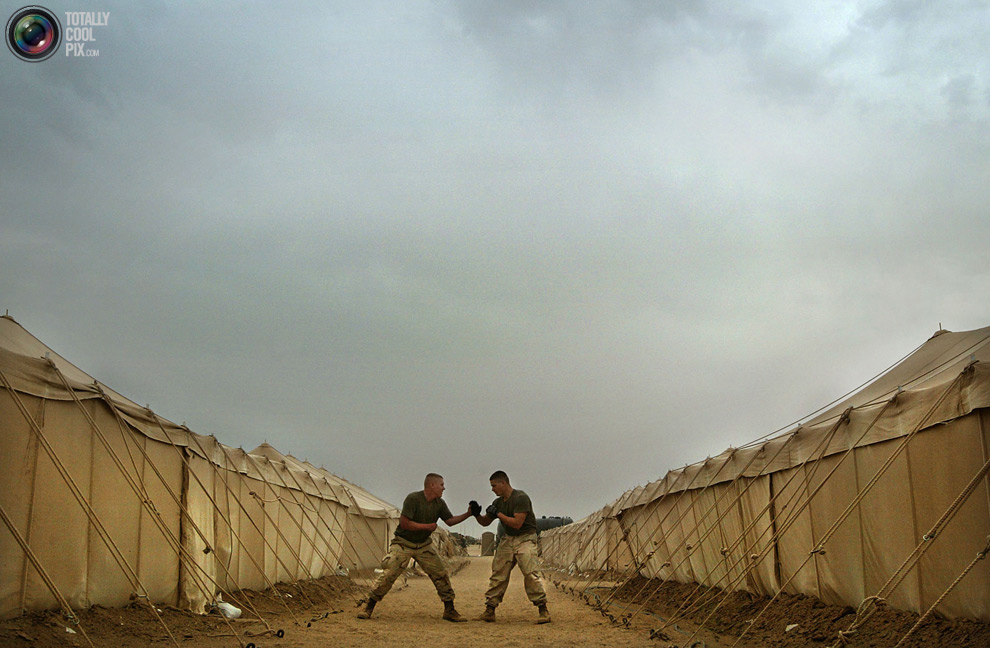 46. U.S. marines exercise between tents in Matilda camp in the northern Kuwait near the border with Iraq March 11, 2003. REUTERS/Damir Sagolj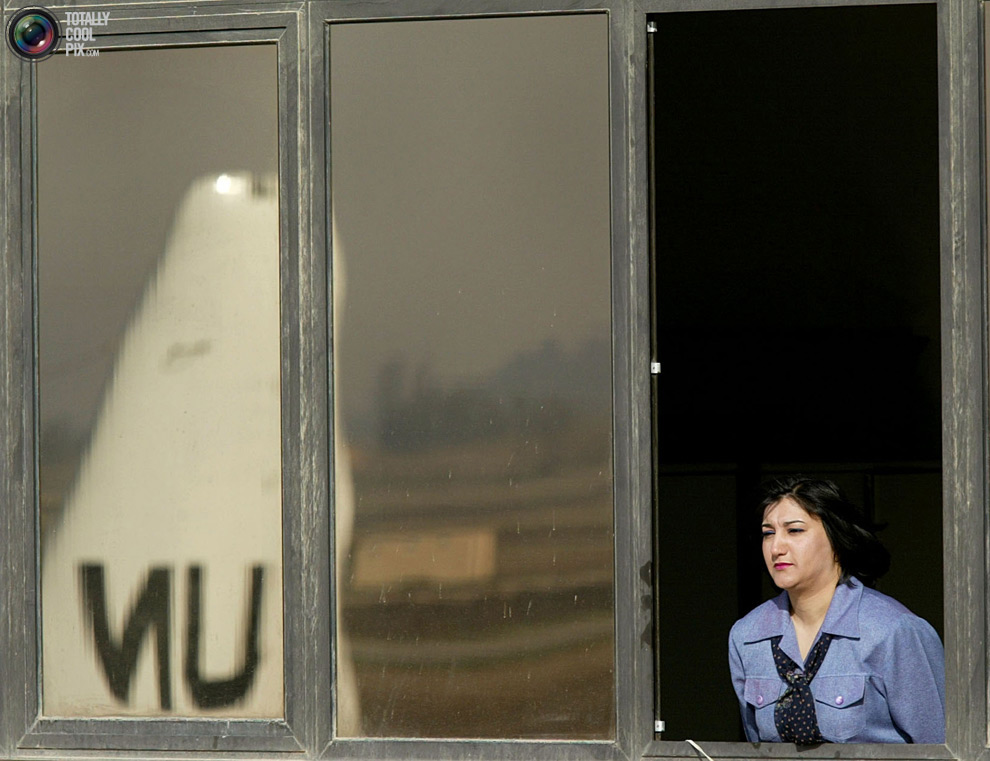 47. An Iraqi woman watches U.N. weapons inspectors leave Saddam airport in Baghdad March 18, 2003. Weapons inspectors left Iraq by plane on Tuesday after the United Nations told them to cut short their hunt for hidden weapons of mass destruction ahead of a likely U.S.-led invasion. REUTERS/Goran Tomasevic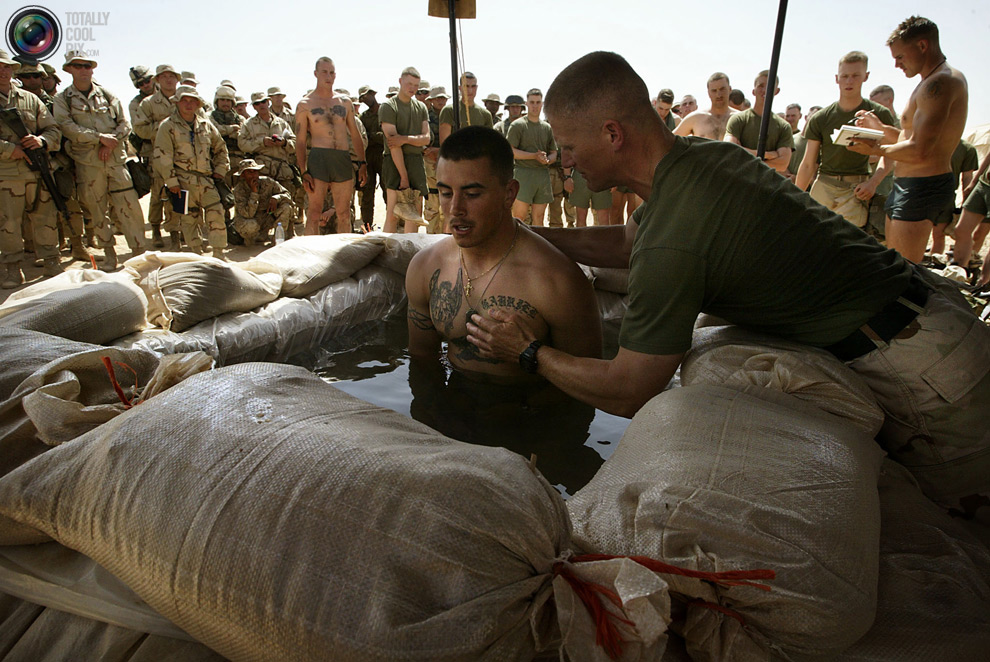 48. A Baptist chaplain baptises U.S. marine Albert Martinez from Sunnyvalle, CA after a protestant Sunday service in a base in the northern Kuwait close to Iraqi border March 16, 2003. A chaplain baptised infantrymen in the early morning sunlight, pushing their heads under the water of a field pool built from sandbags and plasting sheeting. Fellow soldiers cheered as the newly blessed raised their soaking heads. United States military preachers plunged converts in uniform into a makeshift baptismal font in the desert on Sunday, as the omens of war turned men's thoughts to God. REUTERS/Damir Sagolj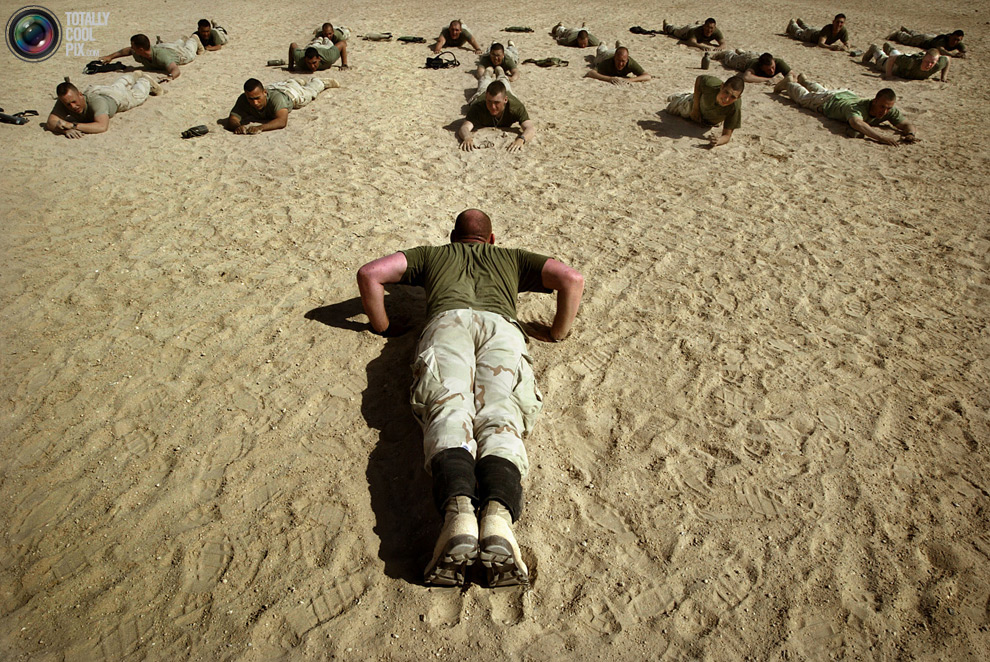 49. U.S. marines exercise under the strong desert sun in the northern Kuwait near the border with Iraq March 17, 2003. U.N. observers monitoring the Iraq-Kuwait border said they expected to leave the demilitarized zone on the frontier at about 8 a.m. EST Monday under a security plan amid U.S. preparations for an attack on Iraq. REUTERS/Damir Sagolj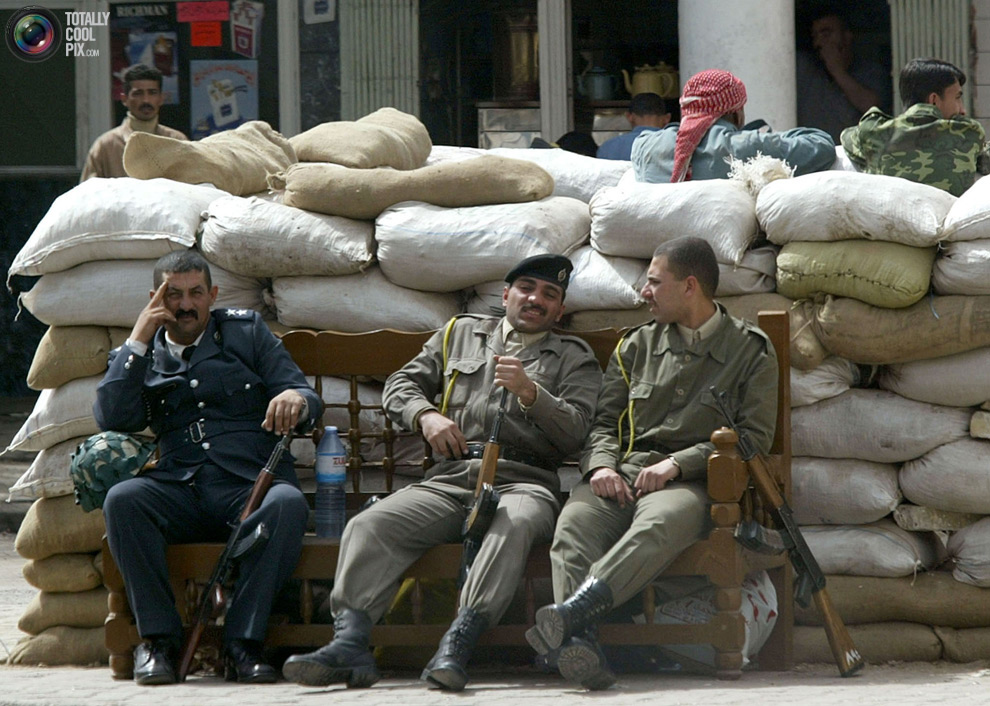 50. Iraqi soldiers sit in front of sand bags in Baghdad March 20, 2003. U.S. President George W. Bush unleashed a war to topple Saddam Hussein on Thursday with dawn air strikes on Baghdad but the Iraqi leader responded defiantly, denouncing the criminal little Bush. REUTERS/Goran Tomasevic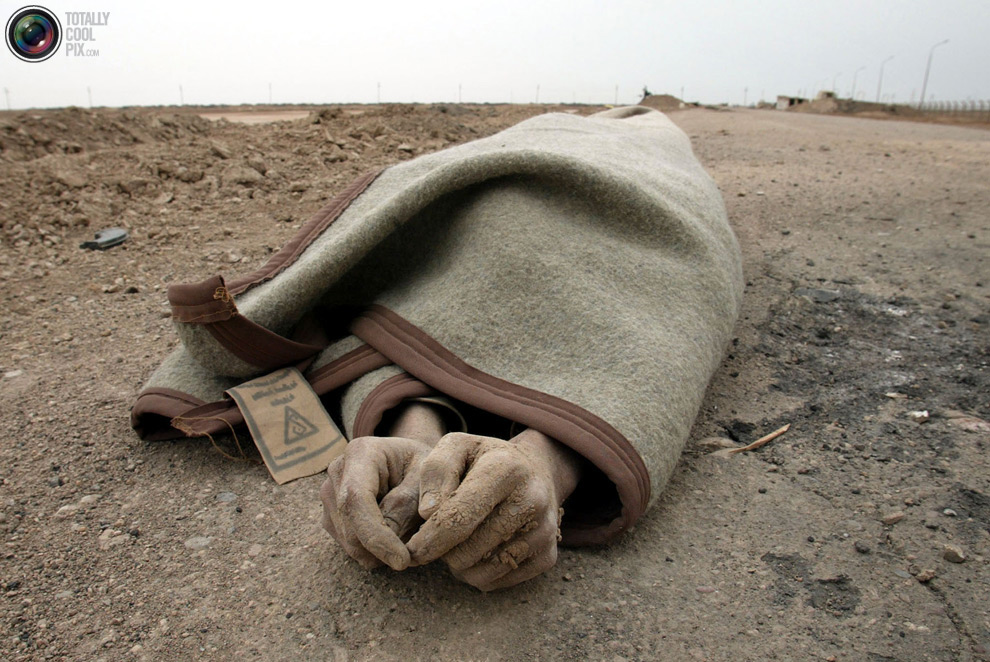 51. The body of an Iraqi soldier lies wrapped in a blanket close to his trench position following an assault by Britain's 29 Commando Regiment Royal Artillery and 40 Commando Royal Marines on the Al-Faw Peninsula in southern Iraq, March 22, 2003. Britain was dealt a second tragic blow in the Gulf War on Saturday when two Royal Navy Sea King helicopters collided. Seven crew members, including one American, were feared dead. REUTERS/Stephen Hird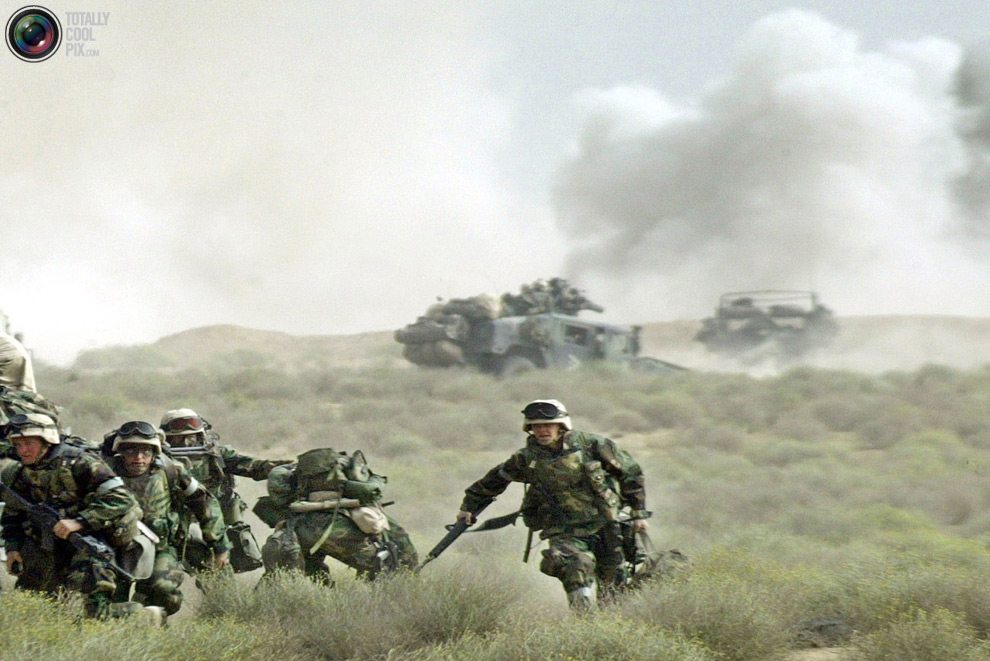 52. Marines of the U.S. Marine Expeditionary Unit (MEU) Fox Company Raiders take cover from Iraqi fire as British artillery rounds explode behind during the early stage of the push into southern Iraq to take control of the main port of Umm Qasr on March 21, 2003. REUTERS/Desmond Boylan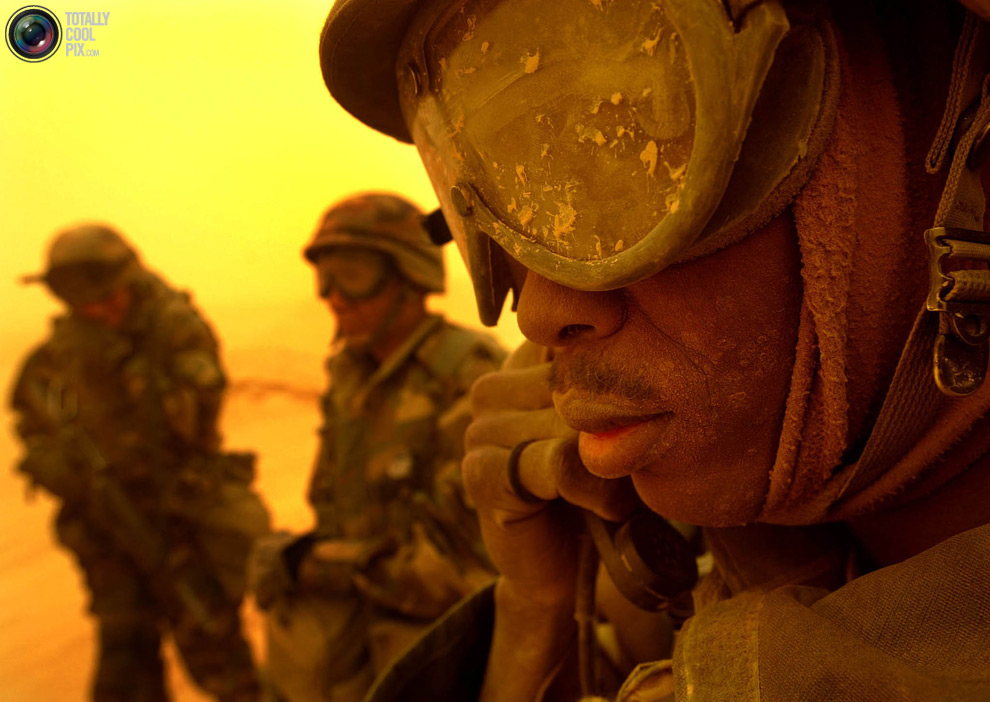 53. A US Army combat engineer tries to get a radio connection at a checkpoint between the cities of Najaf and Karbala as another sandstorm turns the daylight orange for the second day on March 26, 2003. US Army forces around Najaf have not only to struggle with Guerilla attacks from Iraqi militias but also with the bad weather conditions. REUTERS/Kai Pfaffenbach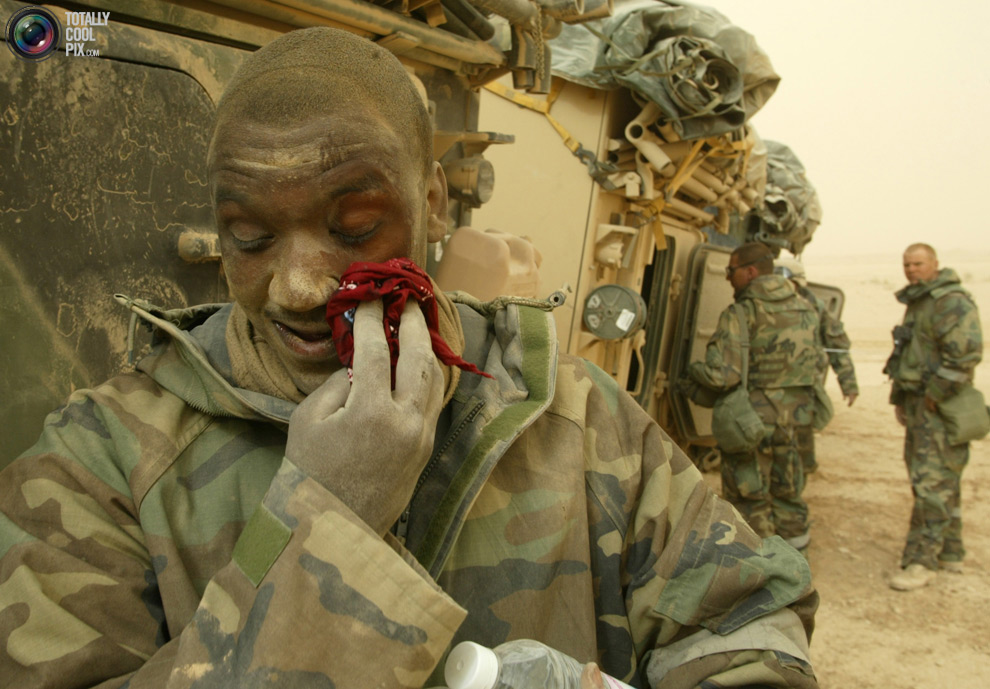 54. Private George from the U.S. army 2nd Battalion, 70 Armor cleans his face after driving in a sand storm on the desert in Iraq south of the city of Karbala, March 25, 2003. A sandstorm blew in over U.S. troops advancing on Baghdad early on Tuesday, cutting visibility and hampering operations. REUTERS/Peter Andrews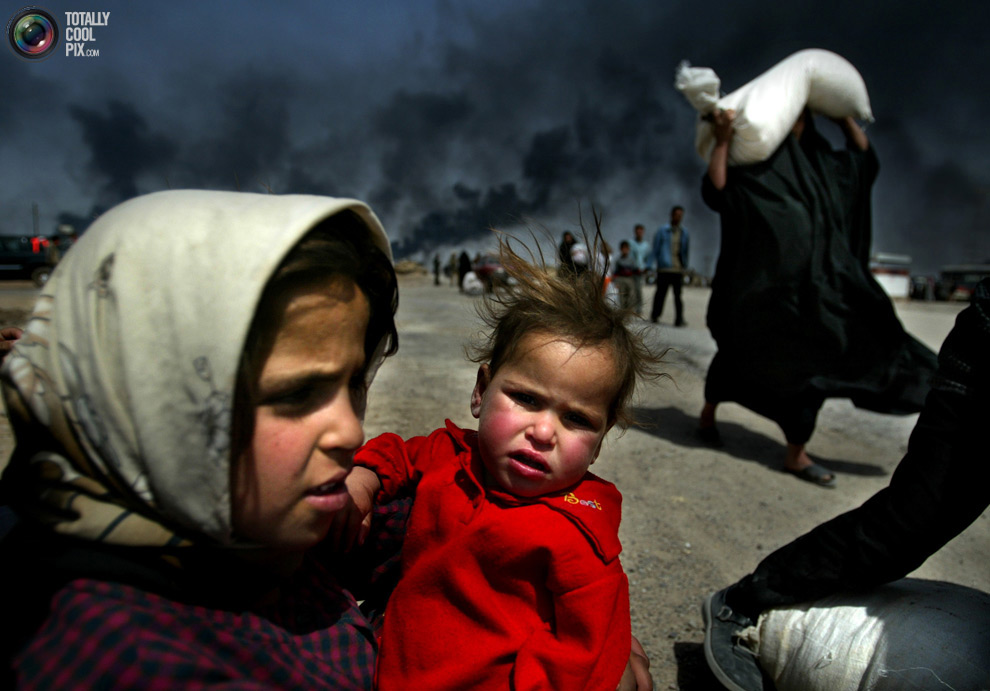 55. An Iraqi girl holds her sister as she waits for her mother (R) to bring over food bought in Basra, March 29, 2003. REUTERS/Jerry Lampen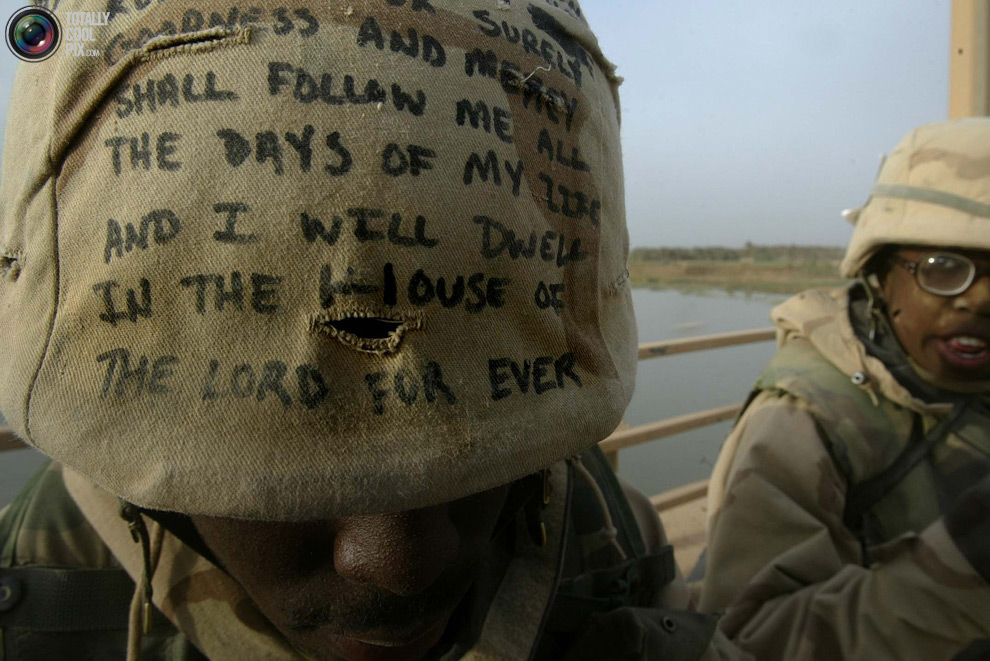 56. A US Army combat engineer, with Psalm 23 written on his kevlar, bows his head as he takes a short rest after securing an important two lane bridge over the Euphrates river, about 20 km outside Baghdad to push the 3rd infantry's convoy of more than 3000 vehicles towards Baghdad April 4, 2003. U.S. forces seized control of Baghdad's international airport on Friday, their biggest prize so far in a 16-day-old war to overthrow President Saddam Hussein. REUTERS/Kai Pfaffenbach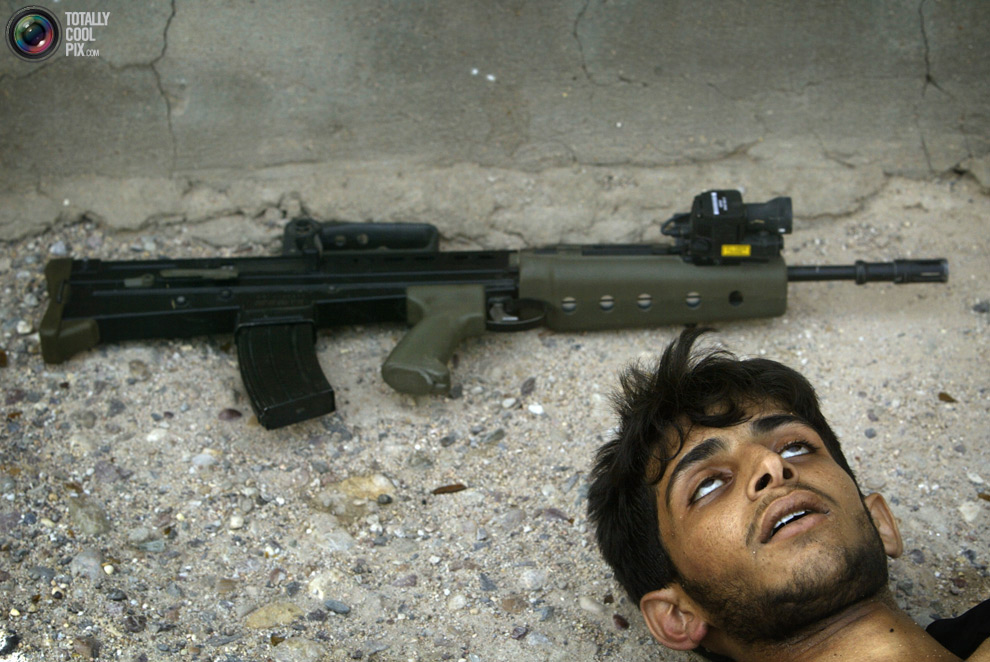 57. An Iraqi gunman who was shot by coalition soldiers after he threatened joint police patrol with a rocket launcher is treated by British miltary policemen in the Hayaniya neighbourhood of Basra May 20, 2003. Finding criminals is not a problem for British and Iraqi police patrolling the impoverished neighbourhoods – the problem is that there are too many crimes to investigate and too many lawbrakers to arrest. REUTERS/Damir Sagolj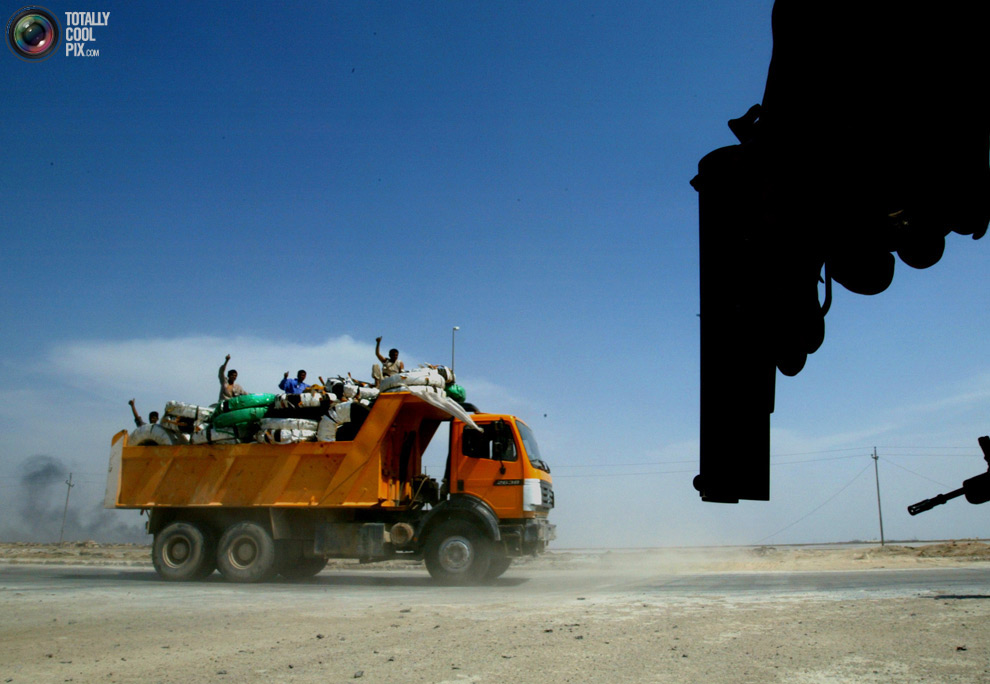 58. A British army officer has her handgun cocked as Iraqi civilians flee fighting in Basra April 6, 2003. After a two-week siege, British tanks shot their way into the centre of Basra on Sunday in a bid to stamp out dogged resistance in Iraq's second city from paramilitary fighters loyal to President Saddam Hussein. REUTERS/Yannis Behrakis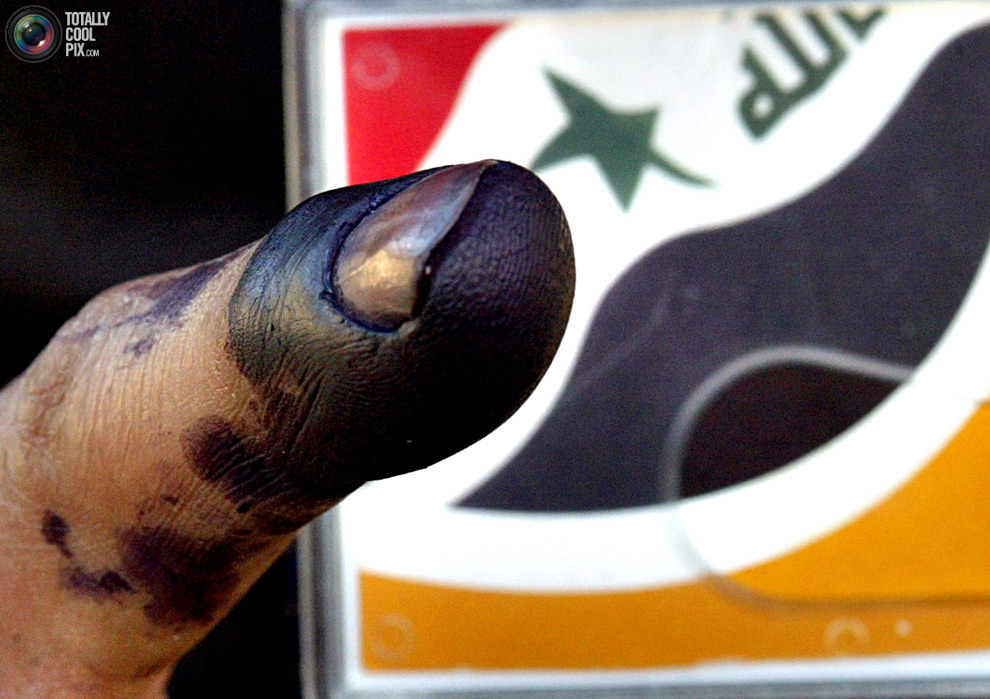 59. IRAQ ELECTIONS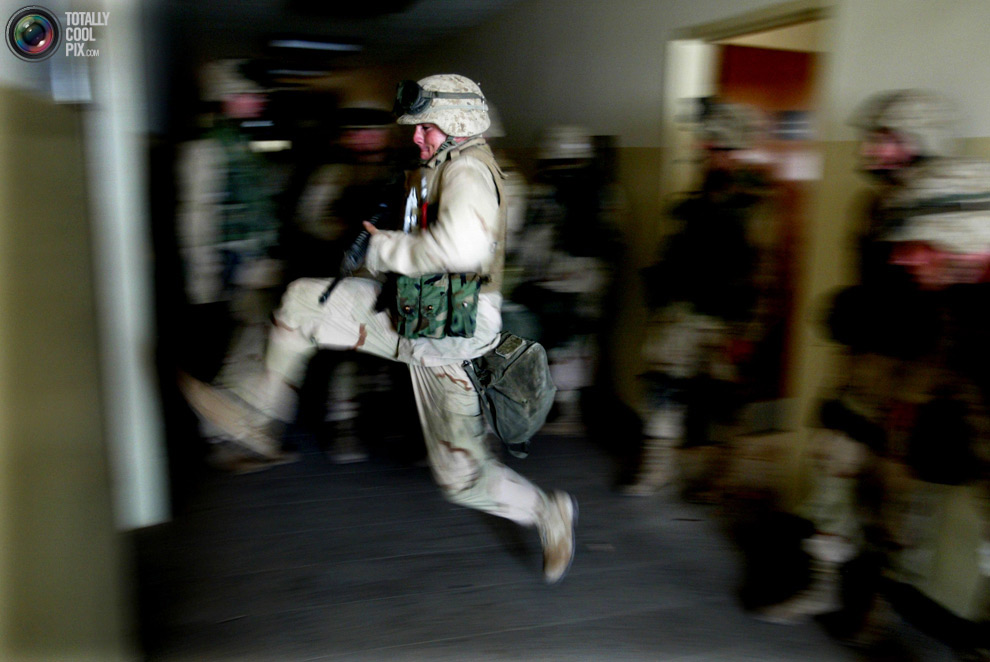 60. US Marines kick in a door while securing a building next to the main hospital in central Baghdad April 15, 2003, which will be used as a
temporary Iraqi police headquarters. Thousands of guerrillas, including Iraqis loyal to Saddam Hussein and foreign fighters, pose a threat to U.S. troops and complicate efforts to bring stability to postwar Iraq, defense officials said on Tuesday. There are still hazards lingering throughout the country of Iraq, Brig. Gen. Vincent Brooks told a briefing in Qatar. REUTERS/Jerry Lampen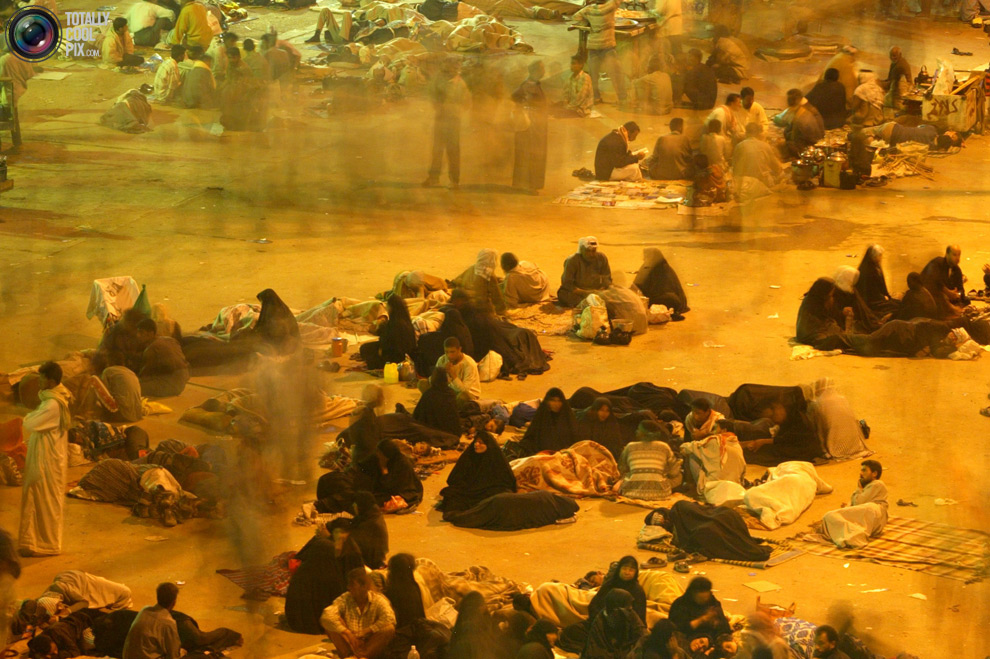 61. Iraqi Shi'ite pilgrims camp around a holy mosque in the center of Kerbala April 21, 2003. Hundreds of thousands of Shi'ites are expected to make the Arbaiin pilgrimage, one of the holiest events on the Shi'ite calender, to Kerbala on April 23 for the first time in 26 years after Coalition forces ousted Iraqi President Saddam Hussein. Saddam Hussein had banned the pilgrimage.Yannis Behrakis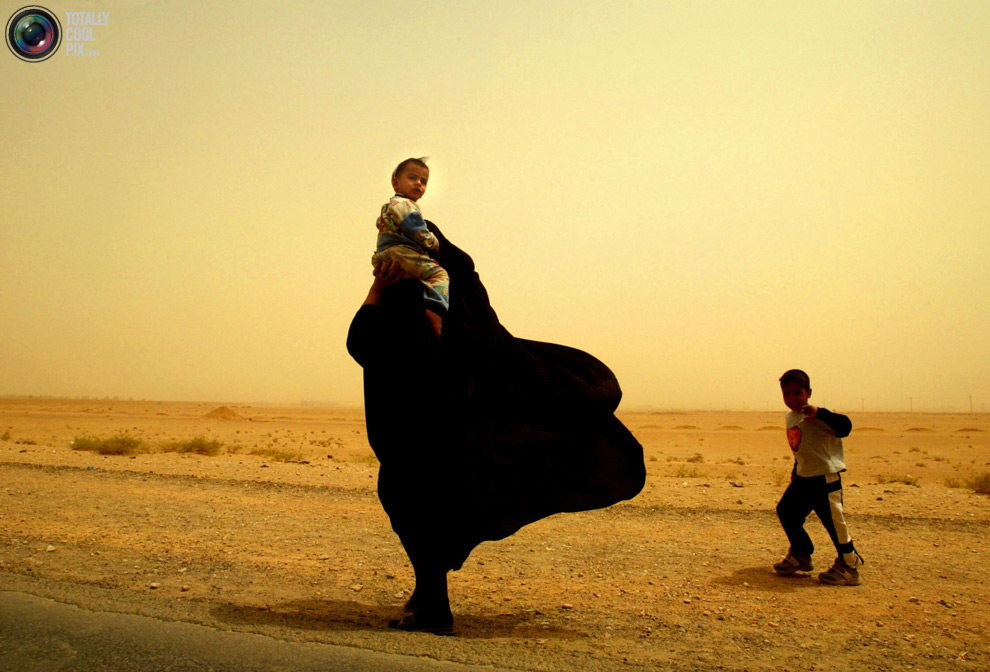 62. An Iraqi Shiite woman carries her baby and is followed by her young son as she makes her way to the central Iraqi city of Kerbala through a sand storm in the desert April 20, 2003. Tens of thousands of Shi'ite Muslims are bound for the holy city of Kerbala on a pilgrimage banned for nearly a quarter of a century under Saddam Hussein. REUTERS/Yannis Behrakis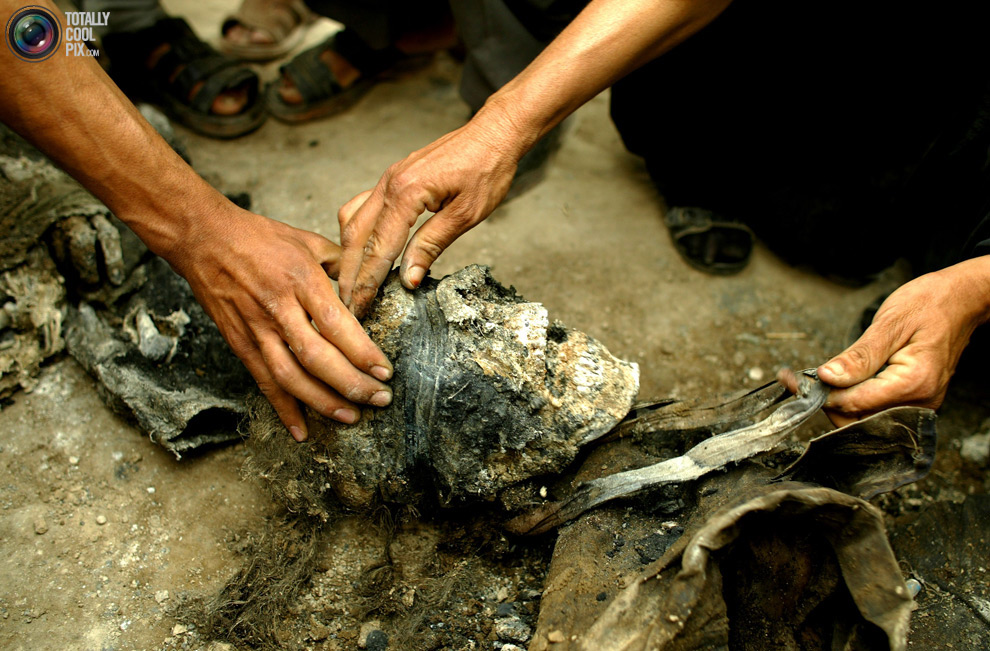 63. Iraqi people inspect a blindfolded skull dug out at the site of a mass grave 110 km south of Baghdad, May 13, 2003. Over 3000 bodies were unearthed, some with blindfolds and tied hands. Tens of thousands of people are believed to have been killed or executed under the ruthless regime of Saddam Hussein. REUTERS/Kieran Doherty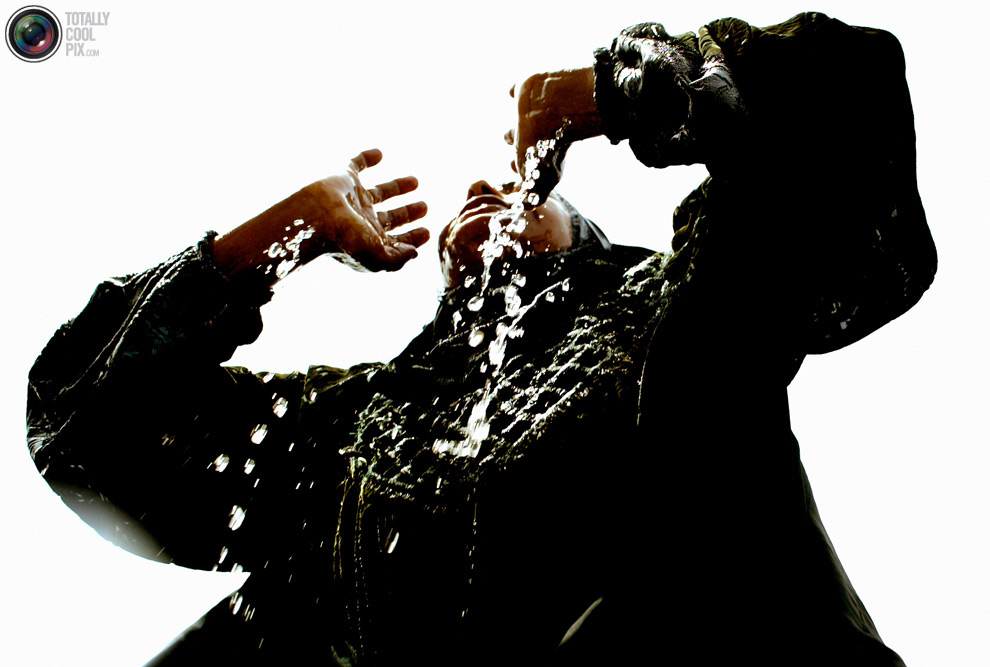 64. An Iraqi woman washes herself at a broken water pipe in the severely water starved Diyala Bridge area of Baghdad May 19 2003. The pipe is the main water source for an area that has over 50,000 homes. REUTERS/Kieran Doherty
KD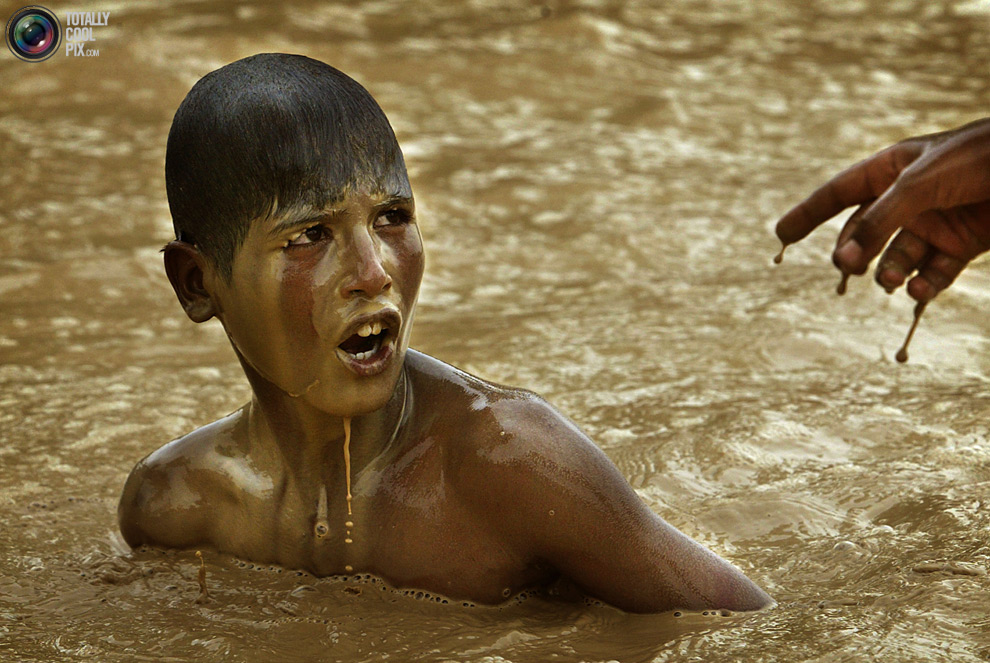 65. Iraqi teenagers swim in waste water from the nearby Tuweitha nuclear facility near Baghdad, May 28, 2003. Iraqis are consuming contaminated water unaware of the dangerous pollutants that can cause severe ill health. REUTERS/Damir Sagolj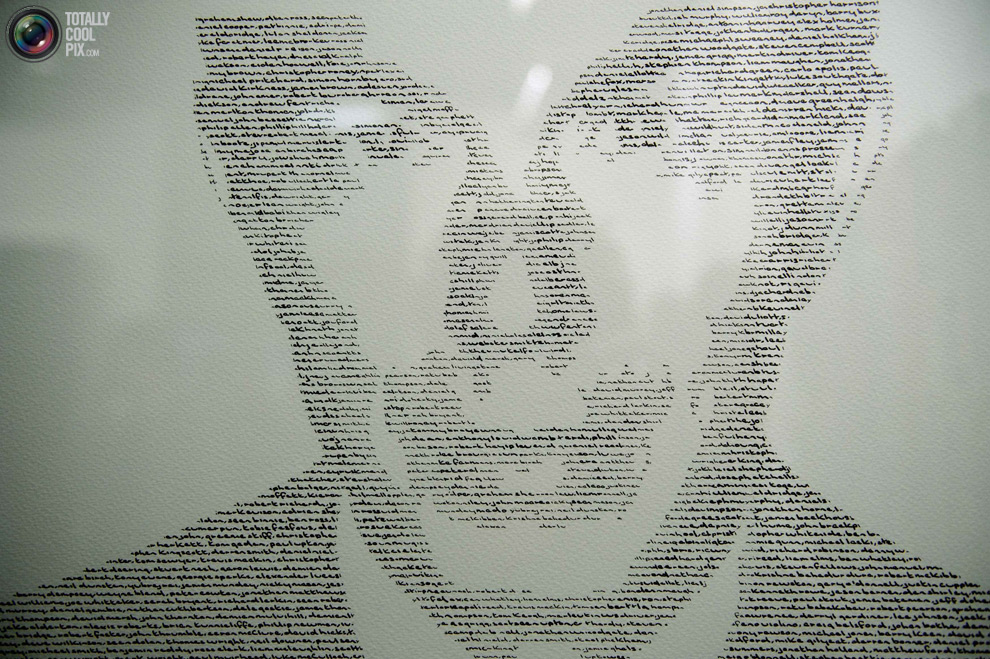 66. Their families have been told by British artist Annemarie Wright is seen at an art centre in London January 21, 2011. The artwork depicts former Prime Minister Tony Blair as a collection of names of those killed during the Iraq conflict. REUTERS/Kieran Doherty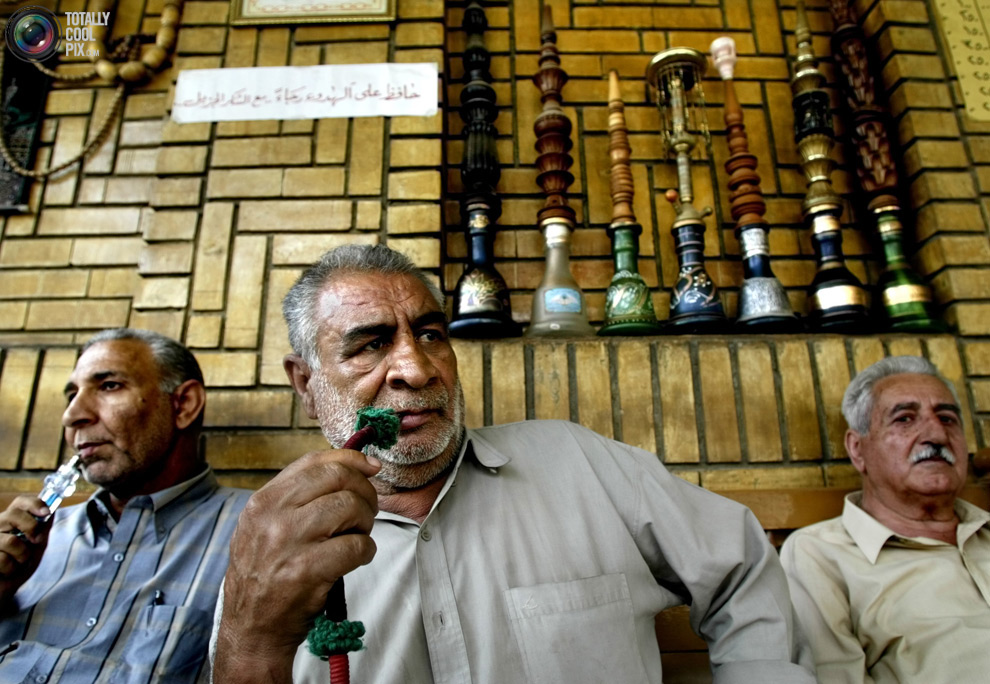 67. Iraqi men smoke water pipes inside the famous Al-Zahawi cafe, a meeting point for intellectuals and bohemians of the Iraqi society at the beginning of the century, in Baghdad June 1, 2003. The city is struggling back to life more than seven weeks after U.S.-led forces toppled Saddam Hussein, but chaos still ensues. REUTERS/Andrea Comas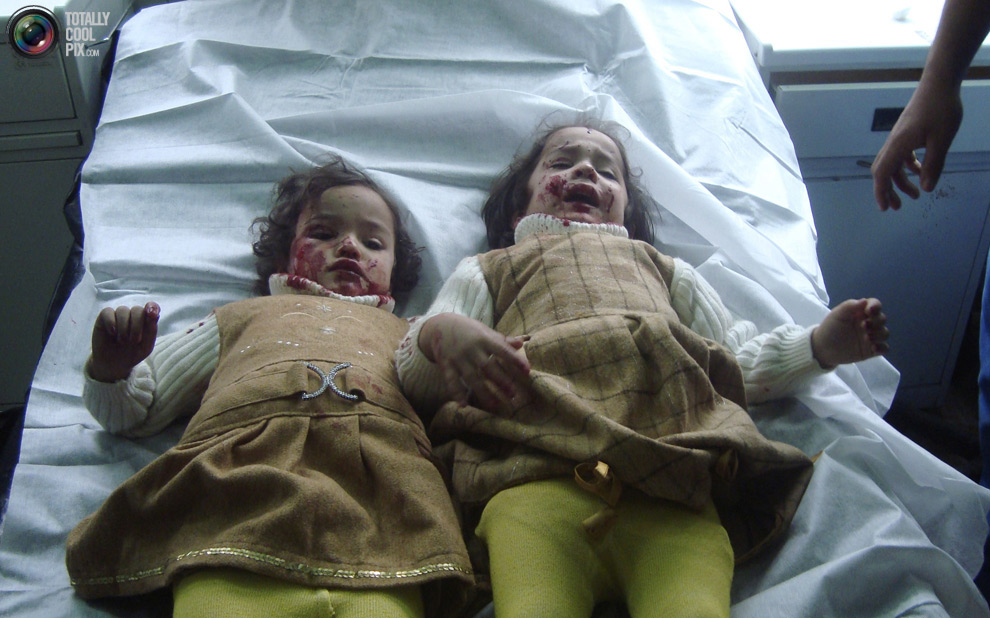 68. Two sisters, who were wounded in a bomb attack, wait for treatment at a hospital in Baghdad, December 8, 2009. Car bombs killed at least 112 people in Baghdad on Tuesday, police said, leaving pools of blood, charred buses and scattered body parts in a brutal reminder of the threat from Iraq's stubborn insurgency. REUTERS/Stringer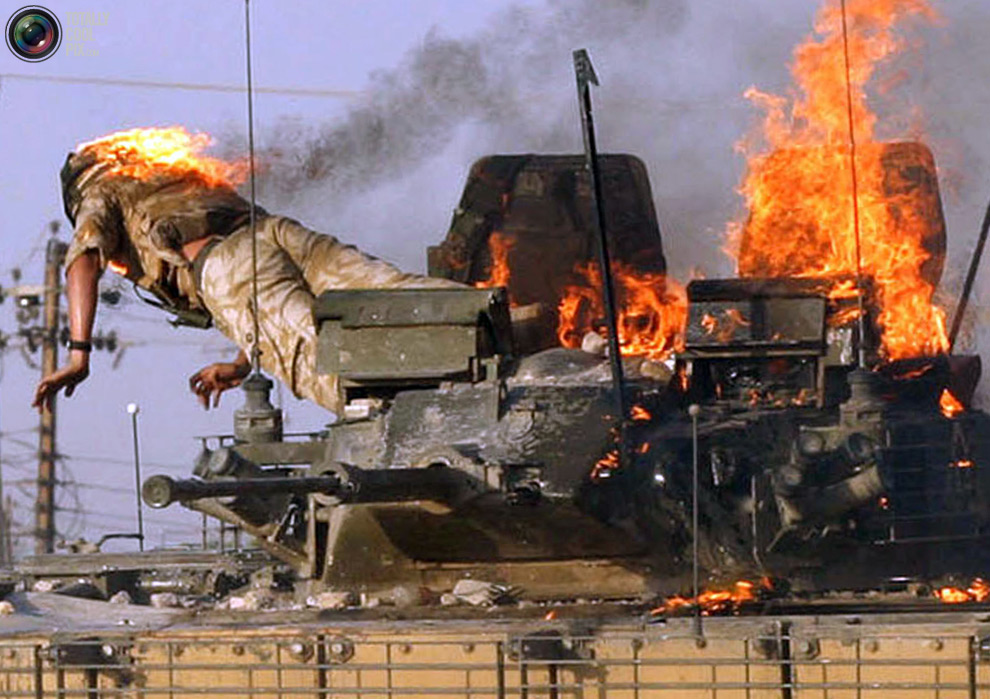 69. British soldier jumps from a burning tank which was set ablaze after a shooting incident in the southern Iraqi city of Basra September 19, 2005. Angry crowds attacked a British tank with petrol bombs and rocks in Basra on Monday after Iraqi authorities said they had detained two British undercover soldiers in the southern city for firing on police. Two Iraqis were killed in the violence, an Interior Ministry official said. REUTERS/Atef Hassan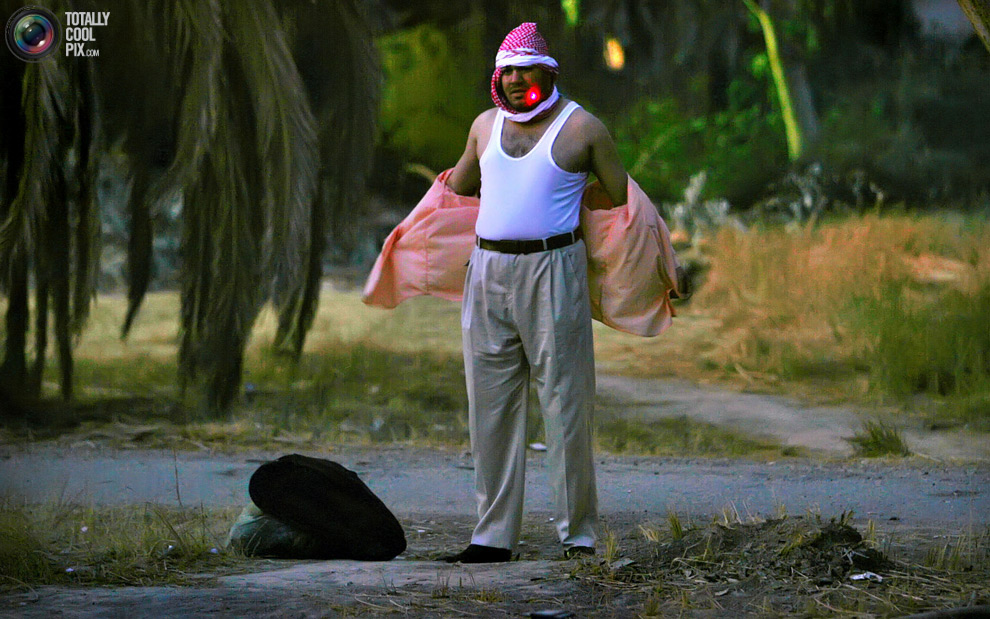 70. An Iraqi man unbuttons his shirt as U.S. soldiers point their laser sights on him during an operation near Baiji oil refinery December 24, 2007. REUTERS/Bob Strong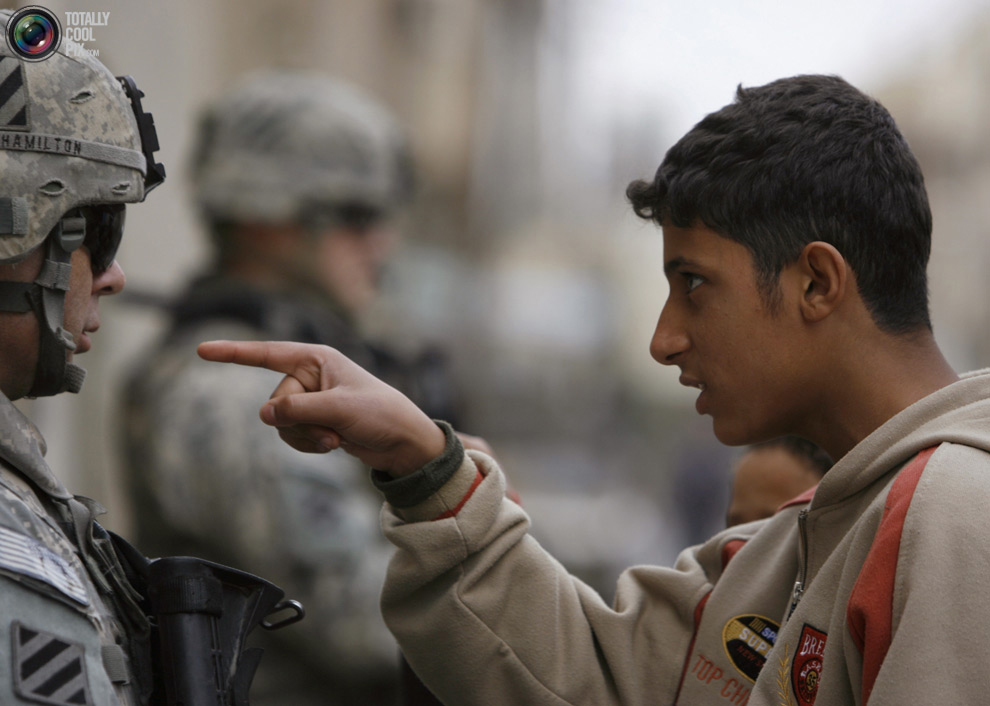 71. A resident gestures as he talks to a U.S. soldier from 2nd Brigade combat team, 82nd Airborne on patrol in Baghdad's Adhamiya district January 5, 2008. REUTERS/Mahmoud Raouf Mahmoud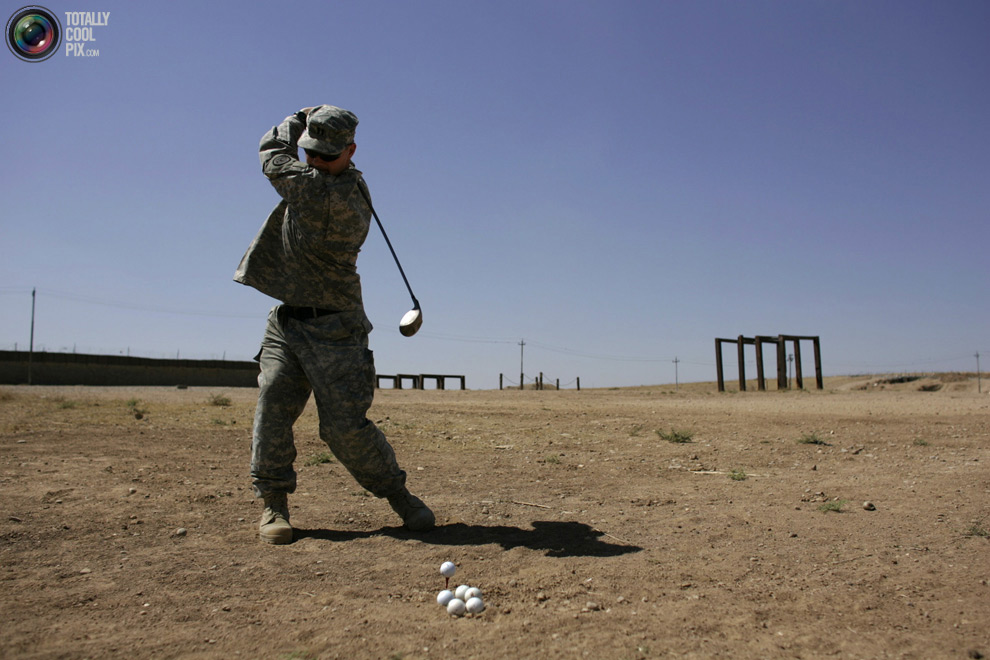 72. U.S. Army Captain Rochell Reese hits golf balls in an open field inside a military base in Mosul June 9, 2008. REUTERS/Eduardo Munoz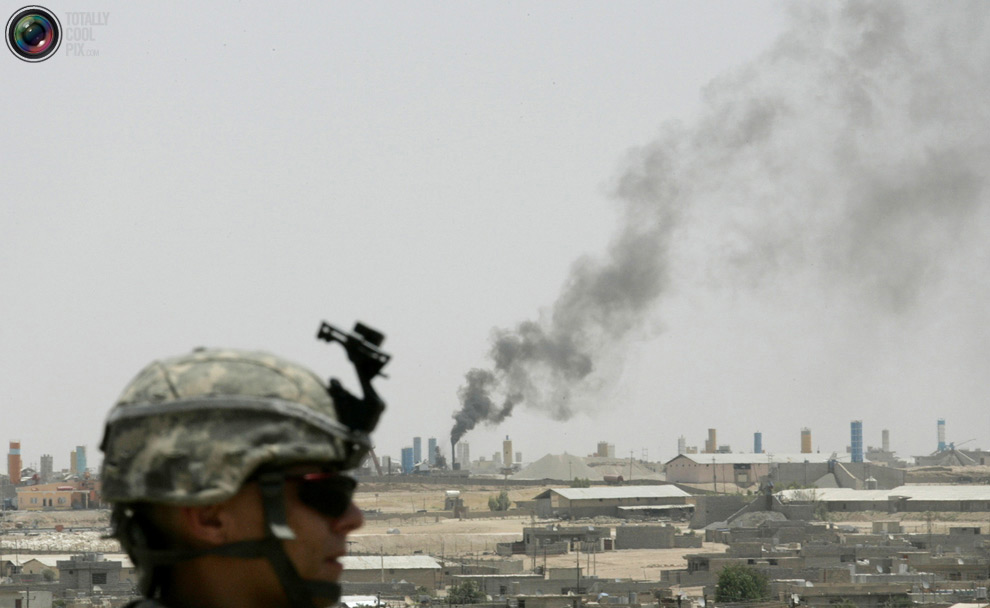 73. A U.S. soldier of the 1/8 Infantry Battalion keeps watch from the roof of a building during a battlefield circulation patrol in Mosul June 25, 2008. REUTERS/Eduardo Munoz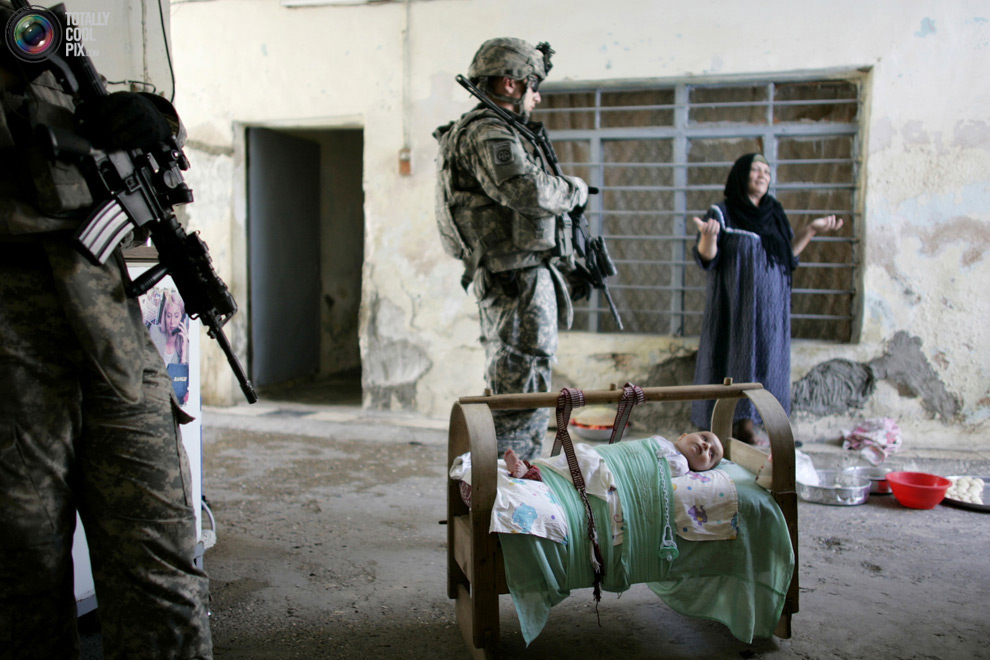 74. An Iraqi baby lies in a cradle while a woman argues with U.S. soldiers of 1/8 Bravo Company searching for weapons, explosives and information about militants in the area during a foot patrol in a neighbourhood of Mosul June 26, 2008. REUTERS/Eduardo Munoz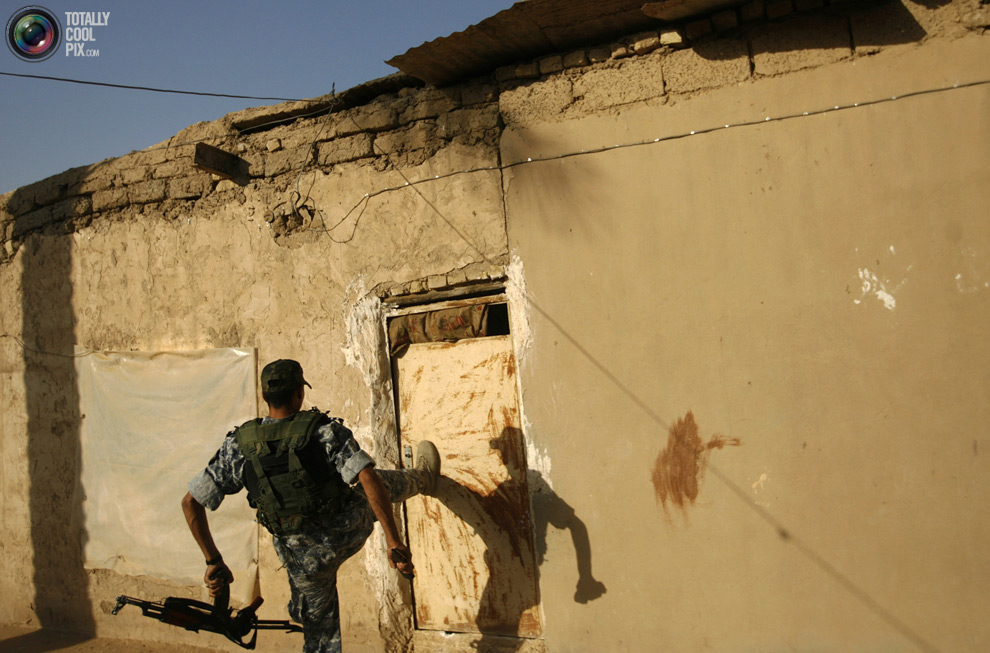 75. An Iraqi policeman kicks doors during a joint operation with U.S. soldiers from the Second Stryker Cavalry Regiment near Muqtadiyah in Diyala province July 24, 2008. Sunni Islamist al Qaeda has sought to stoke tensions in Iraq's ethnically and religiously mixed northern cities, such as Diyala and Mosul, after military campaigns pushed its militants out of former strongholds in western Anbar province and Baghdad. REUTERS/Damir Sagolj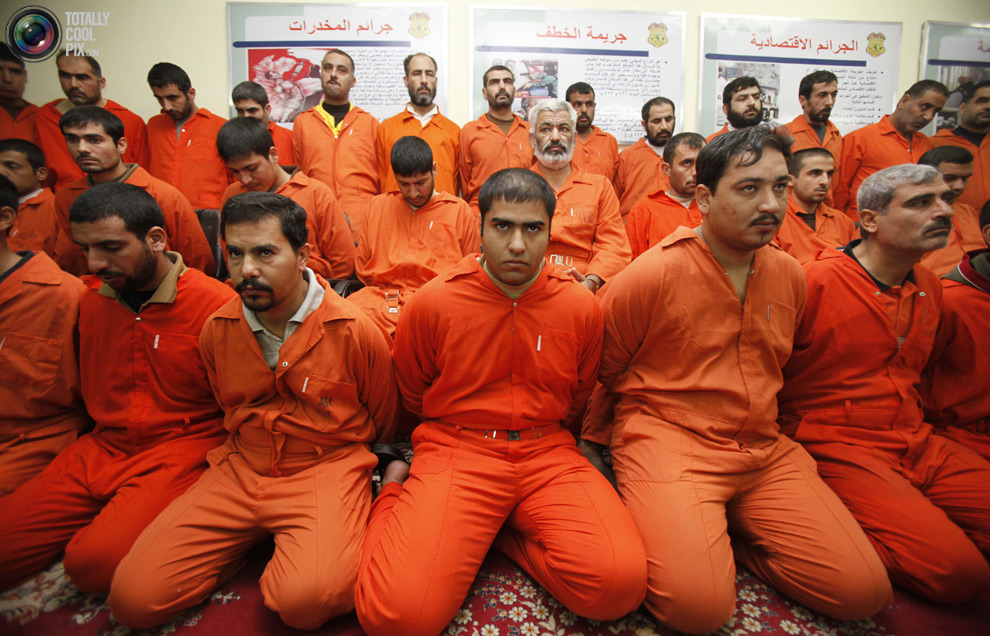 76. Detainees are displayed for the media during a news conference by Iraq's Interior Minister Jawad al-Bolani in Baghdad December 2, 2010. Security forces arrested 39 al Qaeda militants, including the group's leadership in Anbar province and one of its top officers in Iraq, in raids over the last five weeks, Iraq's interior minister said on Thursday. REUTERS/Saad Shalash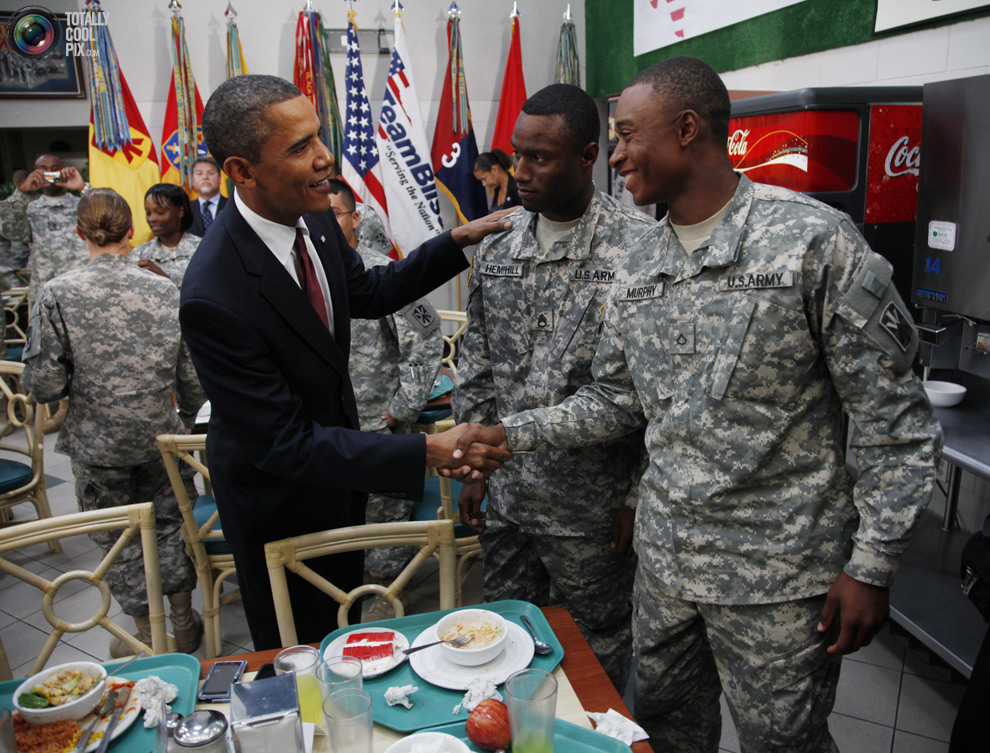 77. U.S. President Barack Obama thanks U.S. Army troops for their service at Fort Bliss, Texas, August 31, 2010. Obama is visiting with U.S. troops in Fort Bliss on Tuesday before addressing the nation from the Oval Office later in the day about combat troop withdrawals in Iraq. REUTERS/Jason Reed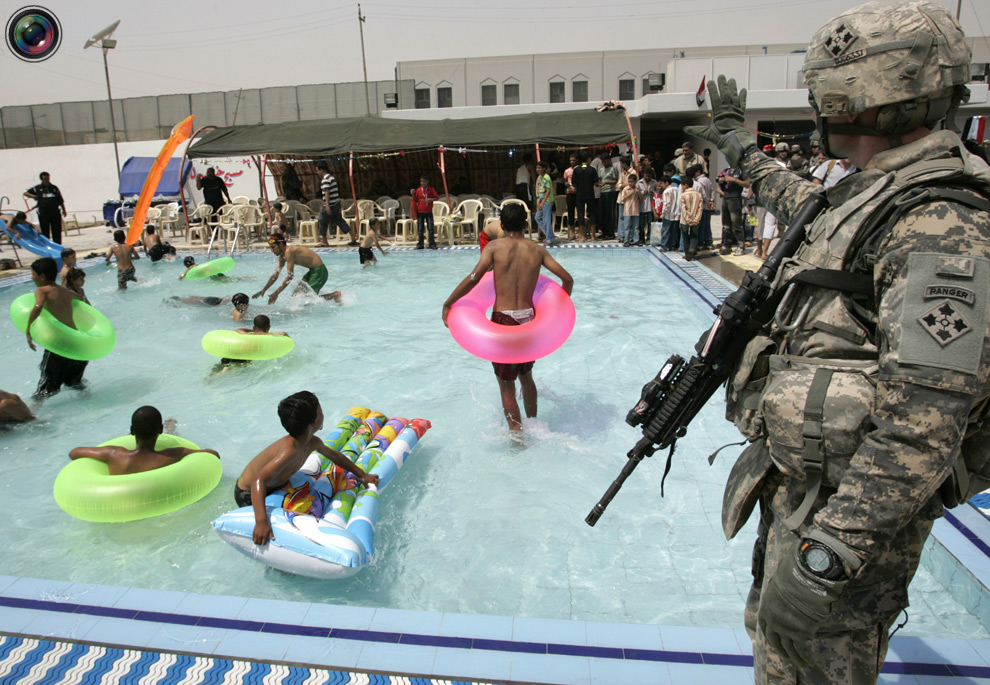 78. A U.S. soldier waves to residents at the newly-opened Mithaq swimming pool in Baghdad's Sadr City August 30, 2008. REUTERS/ Thaier al-Sudani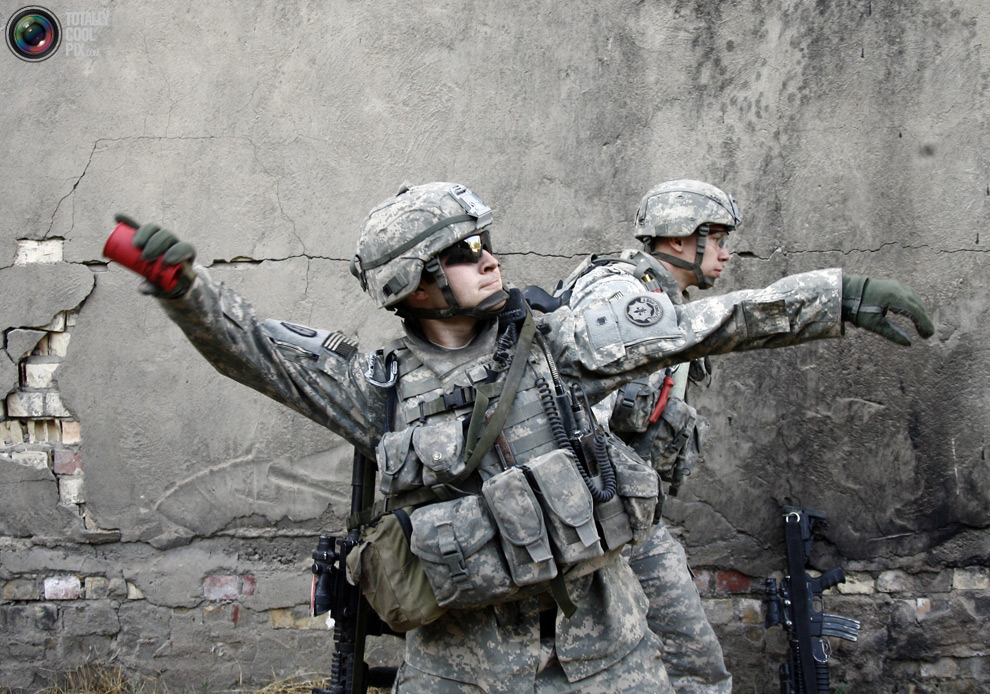 79. U.S. soldier Staff Sergent Russell Massey, of Michigan, with 4th Platoon, G Company, 3rd Squadron 2nd Stryker Cavalry Regiment throws an incendiary grenade during a patrol in the neighbourhood of Muhalla 834 in Baghdad November 13, 2007. REUTERS/Stefano Rellandini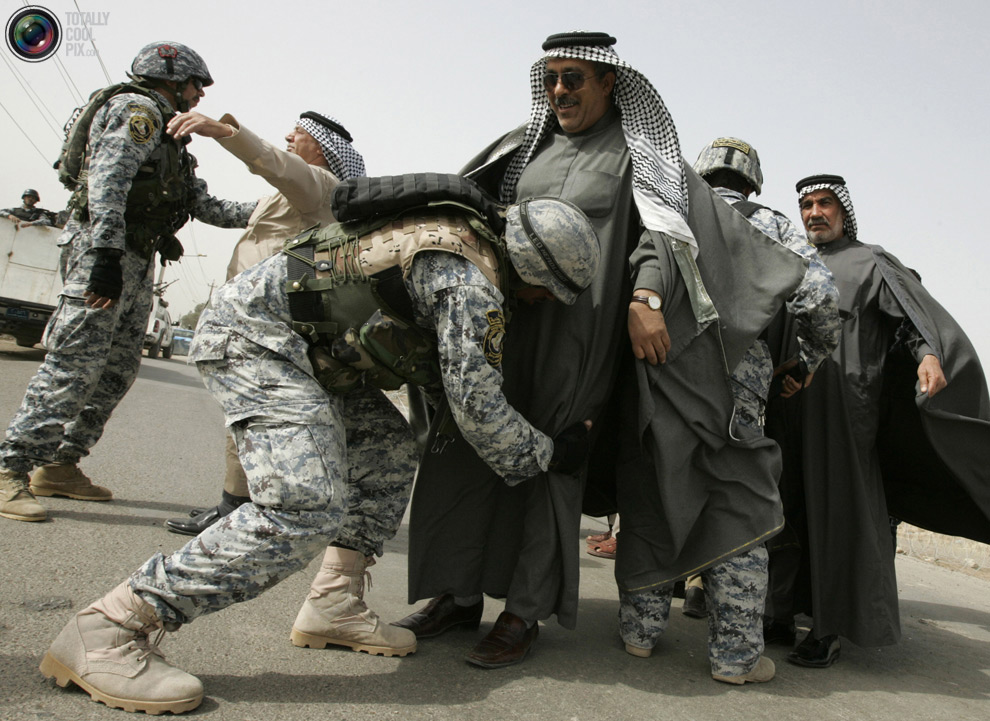 80. Iraqi policemen frisk tribal sheikhs before entering a reconciliation meeting in Baghdad March 8, 2009. REUTERS/Mohammed Ameen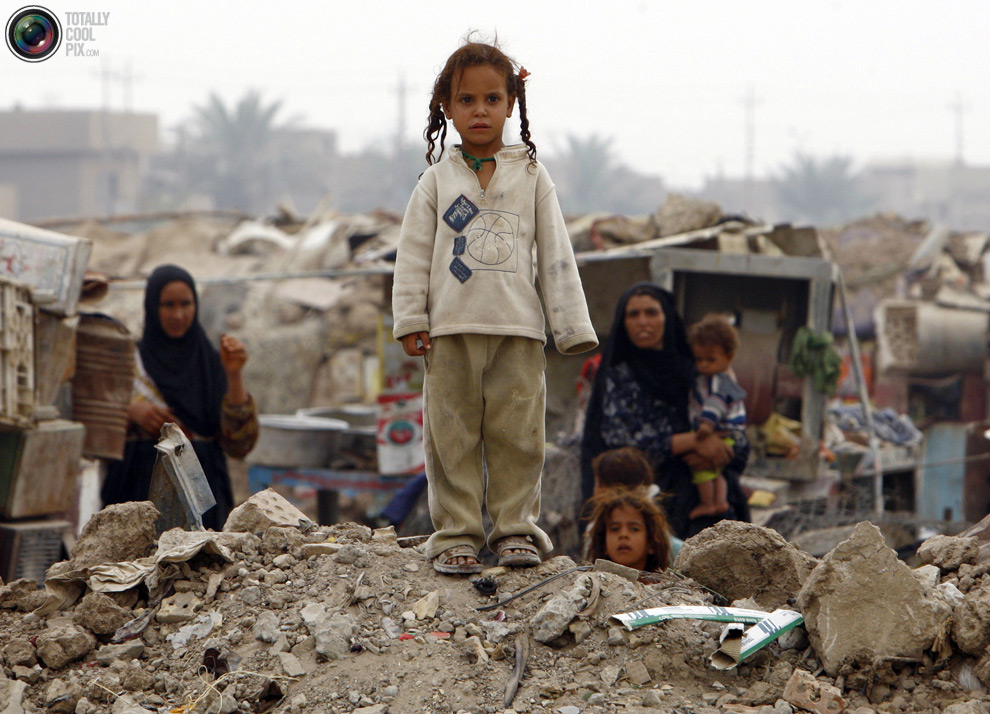 81. Residents wait for the distribution of relief goods by the Red Crescent organization to a poor neighbourhood in Baghdad's Abu Dsheer district in this September 8, 2008 file photo. Resettling displaced Iraqis promises to be a major challenge towards achieving reconciliation and averting renewed violence. REUTERS/Mohammed Ameen/Files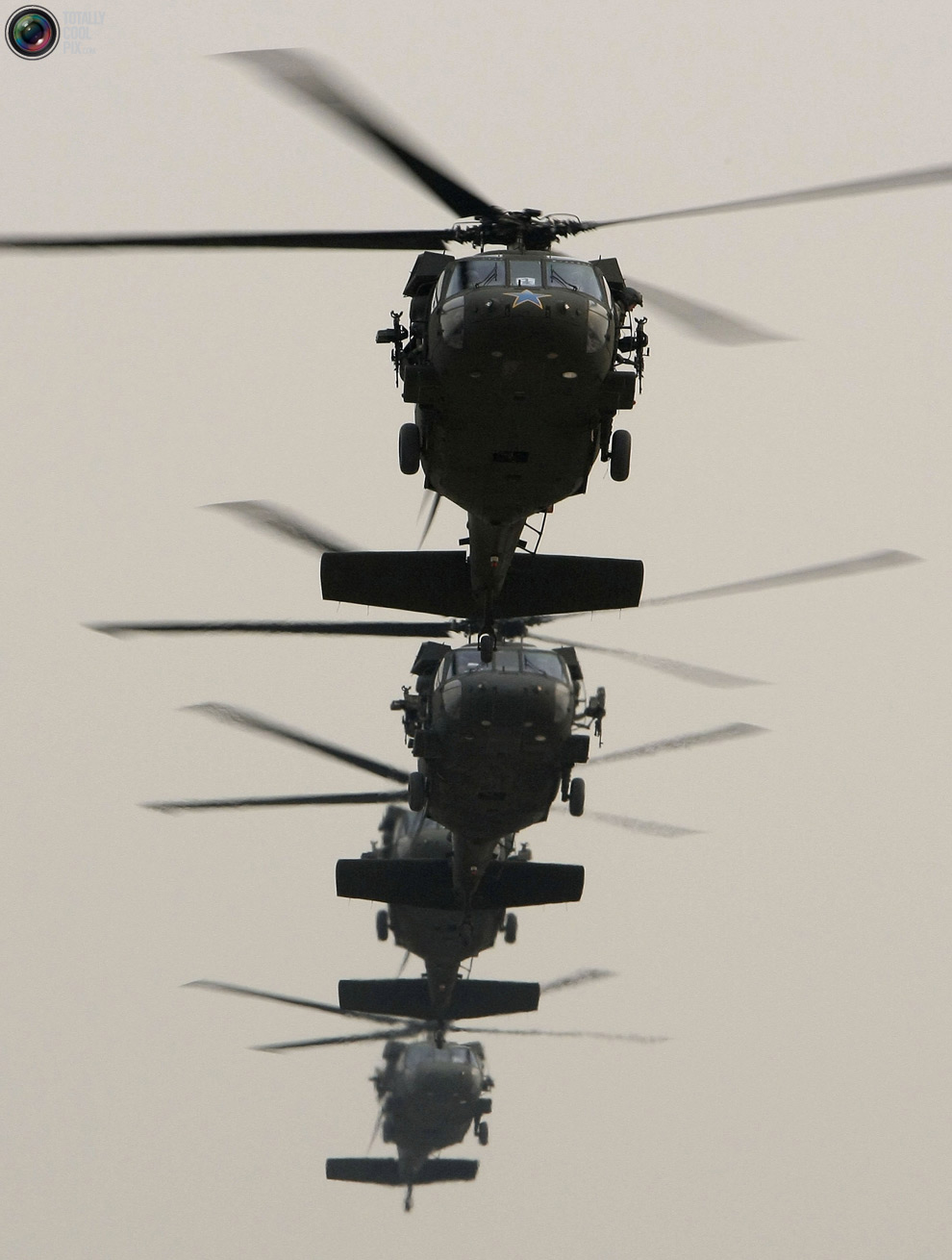 82. A Blackhawk helicopter (top) carrying U.S. Secretary of Defense Robert Gates arrives in the Green Zone in Baghdad December 10, 2009. REUTERS/Justin Sullivan/Pool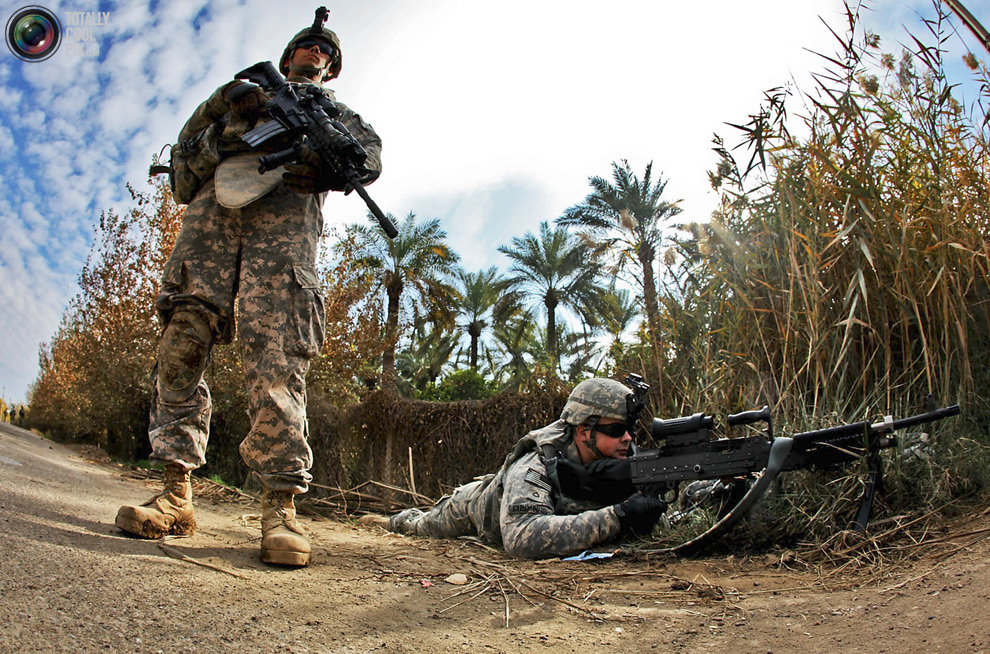 83. Spc. Sean Kuttner (L) from Jacksonville, Fla., a rifleman, and Pfc. John Cummings from Boise, Idaho, a machine gunner, both with 3rd Battalion, 227th Aviation Regiment, 1st Air Cavalry Brigade, 1st Cavalry Division, provide security at a traffic control point while local Iraqi ID cards are checked and cars searched in Taji, north of Baghdad December 12, 2009. Picture taken with a fisheye lens. REUTERS/U.S. Army/Sgt. Travis Zielinski/Handout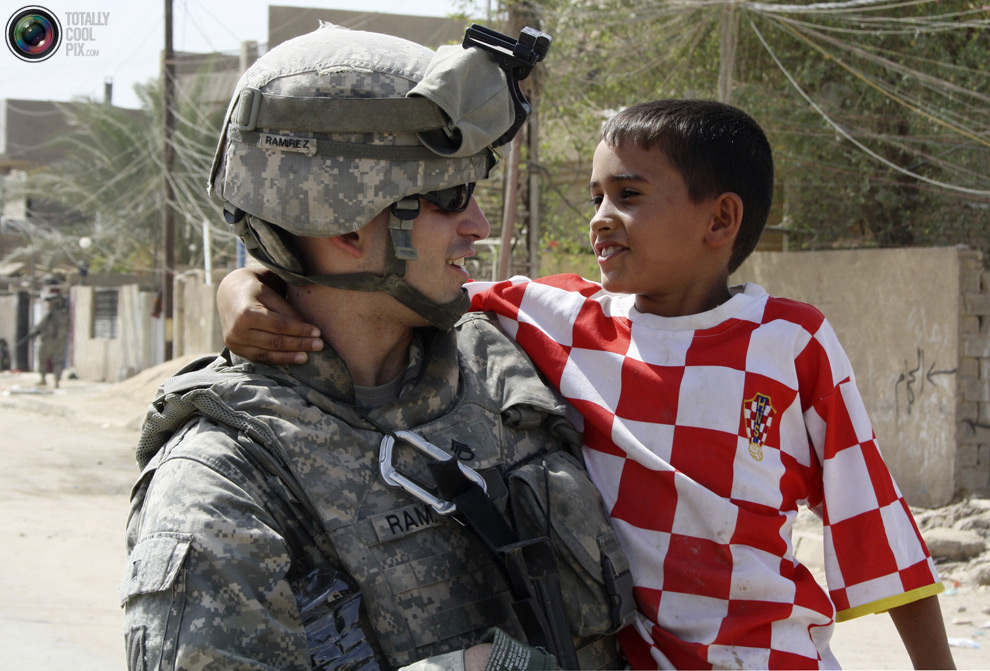 84. A U.S. soldier carries an Iraqi boy during a relief goods distribution in Baghdad, August 28, 2010. REUTERS/Stringer
85. (L-R) U.S. soldiers Timothy Manske from Hartwell, Georgia, Sgt. Darin Hendren of Yakama and Spc Richard Martin of San Antonio,Texas, joke around as they wait for their flight back to the U.S at Camp Virginia, Kuwait, August 31, 2010. The last of the Stryker Brigade Combat Team based in Iraq are currently waiting for clearance of their bags and personal possessions before flying out from Kuwait to their home base in the U.S. REUTERS/Stephanie McGehee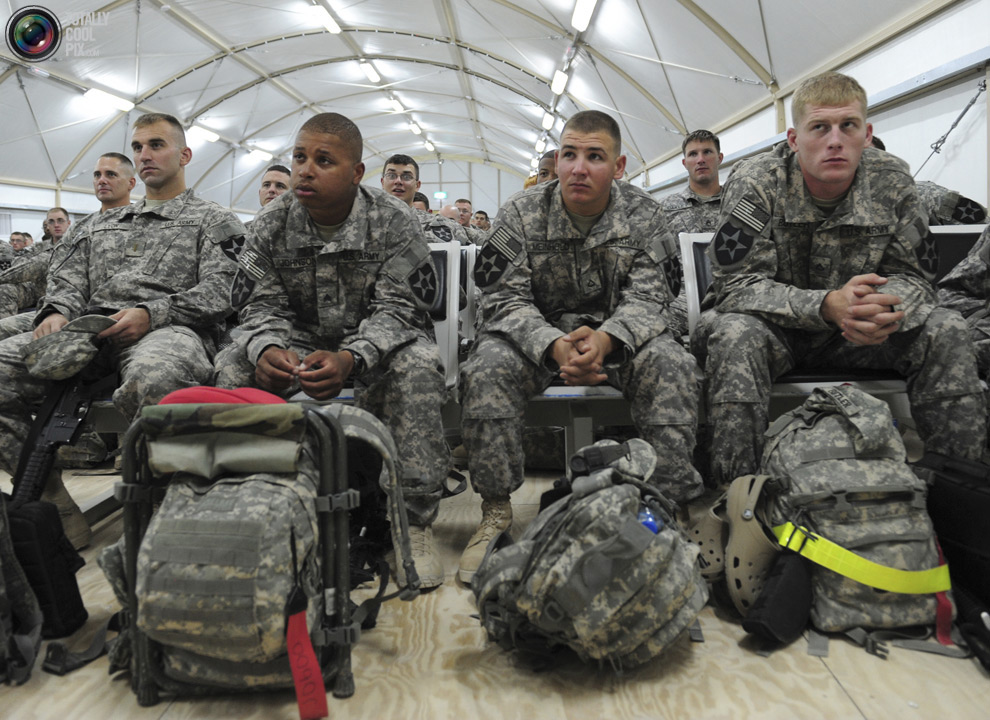 86. U.S. soldiers listen to instructions as they wait for their flight back to the U.S. at Camp Virginia in Kuwait August 31, 2010. The last of the Stryker Brigade Combat Team based in Iraq are currently waiting for clearance of their bags and personal possessions before flying out from Kuwait to their home base in the U.S. REUTERS/Stephanie McGehee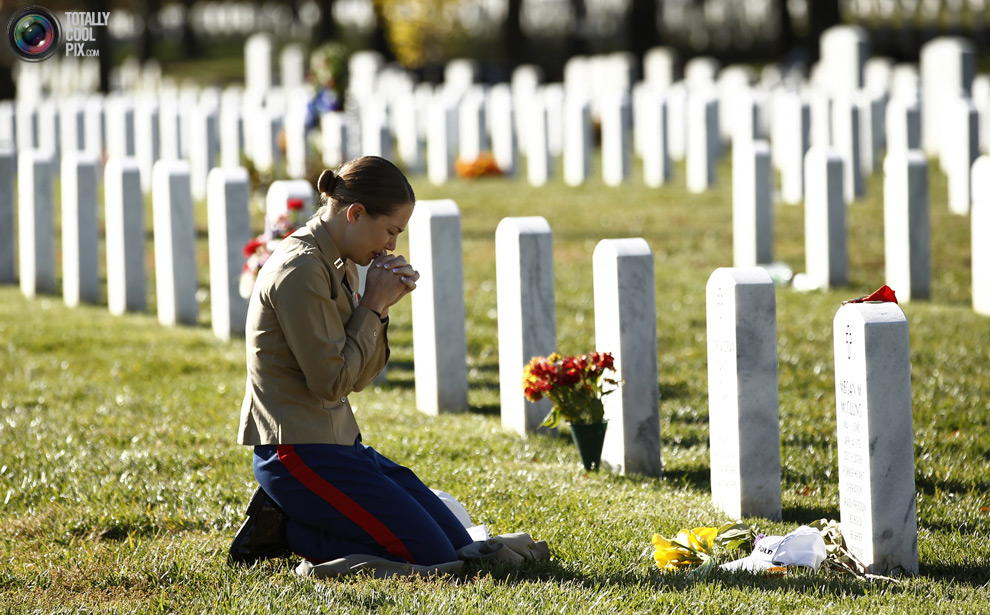 87. U.S. Marine Capt. Jill A. Leyden of Easton, Maryland, kneels at the grave of her friend Major Megan M. McClung at Arlington National Cemetery in Virginia on Veterans Day, November 11, 2010. McClung was killed during Operation Iraqi Freedom on December 6, 2006. Leyden and McClung served together in Iraq. REUTERS/Kevin Lamarque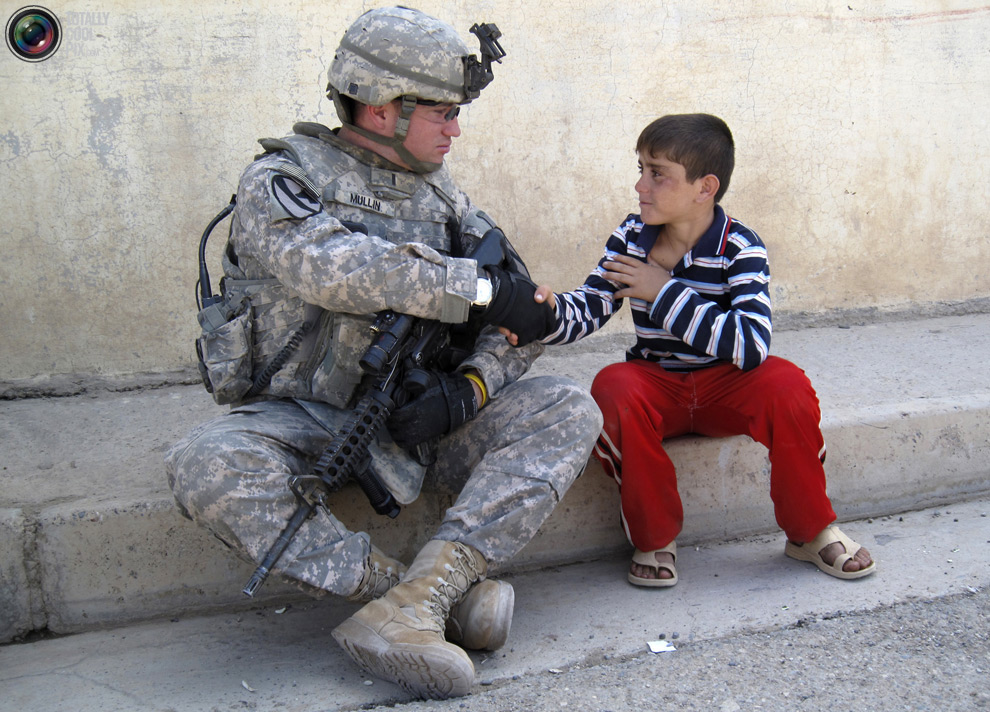 88. A U.S. soldier shakes hands with a boy during a patrol near the city of Mosul, 390 km (240 miles) north of Baghdad September 27, 2009. For a city under constant attack at the hands of a violent Sunni Arab insurgency, northern Iraq's Mosul looks in better shape than it has for many years. Streets littered with bombed out rubble have been cleared and collapsed buildings resurrected, trash has been swept and trees planted along newly paved boulevards. REUTERS/Tim Cocks