What started with a fallen tree has been taken to new level; both height and length, by engineers and technology. Bridges are a fundamental structure of transportation nowadays and engineers continually keep testing new materials and ideas when it comes to bridges. A mixture of science and imagination; bridges are quite fascinating as you will see. We have compiled for you a top 10 structurally amazing bridges list that will take you places-literally since these are spread all over the world.  You will find bridges taller than the Eiffel tower itself and longer than any bridge you might have seen.
10. The Hangzhou Bay Bridge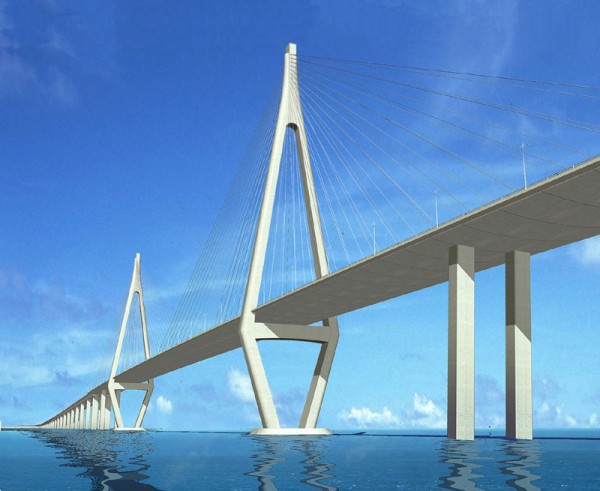 China is not new to bridge building and has a bridge that was built in 300 A.D. still in working order. But the bridge that is on our list is rather young if you think of its age. After 9 long years of planning and construction, The Hangzhou Bay Bridges was finally opened in May 2008 for traffic. Some of its specs are as follows; 36 Km long, 6 lanes for both directions, budget of 11.8 billion yuan ($1.72 billion) and a life expectancy of 100 years. The bridge stretches over the Qiantang River at the Yangtze River Delta on the East China Sea. A high budget project, but with the life expectancy of 100 years, it is definitely going to pay off over time!
[youtube]http://www.youtube.com/watch?v=giP-oiD9wVQ[/youtube]
9. The Bosphorus Bridge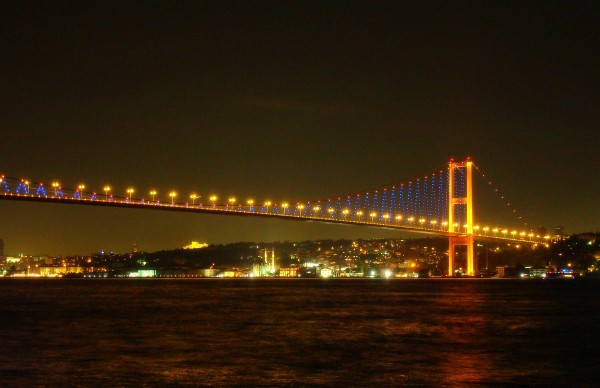 The Bosphorus Bridge; links Asia to Europe and was also host to a tennis match in May 2005 between Venus Williams and Ïpek Senoglu. The bridge, 1.51 Km long, was inaugurated in 1973 as a suspension bridge with an eight lane deck. The bridge was the only linking bridge until 15 years later when Fatih Sultan Mehmed Bridge was opened. The sight at night is amazing due to its LED lighting system. The pedestrians were stopped from crossing the bridge in 1977 for safety reasons. Also known as Istanbul Strait, this bridge connects Black Sea to the Sea of Marmara.
[youtube]http://www.youtube.com/watch?v=VEQkNpGBGpM[/youtube]
8. Gateshead Millennium Bridge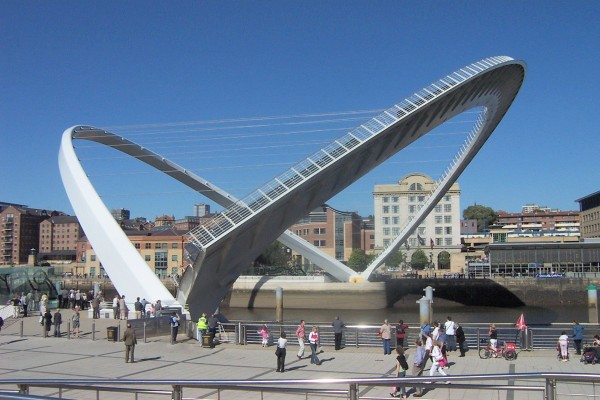 Remember how we talked about imagination and technology making it possible? Well, our number 8 on the list, Gateshed Millenium Bridge, definitely is a merger of both. The bridge's design was a result of contest announced in 1996 to design an innovative pedestrian and cycle bridge over the Tyne River. The requirements were that the bridge should allow for the passing of ships, should not block the view of other bridges and must not affect the cultural activities going on either bank. The winning design was surely one that had never been seen before. It is made up of two steel arches. They are perpendicular to each other and one acts as the deck for cycles and pedestrians. When the bridge needs to be moved the whole structure moves as one with one arch acting as counter-balance and eight motors whir into action pulling the deck-arch up, making way for ships. The bridge was completed in 2000 with a length of 126 m.
[youtube]http://www.youtube.com/watch?v=S7nXXy1NhpM[/youtube]