No 8. L42 Enfield (British)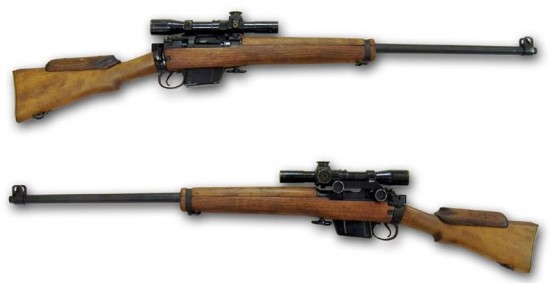 Type
Bolt-action rifle
Place of origin
United Kingdom
Service history
In service
1895-1926 (MLE)
1907–present (SMLE)
Used by
Wars
Second Boer War
First World War
Second World War
Various Colonial conflicts
Irish War of Independence
Malayan Emergency
Korean War
Nepalese Civil War
Afganistan conflict
and numerous other conflicts.
Production history
Designer
James Paris Lee, RSAF Enfield
Produced
1895-1907 (MLE)
1907– (SMLE)
Number built
over 17,000,000 (All Variants)[1]
Variants
Short, Magazine Lee Enfield Mk. I, Mk. I*, Mk.III, Mk. III*, Rifle No. 4 Mk. 1, Mk. 1* (produced by Savage and Long Branch), Mk. 1(T) Sniper Rifle, Mk. 2, Rifle No 5 Mk. 1 (Jungle Carbine)
Specifications
Weight
~4 kg (8.8 lb) depending on wood density
Length
1,130 mm (44.5 in)
Barrel length
635 mm (25 in)

---

Cartridge
.303 Mk VII SAA Ball
Action
Bolt-action
Muzzle velocity
744 m/s (2,441 ft/s)
Effective range
550 yards (503 m)[2]
Maximum range
2,000 yd (1,829 m)
Feed system
10-round magazine, loaded with 5-round charger clips
Sights
Sliding ramp rear sights, Fixed-post front sights, "Dial" long-range volley sights; Telescopic sights on Sniper models.