If with today's hectic life you feel like drifting away from your religion, then ironically, technology has the answer; stay on top of your faith with our list of best iPhone apps for Christians around the world.
No 10. Bible Trivia Deluxe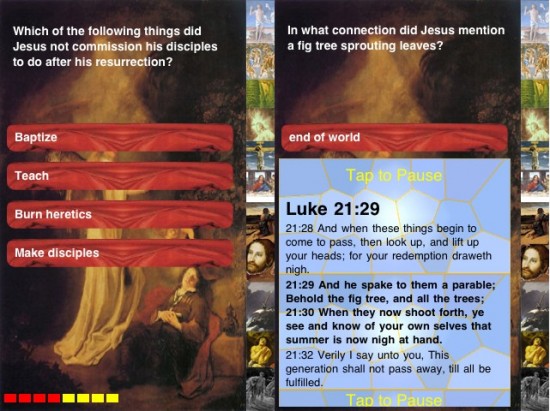 Price: $2.99
This app features over 5,500 faith-based questions based on every aspect of the bible. If you think you know everything in the Bible, try this app and you'll know for sure. Interestingly, a correct answer gets you closer to Heaven; while an incorrect answer inches you towards the Abyss.
No 9. Prayer List
Created by Vurgood Apps, this app features the perfect way to track and store prayer requests by allowing you to view a prayer request list, look at the specific details of the prayer and more. You can also keep your things private by a password.
No 8. 100 Bible Verses
Based on the book 100 Bible Verses Everyone Should Know by Heart by bestselling author Robert J. Morgan, this app features 100 verses organized under thirteen topics. It also allows you to share the content and even take a quiz for memory test.
No 7. Bible Wisdom
This app features some of the best quotes the Bible has to offer from Jesus Christ and the prophets of the Old Testament.