The huge success of iPad and iPad 2 is in part fueled by the great number and quality of apps available for the tablet. With over 180,000 plus apps available for the iPad, there certainly is no shortage of apps specifically for the Christians. Today, we bring you the 10 best iPad apps for Christians among that heap.
No 10. Bible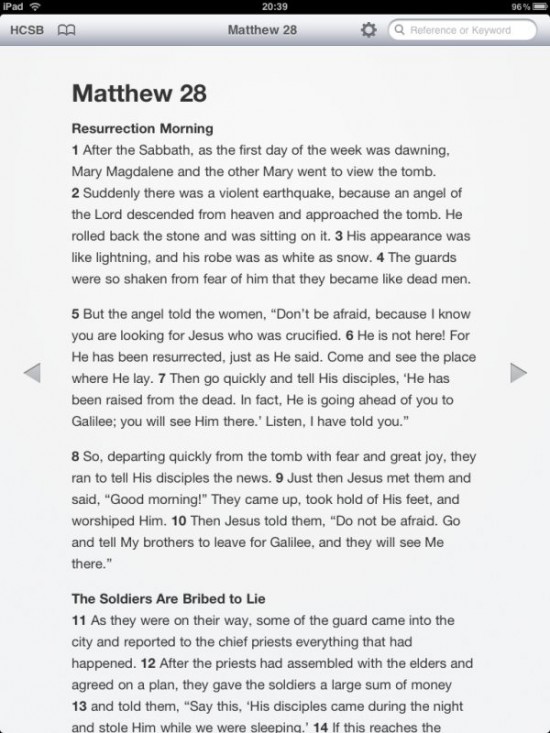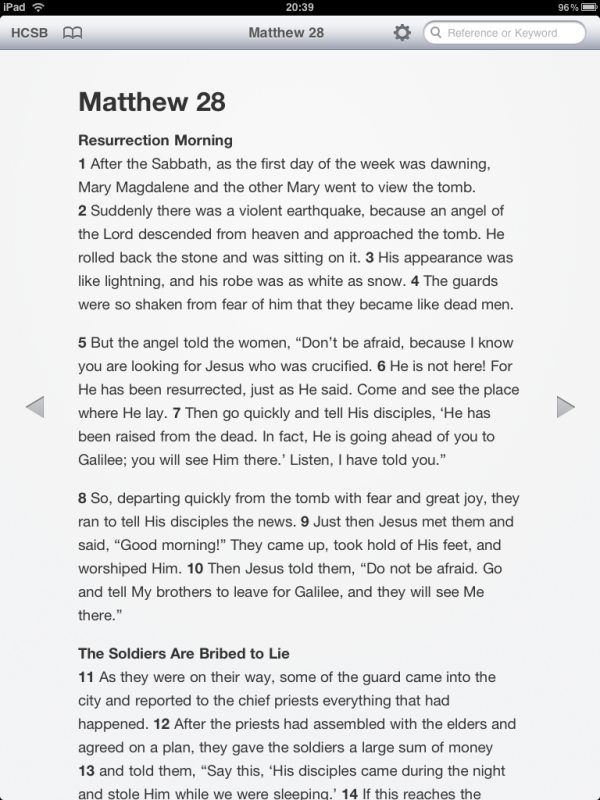 Price: Free
This iPad app has over 200 free Bible versions and over 200 plans to help you track your progress. It also has audio capability. You can also download The Message, NKJV, KJV, NET, NCV, NASB, AMP, God's Word, ASV, WEB, Reina-Valera 1960, ELB, LSG, CUVS, CUV, NB88/07 and many more translations to read while offline. And it comes with other feature such as sharing though email and Facebook too.
No 9. Cross Movement Records
CMR has been home to Christian hip-hop artists The Cross Movement, FLAME, R-Swift, Everyday Process, and Phanatik among others. This free app features music and video premiers, new and classic singles/music videos, song lyrics, artist driven reality video series, ability to purchase songs and albums directly among others.
No 8. Daily Devotion
This app gives you devotion for each day which are easy and short and also allows you to listen to Baptist Bible Hour's most recent broadcasts, view their website, and access devotionals sorted by date and category. It also allows you to contact the Baptist Bible Hour with any questions of prayer requests that you have.
No 7. Prayer Warriors – Armor of God
This app will strengthen your prayer life by teaching you to put on the Armor of God (Eph 6:10-18). This app aims at teaching you on how to put on the Armor of God, learn what each piece means to you in your Christian walk, and most importantly be protected from spiritual attacks.