No 6. Velocity Micro Raptor Z90
| | |
| --- | --- |
| Starting Price | $2,999 |
| Motherboard | MSI X58 Pro-E |
| Processor | Intel Core i7 3.20GHz |
| Memory | 6GB (3 x 2GB) DDR3 |
| Video Card | Radeon HD 4870 1GB |
| Audio | SoundBlaster X-Fi XtremeGamer |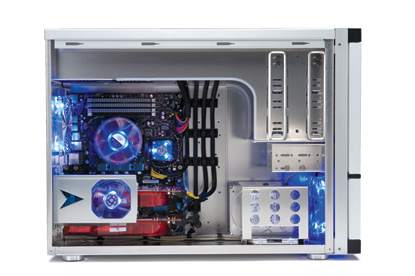 If you are looking for a computer that is light on the pocket but can do wonders, well sort of, than the Raptor Z90 is the PC you are looking for. Velocity micro spend hours in tweaking your PC so you get the best out of it, so with this machine you should be pretty sure that you got your every penny worth. Having Intel Core i7 920 CPU at 3.2GHz and operating with genuine Windows 7 Professional the only downside could be a 1GB Radeon HD 4870 GDDR5, which is adequate at best. Another plus point of this PC is the SoundBlaster X-Fi XtremeGamer. In the end, it is good choice for those who cannot afford the more expensive.
No 5. Alienware Aurora ALX
| | |
| --- | --- |
| Starting Price | $2,399 |
| Motherboard | Alienware Approved Intel X58 mATX Motherboard |
| Processor | Inte Core i7 920 2.66GHz (8MB Cache) Quad Core Processor |
| Memory | 6GB DDR3 RAM |
| Video Card | Dual 1GB NVIDIA GeForce GTS 240 – SLI Enabled |
| Audio | Internal High-Definition 7.1 Audio |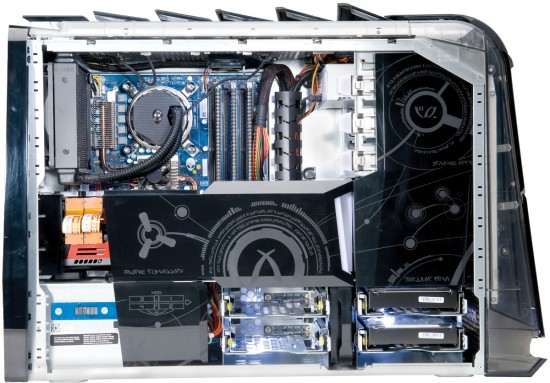 Making its way into our list is a PC from Alienware, known for making some breathtaking gaming rigs, both looks-wise and performance wise. The alien look of the tower might give you creeps but it simply is beautiful. With its Dual NVIDIA GeForce GTS 240 video cards boasting 1GB of video memory and Intel Core i7 920 CPU running at 2.66 GHz its results are satisfactory to all but the hardcore gamers.