No 8. Spider: Secret of Bryce Manor
This game places you in the role of a spider who must spin webs in order capture enough food to make it to the next level while you uncover mystery of the abandon mansion that you just found. As a spider, you are able to crawl across objects, jump great lengths and lay down silk to weave your web. The game comes with 28 beautifully hand drawn levels that are simply a joy to play through.
Cost: $2.99
[youtube]http://www.youtube.com/watch?v=YEbUZ0360OI[/youtube]
No 7. Orbital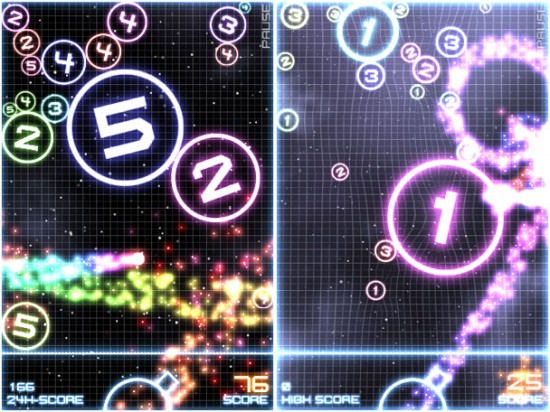 The developer, Bitforge, describes the game as a "one-thumb experience" and it really proves to be one. What this game does is, allows you to control a cannon which fires "orbs" into a playing field which have a limited amount of power behind them and quickly run out of steam. Once it stops, it will expand outwards until it reaches an obstacle like a wall or another orb, but if it expands across the "death line" at the bottom of the playing field it's game over. Each of the orbs initially contains the number 3, but every time it's involved in a collision this number reduces by one. When you reach zero the orb disappears and you score a point. The graphics are pretty good and the game is addictive with great value for replay-ability.
Cost: $2.99
[youtube]http://www.youtube.com/watch?v=vNqVvIbroRA[/youtube]