Japan is the country where almost every person is well educated. Ironically though, this has caused the unemployment to rise as the supply has well exceeded the usual demand, meaning there are lesser jobs every year for the highly educated individuals being churned out in Japan. This has  resulted in a lot of time to be available at the disposal of a sizable chunk of the Japanese population so that they can think and ponder over the direction of their life and the many mysteries of the universe . Some of this thinking, when done by such highly educated intellectuals, is channelized into inventing new things and coming up with new ideas for daily use. Some are useful creations that alter and change the way we live, while others are simply complete pieces of crap, meaning they are utterly purposeless inventions. Here we countdown the ten most implausible yet completely existing Japanese inventions that you probably didn't know and/or will never want to have.
10. Welcome to Japan Bra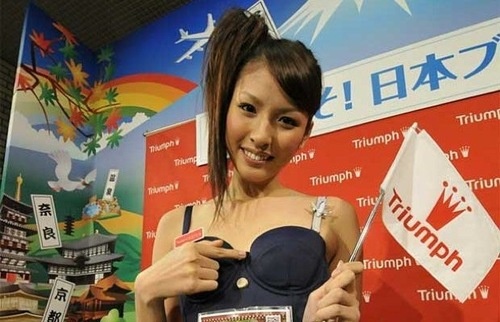 Triumph Japan, a lingerie maker that are not exactly the new members in the Japanese market (they came up with the idea of the "Grow Your Own Rice" bra; wonderful idea), have introduced this invention called the "Welcome to Japan" bra. The idea is that when you push a button, a recorded message welcomes you to Japan in different languages such as English, Chinese or Korean. So if you have a thing for Japanese women, they are Asian after all, then this bra might just make foreplay more fun. Although, if you have landed a Japanese woman in bed who has no qualms about wearing such a thing, you probably don't need more fun.
[youtube]http://www.youtube.com/watch?v=fvLsFuJp7gM[/youtube]
9. The 10-in-1 Gardening Tool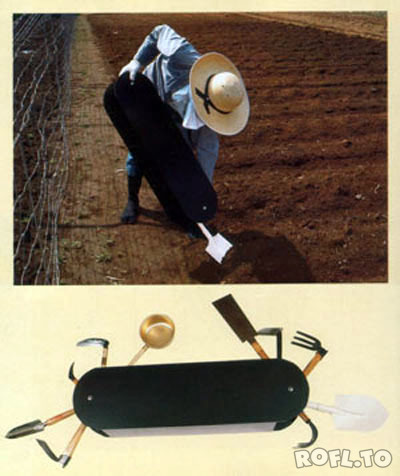 If you're a gardener who toils and works all day with the array of tools you use everyday, and then after a full day's work, you feel that your back is just not up to it, then this tool which is basically a magnified version of the Swiss army knife for gardening is definitely not for you. Maybe if you're in Japan, where the average man is said to have more strength and agility along with sexual prowess than an average human being but what do I know, you can use such a huge instrument and increase the hardship of gardening.
8. Personal Rain Saver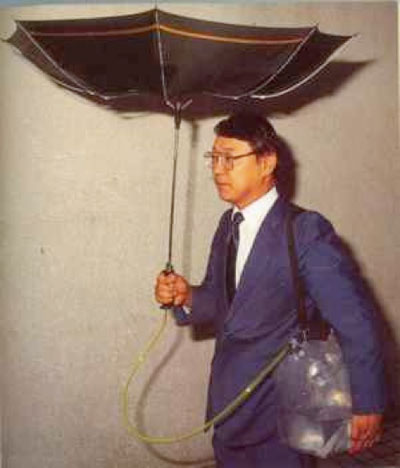 Don't you just hate it when you suddenly get thirsty and don't have water or enough money to quench your thirst? You do? Well the good inventors of Japan have found the solution to such a grave humanitarian problem, an up side down umbrella that catches raindrops which you can later use when you get thirsty. So what could be the downside to wearing such an efficient monstrosity on top of your head? Hmmm. I can't really come up with any.