Have you heard about the Seven Shocking Wonders of the World? The answer is No, we are not talking about the Seven Famous Wonders of the World we are talking about the Seven Infamous Wonders of the World that will definitely make you search more about them, Here is list we made recently;
7. Guatemala City Sinkhole (USA)
This modest speculate took the attention recently in the last year in Guatemala. When the tropical storm woke up which had been growing ever since, it was flourished by the surrounding buildings in its vicinity and took up the humongous size; even shoveling in rocks and miscellaneous debris has been unsuccessful to plug up the swelling crisis. The specific case was named as "Sinkhole"; a sinkhole occurs when soil layers underneath the top layer become too damp to support the inundating heaviness above and ultimately give way. The stress applied by the above layers is called the Insitu stresses due to their own weight and once the development starts in the area it adds to the Insitu stress giving rise to additional stresses.  The result is a hole that resembles a bottomless pit that leads straight to Hell as observed from the images it looks like a home of a giant alien creature living beneath the earth.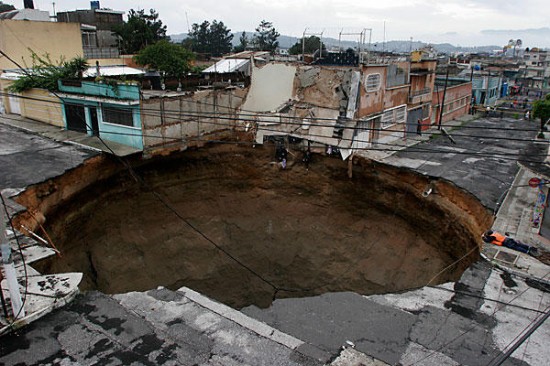 [youtube]http://www.youtube.com/watch?v=muvVDvm9rRI[/youtube]
6. Smog over L.A (USA)
Smog; the word is derived from a combination of two different definitions "Smoke" and "Fog", resembling very thick clouds of filth and dirt. The Smog of the L.A is produced by the heavy emissions of industrial gases and traffic pollution, very dangerous to our Ozone layer and human health and L.A has observed the heaviest Smog of all time.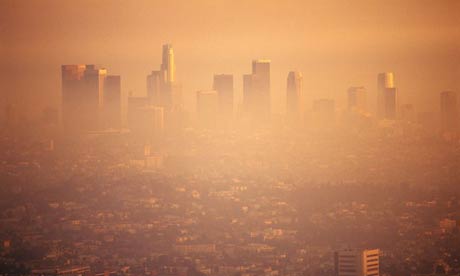 [youtube]http://www.youtube.com/watch?v=nv2STPX7234[/youtube]