Good news for wheelchair users. The robotic legs successfully developed to help users to get up and walk again with both feet. Even able to go up and down the stairs.
Robot leg from New Zealand was named Rex. The robot, will be attached to the side legs to support the user's body. From her appearance, "robot legs" is similar to the legs of Robocop.
"I'll never forget what it was like to see my feet walking under me the first time I used Rex," says Hayden, who is 6'4" (193cm) tall when standing. "People say to me, 'look up when you're walking' but I just can't stop staring down at my feet moving."
Being out of his chair and on his feet again allows Hayden many more options on a day to day basis, increasing opportunities for employment and recreational activities by providing access for him to independently go places previously inaccessible to him. For example – up stairs!
Rex users self-transfer from their wheelchair into Rex, strap themselves in and control their movements using a joystick and control pad.
Robot with a weight 84 pounds (about 38 kilograms) was developed by Rex Bionics company based in Auckland. Rex is the brainchild of two childhood friends, Richard Little and Robert Irving – co-founders of Rex Bionics. "Both of our mothers are in wheelchairs so we are aware of some of the obstacles and access issues faced by many wheelchair users," says Richard.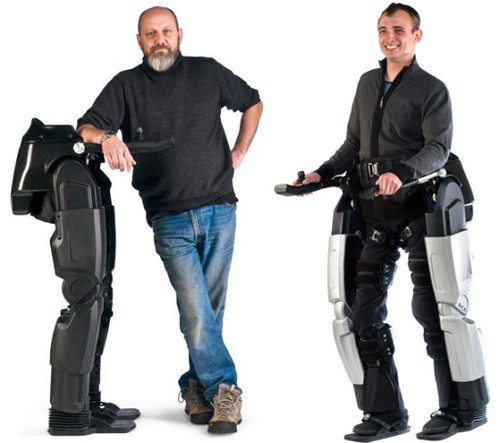 Robert's Multiple Sclerosis diagnosis seven years ago was the catalyst for these men to put their engineering skills to use to develop a practical, standing and walking alternative to wheelchairs.
The founders are quick to point out that Rex is not a replacement for a wheelchair, but a complement that offers a range of options not currently available anywhere else in the world. It is potentially suitable for manual wheelchair users who can self-transfer and operate hand controls.
Robot with two hours of endurance of this batteries have several limitations for those who would use it. The user must have height of about 4-6 feet (about 120-180 centimeters), weight less than 220 pounds (less than 100 kilograms) and have a waist circumference of less than 14.9 inches (37.85 centimeters)
Rex is expected to cost approximately US$150,000. The decision to purchase Rex will be a very individual assessment of what Rex allows customers to do. The benefits can be social, for the work place, for home and health related.
Rex will soon be available for purchase in New Zealand, where the price will be a bit lower since it will be easier to supply and support close to the company's home base on Auckland's North Shore.
[youtube]http://www.youtube.com/watch?v=EGw5DYngHTo[/youtube]