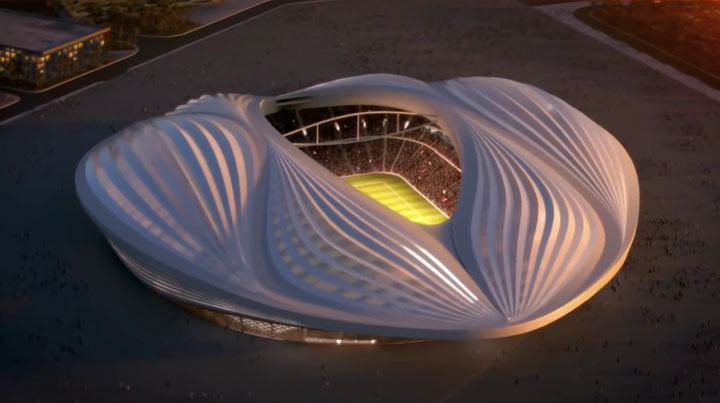 If you thought migrating to Qatar to seek employment opportunities was not such a bad idea, now might be the time to change your mind. "Qatar is a country without conscience" begins the International Trade Union Confederation's (ITUC) recent report on the working and living conditions of the more than 1.4 million migrant workers living in Qatar, many of whom are present in the country to build stadiums and erect other infrastructure for the 2022 World Cup.
After a thorough analysis of the report it is hard to disagree with the statement.  The ITUC estimates that approximately 4,000 migrant workers will perish before the start of the 2022 World Cup. This estimate is based on mortality trends previously reported by embassies within the country.

The ITUC hypothesizes that the numerous deaths of migrant workers are connected to the intense  and rather crude working conditions migrant workers face on a daily basis. The statements below are those extracted from the ITUC's report in which construction managers, cleaners and workers share their experience.
Construction Manager's Experience

 Cleaner's Experience

Construction Worker's Experience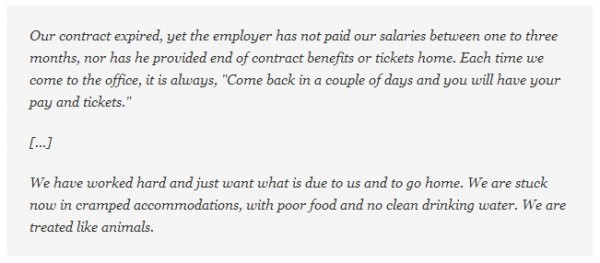 It seems pleas to improve the living and working conditions of migrant workers has fallen on deaf ears.  The Qatary Foundation Management Standards (QFMS) and the Supreme Committee Workers' Welfare Standards (SCWWS) are two charters put in place by the government to ensure migrant workers were treated properly and allowed to exercise basic human rights.
The QFMS, for example, requires contractors to  submit a "welfare adherence plan" with their bids in order to prove workers will be compensated and treated properly.  However, these plans are as a result of a self audit by the contractors with no truly independent organization in place to scrutinize.
The SCWWS are even more irrelevant  as workers are allowed only to discuss living accommodations, everything else is ignored. In short, both charters are useless once the Kafala System is still active. Under the Kalafa Law, migrant workers are essentially indentured servants. Many of them have their passports confiscated by employers upon arrival in Qatar. They are not allowed to change jobs unless they receive permission from their current employer.