A 3-year-old girl was asked to leave a Jackson, Mississippi KFC because her scars from a severe pitbull attack was scaring customers. Victoria Wilcher's family was outraged by the shabby treatment they received and posted a message Thursday on a Facebook page named Victoria Victories chronicling her recovery.
"Does this look scary to you?" the post on the Facebook page said. "Last week at KFC in Jackson MS this precious face was asked to leave because her face scared the other diners."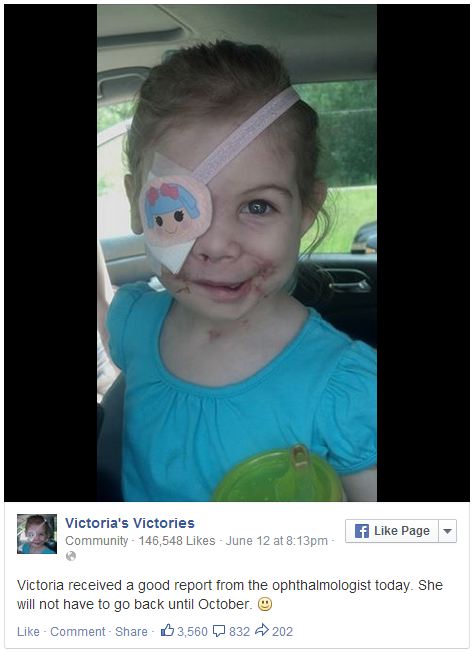 Victoria was attacked in April when she went to visit her grandfather in Simpson County, Mississippi. Three pit bulls owned by the grandfather burst into the home and mauled Victoria, leaving her with injuries on her body. According to WAPT news, two of the dogs were shot by Victoria's grandfather, Donald Mullins.
A post on the Facebook recovery page stated that Victoria lost her right eye, sustained a broken jaw, nose, cheekbones and suffered facial scarring in the attack.
"The right side of her face is paralyzed. She's got a lot of surgeries to go through and she won't even look in the mirror anymore," Victoria's grandmother, Kelly Mullins, told 16 WAPT News. "When we go to a store, she doesn't even want to get out [of the car]. She's 3 years old and she's embarrassed about what she looks like. She's embarrassed and I hate it because she shouldn't be. It ain't her fault."
The spokesman for KFC Rick Maynard told WAPT in an email that, "FC launched an investigation as soon as we were made aware of this report. We take this very seriously, as we have zero tolerance for any kind of hurtful or disrespectful actions toward our guests. Our investigation is ongoing, but we will make things right for this beautiful little girl and her family, and will work with the franchisee to take appropriate action at the restaurant."
In the aftermath of the investigation KFC issued an apology surrounding the circumstances and also threw in a healthy donation of US$30,000 towards medical expenses. It seems KFC and fast food restaurants in particular have a habit of "stuffing themselves" with shame. At least this time, the end result was "finger licking good" which left an entire family smiling.