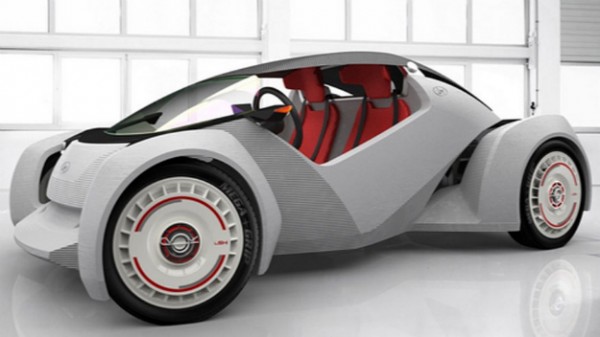 It was officially revealed that the world's first 3D printed car has been completed, and that in what we would definitely consider as a record time. The ingenious company behind the project is motor vehicle manufacturing company Local Motors. Their dedication to the 3D printing industry has not only inspired other companies worldwide to engage in 3D printing projects but also contributed to exploration process of building more environmentally friendly materials.
While modern conventional cars are composed of 20,000 parts, the new 3D printed car called Strati is composed of only 40. The team explained that they decided to make the car as low maintenance as possible in case something should be damaged where it can also be easily re-printed and fixed.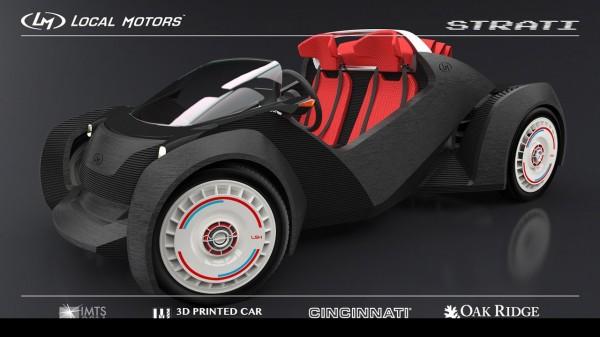 The construction of the Strati took 44 hours spanned over the six-day International Manufacturing Technology Show 2014, in Chicago. At the event, attendee's were able to watch the 3D car being printed, assembled and tinkered with. Once it was finished, it was fired up without any problems what so ever. This simply proves the amazing possibilities that 3D printing could bring to production and product prototyping.
[youtube]https://www.youtube.com/watch?v=daioWlkH7ZI[/youtube]
The car is said to have a top speed of 40mph and a battery range of between 120 miles to 150 miles. The chassis and the body of the car were 3D printed while the tires, seats, wheels, battery, wiring, suspension, electric motor and window shield were made using conventional methods. Soon enough, the advancement of the 3D printing technologies will offer us the ability to have our own 3D printed cars, custom made in whatever colours and model we desire by simply ordering over the computer.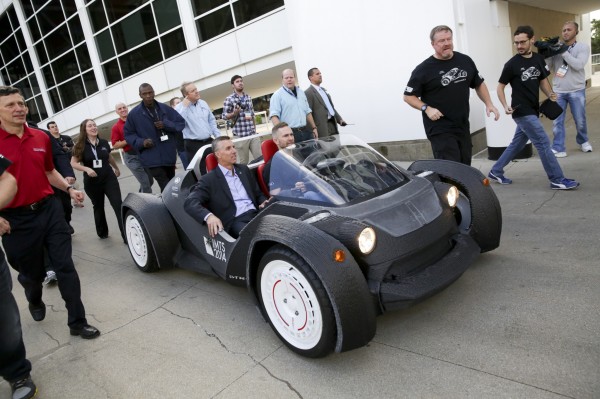 Local Motors announced that they hope to offer the 3D printed cars for sale at prices ranging from around £11,000 to £18,000 ($18,000 to $30,000) per vehicle. In addition to making cars more environmentally-friendly, the process to make the cars will be faster and more cost-effective. The largest parts that can be printed by the machine are measured at 3ft by 5ft by 10ft. Obviously, this would not be the average desktop printer, but with the technology being developed people may be able to purchase their own 3D printer from the consumer market for personal usage. 
[youtube]https://www.youtube.com/watch?v=fWjIa0uO0BE[/youtube]