A Chinese website has leaked out images of what appears to be an iPhone 5 running on China Mobile's 3G network.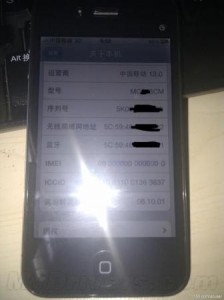 If the above posted leaked image is the real deal, then there happen to be two reasons for the Chinese nation to be thrilled for:
China Mobile is at last playing host to Apple's high selling iPhone.
China will be getting iPhone 5 in the first shipment along with US and UK, as rumored before.
Some factors that add weight to this leaked image being that of an actual iPhone 5:
It has a baseband version of 06.10.01, which hasn't yet been released.
IMEI number is missing.
These attributes have been carried out by prototype iPhone devices in the past, so we might be onto something here. But if this is in reality the iPhone 5, then we are stuck with the same old iPhone 4 design and we won't get any edge to edge screen or a larger more beautiful design. Do let us know in the comments as to how do you find this leaked image.