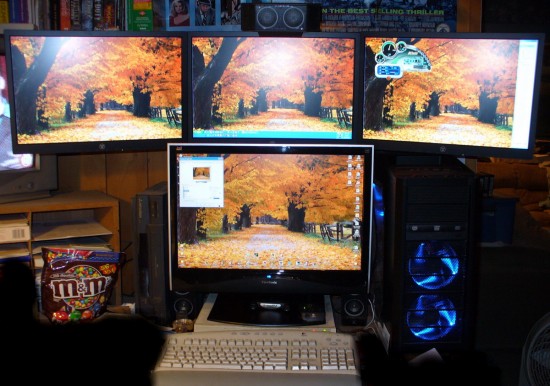 1) Is your graphic board support multiple monitor?
• Your system must have two VGA,HDMI,or DVI that support another monitor.
• If not , buy one that does.
2) Replace new graphic board with previous one .
• Install a new graphic card if it is necessary.
• Uninstall old board driver.
• Control Palel?Programmas and features?find graphic cards?Uninstall.
• Turn of your PC unplug the components.
• Open the chassis remove the old graphics board and replace with new one.
3) Plug multiple monitor's .
• Plug multiple monitors into the new graphic board.
• If your have HDMI monitor and your board support DVI in-put,you willpurchase a input converter.
• Size and resolution matter more then type.
4) Search drivers.
• Turn on your computer
• If you installed new graphic board your PC shouid recognize the appropriate drivers.
5) Install Graphic board.
• Right click on the screen
• Choose Personaliozed-Apperance and Personalization
• Display Setting: Click identify Monitors.
• Drag monitor in the diagram to amtch your set up's physical layout.
• Select monitor to act as the main display.
[youtube]http://www.youtube.com/watch?v=JtzAQ1hao7U[/youtube]