We received one of Hobby-estore's RC Helicopters called the Helizone Firebird this week and today we are going to review it after some extensive testing.
The firebird came in a big black box which was well constructed which sustained all the shipping bumps and jerks. On the back of the box, the story of firebird was written very creatively. The front of the box was see through with plastic coating and we were able to see the aircraft and its remote.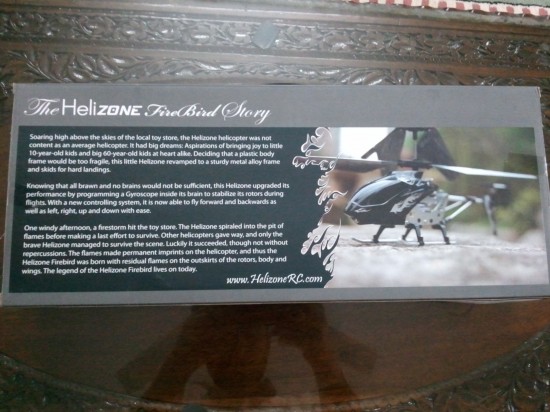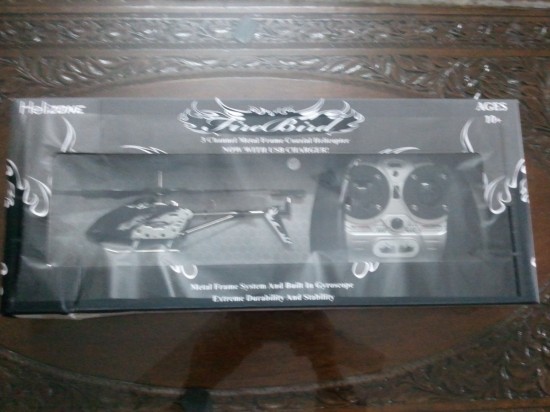 The helicopter itself was constructed of a steel frame with a plastic canopy. The high quality of construction was evident as soon as we held it in our hands. The steel frame was beautifully constructed and protected the vitals of the helicopter very efficiently. The canopy of helicopter was constructed of unbreakable plastic and we were satisfied with the aesthetics of the canopy.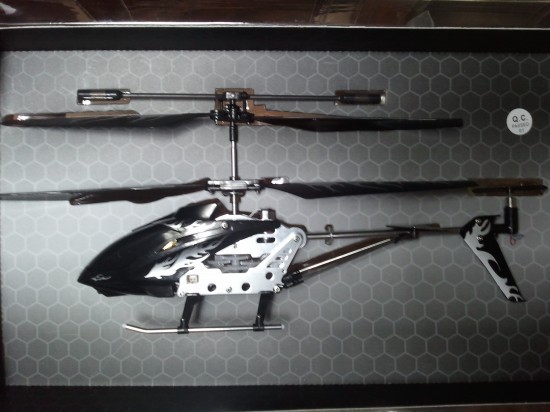 The helicopter came with a usb charging cable and a 6 cell- remote control unit. The helicopter also came with two spare tail rotor blades and a easy to read manual. Upon connecting the helicopter with the computer through the usb charging cable, the helicopter started charging its 150mah LiPo battery and took around 20 minutes to charge the battery.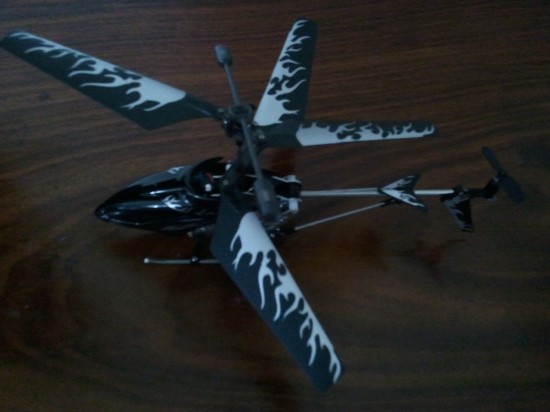 After loading up the remote control unit with 6 AA cells, we were ready to fly. The firebird performed great and flew around the room with no issues at all. The rotor motor was powerful enough to make the helicopter to climb 20 feet of height. The helicopter was able to hover with ease thanks to its inbuilt Gyro that kept the helicopter stabilized. However, the helicopter flew for 4-5 minutes and the battery discharged. The battery could have been better. Yet as the battery charges within 20 minutes, its not a bad deal afterall.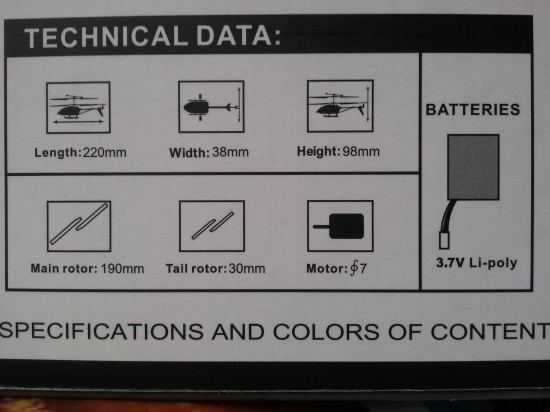 In short, the helizone firebird is a good beginner helicopter and also offers good value for money. The helicopter retails for just 49.99$ with free shipping so its a must get for all new enthusiasts into RC flying.  Readers are welcome to ask questions or leave feedback in comments. Stay Tuned to Realitypod!