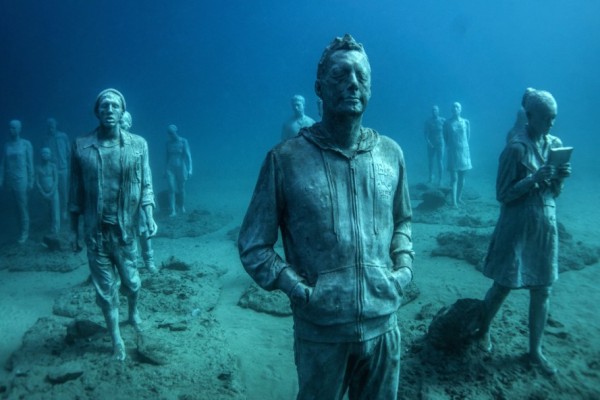 Recently, artist installed the first group of his amazing underwater concrete artworks for the Museo Atlantico off the coast of Lanzarote. The hauntingly beautiful sculptures which can be found at Europe's first undersea sculpture museum in the Canary Islands is a permanent collection to the museum that will raise awareness of the threats facing our world's oceans. It will also promote knowledge of ongoing refugee crisis and advance the growth of a large-scale artificial reef.
The contemporary Museo Atlantico which can be found 15 meters beneath the surface, will feature approximately 300 eco-friendly structures along with an underwater botanical garden filled with sculptural hybrids of people and native Lanzarote plants. One of the most interesting pieces of the collection so far is "The Raft of Lampedusa", which portrays a sunken boat carrying 13 refugees. Inspiration for this sculpture was taken from Théodore Géricault's 1818 French Romanticist oil painting 'The Raft of Medusa', that depicts the horrific scene following the wreckage of the French naval frigate Méduse.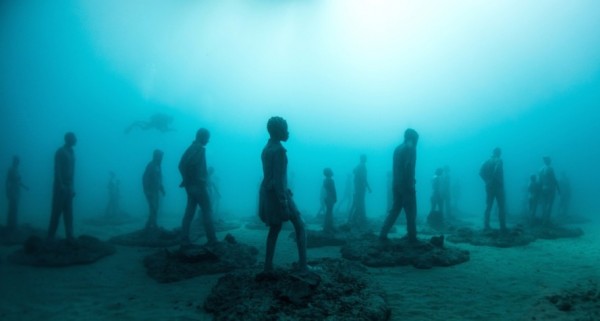 The main installation of the underwater sculpture park is 'The Rubicon', which is inspired by Lanzarote citizens, who wield smartphones and electronics to symbolize the "Instagram generation" — walking towards a wall, described by the curators as "a point of no return or a portal to another world." The installation is comprised of 35 human-shaped figures.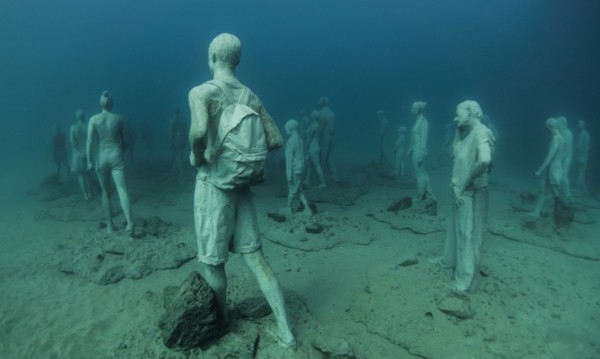 As a British artist diver, and naturalist, Taylor has been creating underwater art for over a decade. Previous magnificent underwater installations by Taylor include a piece with approximately 500 statues submerged 26 feet in the Caribbean off the coast of Cancun, Mexico. This piece called 'The Silent Evolution' can be found at the world's first underwater museum, the Museo Subacuático de Arte, and it is his largest-scale work to date. Each statue can last for up to 300 years and support multiple forms of life, attracting the growth of coral and other creatures, because they are cast in pH-neutral marine cement.
The Museo Atlantico will be open to visitors starting February 25, 2016 and will be accessible to snorkelers and divers.