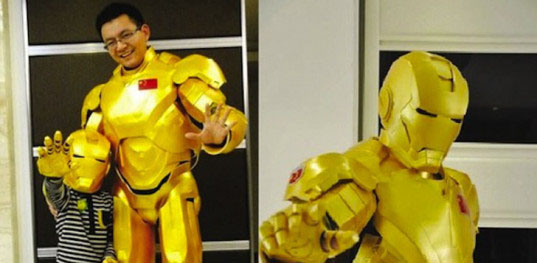 It seems one dad in China has made his son feel like the luckiest boy in the world after spending months with his child making an incredible iron man suit. Dr. Chu Huan spent approximately US$49 on supplies to create the suit for his son from hand cut plastic sheets.  The exquisite costume that has a gold finish is similar in appearance to the one seen in the Marvel Films and "transforms" the young boy's dad into a superhero which turns out be a rather fun occasion for both of them.
Dr. Chu Huan is hard at work majority of the week as is so often the case with persons in the medical field. He expressed that he was concerned with not being able to dedicate more time to a father/son relationship and decided to make amends by taking on  a project which would bring one of his son's favourite superheroes to "life".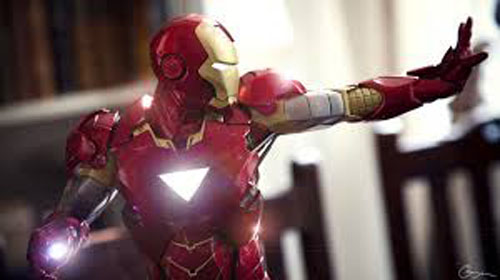 He  spent approximately a month on research browsing through forums and websites, basically anything that would help him in his quest to complete the project. After approximately a month of research, he felt he was ready for the challenge.
Each evening after work, Dr. Huang and his son would set about building the suit. His son often looked on as he drafted the design on EVA plastic sheets, hand cut pieces and spray painted them gold. Once the gold finish was applied to each piece, Huang joined them together to make a completely movable suit.
Why is the colour different from the original? Well, Dr. Huang created his suit specifically to cater to his son's personal taste which also features the Chinese flag in the upper left hand corner.