You can't help but admire the age when a kid discovers the purpose of crayons and realize that drawing on everything is just…"awesome". They doodle on walls and even the fridge, and when you find out you can't help thinking it's adorable. So, what happens when they decided to "doodle" out of turn? Let's just say one man is now "trapped" by his son's artistry.  A Chinese native known only as Chen is now stuck in South Korea because his four-year-old decided to test his skills on his father's passport.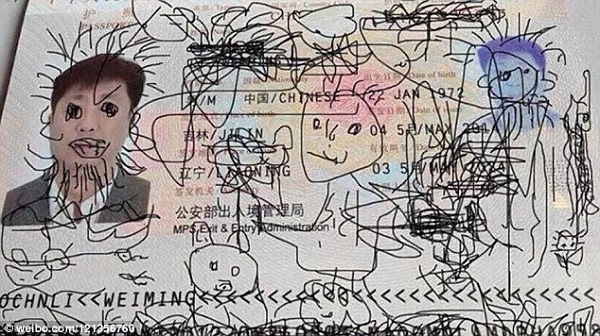 It is understood that the family was on a trip in South Korea, when their son decided to make an art project out of his father's passport by drawing all over it with a black ink pen.  He drew some animals, people, flowers, a beard and some facial hairs sprouting from the father's face and scribbled out much of the passports information.
Mr. Chen explains that he was about to board the plane back to China with the rest of his family when the border officials whom were less than amused with his young son's creative addition told him he would not be able  to travel home with the rest of his family.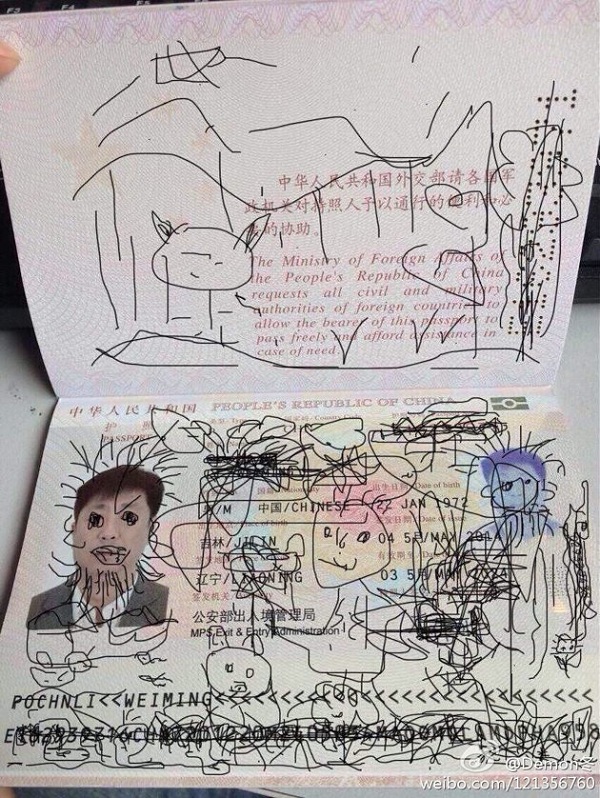 The picture of the passport was originally posted on a Chinese social networking website Weibo by the father, along with a plea for assistance which would see him return to his homeland. The story has attracted a long of attention with many persons sympathizing with Mr. Chen. It appears he will be spending the rest of his holiday on the phone with the Chinese embassy. We are almost certain he'll turn his attention to investing in a coloring book in an attempt to prevent such a bizarre occurrence from repeating.