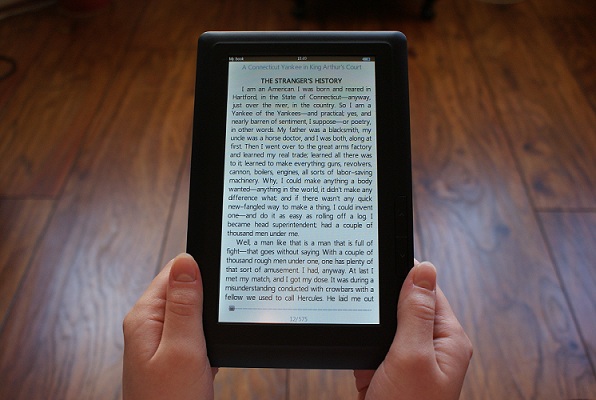 Reading literature has inspired people for thousands of years, from the first etchings on cave walls to painstakingly handwritten manuscripts, all the way through the modern printing press and today's digital interface. The written word has gone through a massive transformation over the centuries, but the power to inspire has remained stationary throughout that change. While you might be tempted to avoid the switch to new platforms to host your reading interface, there are some factors that make reading from a tablet like the Samsung Nook very attractive to even the most technologically adverse readers. Here, we'll list a few ways in which the Nook and other tablets are changing our reading experience.
Enrich the Reading Experience
Moving beyond the traditional reading on the printed page, reading on a tablet allows the reader a richer experience with supplementary functions like instantaneously finding the definition of an unfamiliar term or pulling up the background information about an anecdote mentioned in the text. Readers can immerse themselves into their chosen material like never before because they are equipped with tools to enrich their understanding and engagement of the text.
Connectivity and Access
In today's world, we have learned to thrive in an ecosystem of far greater connectivity than ever before. The use of tablets, smartphones and other gadgets means we are all in the loop of technological advancement. For some, the experience of settling into a good novel is an escape from the pressures of the modern world, but for others, the prospect of being able to communicate with others and share the experience of reading is an exciting opportunity. With the potential for virtual communication regarding your thoughts on the latest piece of literature, reading from a tablet can be an exciting shift from traditional paperback novels. Your circle of literary peers is no longer limited to friends in the neighborhood when you have access to online book clubs with members from around the world.
Greater Breadth of Content
Whilst being able to access various titles at the click of a button is a plus, the benefits do not stop there as you can now pick, choose and refuse from a plethora of options without limitations. No longer are bookstores restrained by the limits of stocking merchandise in a physical store front because readers can download any book they want from an online platform on their Samsung Nook tablet without ever needing to go out of the way to find the titles they want and as such they can maximize the reading experience. For readers that can't wait to check out new releases from their favorite authors, shopping for new material on their tablet device allows them to preorder books to ensure they gain access to the material at the earliest possible time. Even before a new title can hit the shelves, it's available to access on their device. With the Samsung Nook in particular, readers have access to the Google Play store, offering over a million applications from which you can personalize your device.
Traveling Light
For readers that are perpetually on the go, whether its traveling for work or just buzzing around town, using a tablet device is a convenient way to carry all of your favorite books and media. The compact, lightweight devices are easy to fit in a handbag or briefcase, so readers can easily throw it in the bag before they head out the door. Reading on the train or in the waiting room is no longer something for which you need to plan ahead, as you can just pull out your tablet whenever it's convenient.
If you're going to embark on some international travel, packing your tablet is a great solution for saving weight and space in your luggage. Rather than lugging around four or five physical books throughout your trip, having all of your media in one convenient device can keep things in order and streamlined for optimal convenience while you travel. Whenever Wi-Fi is available, the ability to download and purchase content is a plus, so even if you're relaxing in a hotel in Bali, you can still get that new Grisham novel.
For the avid reader or for those who are looking to make a dent in their reading list, opting to use a tablet device like the Samsung Nook is a good decision in regard to convenience and efficiency. You can't really beat the price either, as the Nook retails for an exceptionally affordable $179. For a high performance tablet running Android software and offering a wide range of downloadable content, you've got a fairly sweet deal.