Finally, Apple has officially announced the date for its grand iPhone event that happens to be October 4. The event will be held at the company's campus in Cupertino according to reports.  Although, Mr. Jobs may choose not to make an appearance on stage, a venue nearby Apple makes the situation much easier for the company's chairman of the board to come and go.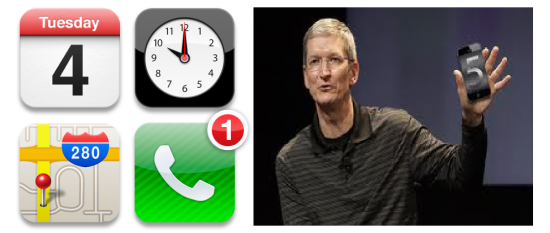 Jim Dalrymple of The Loop has already received an invitation for the event and it is mentioned on it that the event will occur on October 4 at Apple's campus in Cupertino, commencing at 10:00 AM PT.
As is the case with most Apple event invitations, details are limited. However, the invitation featured four icons for iPhone apps: Calendar, with its icon displaying Tuesday the 4th; Clock, with the time displaying 10:00; Maps, with its usual icon, which displays Apple's Cupertino campus, and the Phone app, with a "1" badge.
Whether the iPhone to be released during the event is iPhone 5 or not has even to this point been kept cloaked in order to come up with a surprise on the big day.