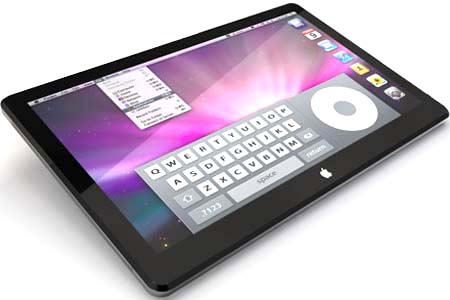 Now that Apple has revealed all of the iPad, we can finally discard all the wishful rumors that surrounded the tablet's launch. It's time to hold the tech press — ourselves included, of course — accountable for all sorts of iPad hopes, dreams and miscalculations. Not that Apple shouldn't have included some of the things we heard about. For reference, here are a few rumor roundupstories we ran leading up to the iPad's unveiling. Let's seem how many of those reports came to fruition and how many didn't, but should have:
The Name
iPad. It sounds like iPod, which could be a problem for Boston-area natives, but it sounds friendlier than the other frontrunner, iSlate.
Look and Feel
AppleInsider was right on the money saying the tablet looks like a big iPhone, with an aluminum shell, home button and 30-pin dock connector. Missing the mark was iLounge, which predicted two dock connectors for easy access for horizontal and vertical alignments, but it would've been nice.
Screen and Dimensions
Nope, not OLED, but IPS. Not 11 inches, not 7 inches, but 9.7 inches. Dimensions remained largely out of the tablet hysteria, but the iPad measures a half-inch thick and weighs 1.5 pounds.
iPad User Interface
In the haze of 2009, one report suggested we could see a tablet running Mac OS X, but today's product looked a lot like the iPhone's app-centric interface, but with a background. Many apps featured big, drop-down menus, something you're not likely to see on the iPhone. Multitasking did not make an appearance at Apple's iPad event.
iPad Specs
Predictions that the iPad would have an ARM processor (single-core at first, multi-core later) didn't pan out. Instead, its a 1 GHz Apple A4 chip, the fruits of Appleacquiring PA Semi. GPS and 802.11n Wi-Fi are indeed on board, along with 3G for an additional charge. No much was rumored about storage, but you can pick from 16 GB, 32 GB and 64 GB. Battery life is 10 hours. Disappointingly, there's no camera despite France Telecom Deputy Chief Executive Stéphane Richard'snot-so-confirmation.
Content
What was all this about saving old media? While theNew York Times briefly showed off an app, and we saw an online bookstore called iBooks, Apple didn't show any radically new content or business models, and no magazine subscriptions, just free Web sites. The iPad is very much a large-screen iPod Touch — in fact, it supports the entire existing App Store. The New York Times was right on saying the iPad will run a multi-touch version of iWork.
Price and Availability
Fortunately, there's no such thing as a $1,000 iPad. The closest you get is a 64 GB iPad with 3G, for $829. Base price is $499 for 16 GB, plus $130 for 3G. AT&T is exclusively providing the 3G service (so, no Verizon), at $14.99 for 250 MB per month and $29.99 for unlimited data. There's no subsidy, but no contract either. iPads without 3G will arrive in 60 days, and iPads with 3G are coming in 90 days. The Wall Street Journal wins for calling a March arrival, and Kaufman Brothers analyst Shaw Wu loses for picking June.