2021 Winter Survival Kit Ideas
We are now deep into winter and the cold season is putting its icy grip on millions of people around the world. Most of the time, we can look outside our windows from our toasty warm homes and look in wonder at the blizzards, snow, and frigid wind. However, what happens if there is a power cut and you are left in your house?
Sure, your home provides shelter, but you will be amazed at how quickly that shelter becomes a horrible place to be. Yes, having a roof over your head can provide some protection from the bad weather, but it does not stop the cold. Furthermore, if you are snowed in and the power goes out, you could be cut off for days.
Needless to say, you need to have some emergency supplies and a plan in case the worst happens, especially if you live in a rural area that has heavy snowfall. So, what is a winter survival kit when you are basically in the comfort of your own home? Read on to find out.
While it would be easy to embrace your inner animal, it's worth remembering you're home and already have clothes and blankets to keep warm. So, we will avoid all the fancy outdoor clothes, sleeping bags, and other such items.
Winter Survival Emergency Kit
When building a winter emergency kit for your home, you need to think about what the worst-case scenario could be. If there is a severe power outage and you are cut off for days because of snowfall, it will be a lot worse than simply not having a TV. You may have no access to basic nutrition and medical aid.
For most people, their house is probably stocked enough with food to ensure they can survive a few days in the cold. However, I am still a big proponent of having a few survival food ration packs available, maybe around two weeks' worth. Mountain House remains the gold standard in freeze-dried food that is stored in big buckets and can last up to 20 years. I recommend buying two or three of the Mountain House classic meal assortment bucket which provides 24 servings of standard meals like beef stew and meat and spaghetti. It is worth noting you can also buy more adventurous meals in other buckets.
While freeze-dried food will likely only ever be used in extreme emergencies, water is different. If you are cut off from the mains and without water, your situation can become dangerous within a few days. Buying some big 10-gallon plastic bottles of water is a good bet for ensuring you have consistent access to drinkable water. While the bottles are long life, I advise changing them every year.
You can also opt to purchase emergency water drinking pouches such as Datrex Emergency Water. Available in single pouches or boxes, try to get enough water for 14 days. If all else fails and you are in an area with snow or river access, you can drink natural water. However, never drink directly from a river, lake, or stream because of bacterial risk. Instead, you must filter or sterilize the water, using something like the Sawyer Water Filtration System.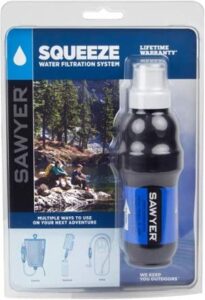 Next, we move onto individual items that it's good to have in your home should a power cut or other emergency happen. It's worth noting that having a dedicated bag or box where you keep your winter survival kit makes much more sense than hunting for items if the worst happens.
Perhaps the most fundamental tool in any power cut is a flashlight. While it's easy to be swayed by new tech and buy a rechargeable light, that won't cut it during a power cut.
Instead, you need some good old-fashioned flashlights that require batteries. A good option is the Coleman Battery Guard light because not only is it very bright, it is also waterproof. Of course, don't forget to buy lots of batteries, including plenty of spares. Flashlights sometimes fail, so always have some spares, and always have candles ready just in case.
Communication is key during an emergency and if you are cut off of power for days, the battery on your smartphone won't last. To stay in touch with emergency services, an emergency radio is something any survival kit should have. Midland Waterproof Two-Way Radio lets you communicate between radios or dial into emergency channels.
Speaking of radios, staying entertained during those long nights with power and the internet is important. Emergency hand crank radios like the RunningSnail Emergency Radio allow you to listen to stations while only consuming kinetic energy. This example also features a reading light and phone charger.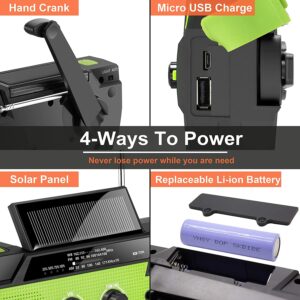 If you do want to keep your devices charged, purchasing a solar panel like the Jackery SolarSaga will keep devices up and running. You can place the charger in a window during the day and it will convert the sun's rays into energy to charge phones and tablets via USB. Consider adding the Jackery Portable Power Station to your solar panels for complete peace of mind.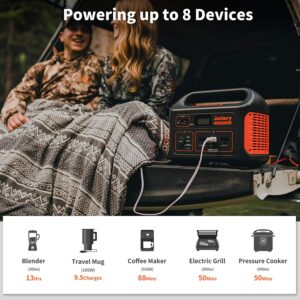 With limited access to healthcare services, staying healthy during an emergency is important. Having an emergency first aid kit is something all homes should have regardless of whether it's winter or not. I like the Swiss Safe first aid kit because it is a complete kit with over 300 items covering many injury types.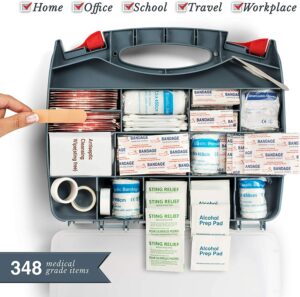 Conclusion
Staying safe should the worst happen during the winter is more than just sheltering at home. Sometimes you may need to turn your home into a survival shelter and have equipment at hand that will help you through days without power or the ability to leave. The above items help you create a winter survival kit that will keep you nourished and protected.
Other items you may want to consider in your kit include toilet paper, waste disposal bags, duct and electrical tape, face masks, long-lasting candles, BIC lighters, and a whistle.