Winter Survival Car Kit Ideas
We are now heading deep into the winter, with January and February dishing out blizzards, hailstorms, deep snow, and icy conditions for many of us. While it would be nice to just get cozy under a blanket on the sofa and emerge in March or April, that's not possible… even in a stay-at-home COVID-19 world.
No, for most people it's business as usual through the winter months, which means braving the cold conditions and often even driving in them. It's amazing how much we take driving for granted. It is in fact a great feat of human skill. However, there's no doubt that driving can also be dangerous, especially because so many are willing to break traffic rules.
These dangers are heightened during winter months when roads become icy and visibility can often be low. Staying safe behind the wheel during winter is important, and the best way to do so is to obey the rules of the road. You can also boost your winter driving preparedness by creating a car emergency kit.
Below we provide a full checklist of all the winter accessories and gear you need to stay safe in your vehicle during the winter months.
Preparing Your Car for Winter
Getting Your Vehicle Ready – When the cold weather hits, you need to winterize your car to make it better at driving in icy conditions. Firstly, sending your vehicle to the shop for a check-up is a good start, ensuring the breaks are working properly and the engine is functioning. An all-around oil change covering transmission oil, differential oil, and motor oil is also important.
Below are some oil solutions we recommend:
Next, you need to look at the rubber you have on your vehicle. Many people don't realize they can put winter tires on their car during the cold months. Yes, it costs money to buy that first set of tires, but they do last for years. There's also good news because many auto insurance companies will offer premium discounts for customers who install winter tires.
Some names we suggest when you buy winter tires include Bridgestone (Buy on Amazon), Cooper Tire (Buy on Amazon), and  Milestar (Buy on Amazon). A cheaper alternative if you live in a location with a lot of snowfall is to buy snow chains for your vehicle. For a traditional snow chain, the Peerless 0231805 Auto-Trac (Buy on Amazon) is a good option. Newer synthetic "snow chains" like the ISSE Textile Snow Chains (Buy on Amazon) are easy to fit and use.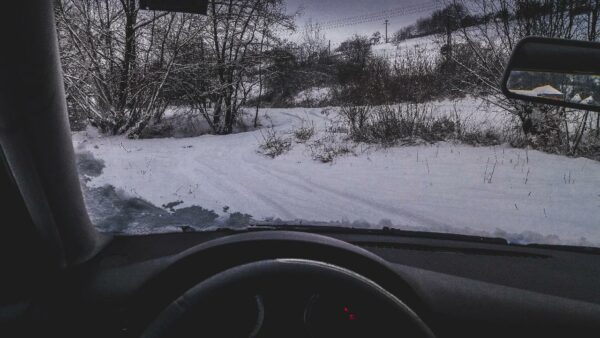 Building Your Winter Driving Kit
Having a winter driving kit is an essential thing to do if you spend a lot of time driving in cold conditions, especially in rural settings. If your vehicle breaks down or you are in a collision and stranded, your winter kit really could be the difference between life and death. Below are our recommendations for winter driving kits and some product choices we like:
It's worth noting winter driving kits can be bought as a package (note, we think our list is more complete because some prepared kits will be missing some items). Our favorite is the CYECTTR Emergency Car Kit, which is a complete driving aid kit. However, it does lack some of the winter-specific items on our checklist. If you do decide to follow our checklist and build your own winter car kit, we suggest buying a clear plastic bin and put everything from the kit in there, and then place that in your trunk.